Glaze Layering
In hobby ceramics and pottery it is common to layer glazes for visual effects. Using brush-on glazes it is easy. But how to do it with dipping glazes? Or apply brush-ons on to dipped base coats?
Key phrases linking here: glaze layering, multi-layering - Learn more
Details
In hobby ceramics (at low temperatures) layering of glazes for decorative effects is commonplace, there are what seem like myriads of choices of bottled glaze products. Even stoneware potters are increasingly adopting bottled brush-on glazes for their stoneware pottery and porcelain, suppliers showrooms are now dominated by bottled glazes. The idea of mixing your own recipe and dipping ware now seems quaint to many potters. This is in spite of the fact that bottled glazes are very expensive. Typically, three coats are applied. Each dries slowly, hardening as it does so (the glazes contain binders). This provides a stable base for the next one. Although the process is slow (compared to dipping) and it is more difficult to get even coverage, the interactions between layers of varying degrees of opacity, melt fluidity and especially color can produce stunning visual effects.

As noted, commercial bottled glazes contain a binder, typically CMC gum. Why? Consider traditional dipping glazes. They are intended as single-layer. They are just powdered minerals with a percentage of clay, typically 15-25%, it suspends the slurry and hardens the layer as it dries. Dipping glazes can apply to bisque in the needed thickness with one quick dip and they can dry enough to permit handling within seconds. But, their bond with the bisque ware is fragile, especially if the surface is smoother or denser or the bisque is damp. Still, as long as the layer is not too thick, the bond is able to withstand the tension imposed by the shrinkage during drying (without cracks forming). But, the traditional dipping glazes normally can only be layered under special conditions. If the bisque is absorbent, the first layer is still damp (not wet) and it is not too thick a second dipped coat may be tolerated. Likewise, control of the raw clay content can help make multi-layering possible (e.g. if a recipe contains 30% raw kaolin, 15% calcined and 15% raw would reduce the drying shrinkage, if a recipe lacks clay (and therefore is not bonding well with the bisque) sourcing some of the Al2O3 from kaolin instead of feldspar will bond it better (you need glaze chemistry to do that).

But for serious multi-layering of glazes that you mix yourself, there is one principle method: Adding gum to the recipe. 1% is a good starting point. Gummed glazes are runnier, they drip (and drip more) and dry slowly on bisque. Traditional potters, used to single-layer dipping glazes, can be shocked at how different it is to work with gummed glazes. They won't flocculate, the only practical way to make them thicker is raising the specific gravity (as high as 1.6, vs. dipping which can be as low as 1.4). You need to learn ways to apply them evenly and quickly. More absorbent bisque helps (e.g. fired to cone 06). Even heating thinner ware before dipping will greatly accelerate drying speed. Ware needs to be designed to be able to drain to a single point after dipping (since it is often necessary to hold a piece upside down for a minute while waiting for dripping to stop). Of course, spray application is also an option, but multilayering will likely still be necessary. And runs will be a constant issue.

Layering Commercial Bottled Glazes Over a Base Coat you Mix Yourself

As noted above, your glaze needs to be gummed (e.g. 1%). If it is then it will tolerate layers of commercial products. All ware needs some sort of cover or base glaze and it makes a lot of sense (especially economic sense) to mix that yourself. You may find that a low percentage of gum will work, that will be a benefit since the glaze will dry fast and go on more evenly.

Firing Issues Regarding Layering of Glazes

-If multiple layers all have high melt fluidity: Each layer will need to be thinner than normal. Or contours will need to be modified to be able to tolerate more running.
-A fluid first layer and a non-fluid second: Caution will still be needed as the weight of the second will pull downward on vertical walls.
-A non-fluid layer first and a fluid second layer: Here there is an opportunity to make both of them thicker.
-Two non-fluid layers: Why would you do that? Layering is almost always about making them dance together, interact. And non-fluids will not do that.
-Three layers: Now you are getting adventurous!

Another factor to consider is thermal expansion. Layering a glaze that normally crazes with one that does not could cause cracking when ware exposed to sudden temperature change (because of the internal stresses that would be present).

Food Safety

Commercial glazes are labeled as being food safe, even if the color is very bright. Traditional potters are not accustomed to putting high-percentage-heavy-metal glazes on food surfaces. But that is what many commercial ones are. Use common sense. It is often better to employ non-coloured glazes on food surfaces that must accommodate hot or acidic liquids. When you make your own glazes for these surfaces you know the recipe and you are in control. Consider: Two different drugs may not have serious side effects on their own, but when taken together they can be dangerous. Likewise, a glaze may resist acid attack on its own but you can be sure there exist other glazes, that when mixed with or layered with it, will destabilize it enough to leach metals.

Related Information
Commercial brushing glaze on a non-gummed dipping glaze: Crawling
Tap picture for full size
Non-gummed dipping glazes go on evenly and dry quickly on bisque ware (if properly gelled). But they only work well as a single layer. If you try to paint commercial gummed brushing glazes over them the latter will compromise their bond with the body, cracks will develop during drying and bare patches like this will result during firing. For multi-layering the base dipping glaze must be gummed (e.g. 1% CMC gum). It will go on thinner, drip longer and dry much slower, but that is the price to pay if you want to layer over it.
Crawling can happen when paint-on glazes are layered over dipping glazes
Tap picture for full size
This bowl was dipped in a non-gummed clear dipping glaze. Such glazes are optimized for fast drying and even coverage. However their bond with the bisque is fragile. The blue over-glaze was applied thickly on the rim (so it would run downward during firing). But during drying, it shrunk and pulled the base coat away at the rim (likely forming many tiny cracks at the interface between the clear and the bisque. That initiated the cascade of crawling. When gummed dipping glazes are going to be painted over, a base-coat dipping glaze should be used. What is that? It is simply a regular fast-dry dipping glaze with some CMC gum added (perhaps half the amount as what would be used for painting). There is a cost to this: Longer drying times after dipping and less even coverage. And gum destroys the ability to gel the glaze and make the slurry thixotropic.
Multi-Layering on a large bowl has produced crawling
Tap picture for full size
Glaze layering is tricky. We recommend a gummed base coat dipping glaze where layering will be done over it. This alone could have solved this issue.
Layering glazes to get variegation
Tap picture for full size
Example of the variegation produced by layering a white glaze of stiffer melt (a matte) over a darker glaze of more fluid melt (a glossy). This was fired at cone 6. The body is a stoneware and the glazes employ calcium carbonate to encourage bubbling during melting, each bubble reveals the color and texture of the underlying glaze layer. It is also possible to get this effect using the same base glaze (stained different colors).
Ravenscrag oatmeal layered over black at cone 6
Tap picture for full size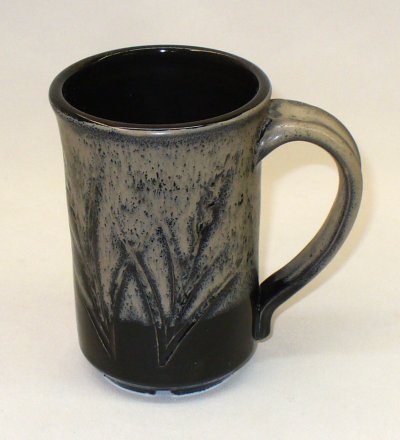 This is GR6-H Ravenscrag oatmeal over G1214M black on porcelain at cone 6 oxidation to create an oil-spot effect. Both were dipped quickly. You can find more detail at ravenscrag.com.
Cone 6 black with a second layer of oatmeal glaze
Tap picture for full size
The underglaze is G1214M cone 6 black (adds 5% Mason 6666 black stain). Overglaze left: GR6-H Ravenscrag Oatmeal. Overglaze right: GA6-F Alberta Slip oatmeal. Both produce a very pleasant silky matte texture (the right being the best). Both layers are fairly thin. In production it would be best to spray the second layer, keeping it as thin as possible. It is also necessary to adjust the ratio of raw to calcined Alberta or Ravenscrag Slips to establish a balance between drying hardness but not too much drying shrinkage (and resultant cracking).
Variegating effect of sprayed-on layer of titanium dioxide
Tap picture for full size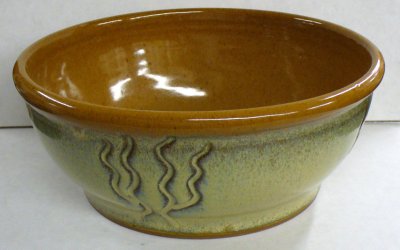 The base glaze (inside and out) is GA6-D Alberta Slip glaze fired at cone 6 on a buff stoneware. However on the outside the dried glaze was over-sprayed with a very thin layer of titanium. The dramatic effect is a real testament to the variegating power of TiO2. An advantage of this technique is the source: Titanium dioxide. It is a more consistent source of TiO2 than the often-troublesome rutile.
Inbound Photo Links

Learn to mix any of your glazes for these three application methods
Links
Glossary
Dipping Glaze
In traditional ceramics and pottery dipping glazes can be of two main types: For single layer and for application of other layers overtop. Understanding the difference is important.
Glossary
Brushing Glaze
Hobbyists and increasing numbers of potters use commercial paint-on glazes. It's convenient, there are lots of visual effects. There are also issues compared to dipping glazes. You can also make your own.
Glossary
Base-Coat Dipping Glaze
These are ceramic glazes intended for dipping but which contain a gum to enable them to adhere to the body better and tolerate over-layers without danger of flaking or cracking.
Glossary
Calcination
Calcining is simply firing a ceramic material to create a powder of new physical properties. Often it is done to kill the plasticity or burn away the hydrates, carbonates, sulfates of a clay or refractory material.
Glossary
Thixotropy
Thixotropy is a property of ceramic slurries. Thixotropic suspensions flow when you want them to and then gel after sitting for a few moments. This phenomenon is helpful in getting even, drip free glaze coverage.
Glossary
Specific gravity
In ceramics, the specific gravity of slurries tells us their water-to-solids ratio. That ratio is a key indicator of performance and enabler of consistency.
Glossary
Crawling
A ceramic glaze fault that occurs during firing of the ware, the molten glaze pulls itself into islands leaving bare patches of body between.
By Tony Hansen
Follow me on

Got a Question?
Buy me a coffee and we can talk
---


https://digitalfire.com, All Rights Reserved
Privacy Policy