Kovar Metal
Kovar metal is thermal expansion compatible with borate glazes. You can actually glaze and fire it like pottery at cone 05, 06!
Details
Kovar metal has a thermal expansion to which a borosilicate glass can be matched. The match can be so good that bond integrity can be maintained over a wide range of working temperatures. The metal-to-glass bond is accomplished by a thin layer or cobalt or nickel oxide (this works well because Kovar is a nickel-cobalt alloy). And bond strength can be deduced simply by color! Pieces must be fired up and down quickly to avoid oxidation of the surfaces that do not have a glaze cover.

Amazingly, common hobby ceramic glazes for cone 05-06 can match the thermal expansion of the metal. A feasible approach is to simply get samples of the clear base glazes from a range of manufacturers and try them (many even have low, medium and high expansion versions of their base). These glazes have high binder contents and will paint onto any surface and stick well (although drying time will be lengthy).

A problem with the process is that gases are generated during decomposition of the binder in the glaze and these create bubbles in the molten glaze. However the glaze, which is just a suspension of fine mineral powder particles, requires a binder to make it stick. A solution is to have the oxide chemistry of the commercial glaze you are using analyzed (see link below) and then create your own glaze recipe to produce the same chemistry (this can be done in an account at insight-live). If you make your own then you can select only non-gasing materials (e.g. frits), choose a binder that gases early in the firing, choose a binder that does not gas (e.g. VeeGum) or find a way to apply and dry it without the need for a binder. An advantage of having your own recipe is that you can tune the thermal expansion, melting temperature, surface durability, etc by chemistry control (the resources to learn and do that are provided on this webiste).


Related Information
Reverse-engineer a commercial transparent glaze to get the recipe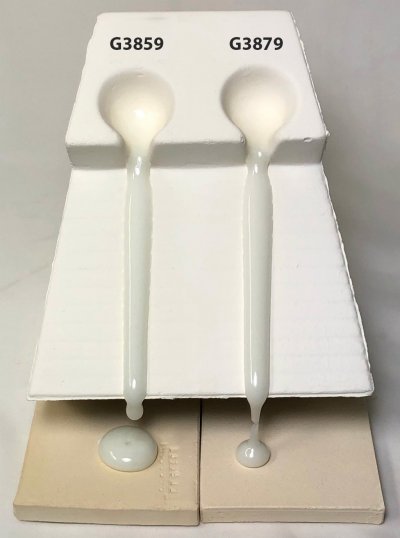 The commercial cone 04 clear brushing glaze on the left works really well on our bodies so I sent it away to be analyzed (about $130). From that information and using my account at insight-live.com I was able to create a recipe, having the same chemistry, employing two Fusion frits (which amazingly supplied all of the fluxing oxides). In this cone 04 melt fluidity comparison they are almost identical (mine, G3879, has a little more surface tension). The Al2O3 and SiO2 levels would make, even a cone 6 glaze, jealous! So it should be very durable. And it has low thermal expansion (no crazing). With the bucket of dipping-slurry I made I can glaze a piece perfectly evenly in seconds rather than the normal 10 minutes of fiddling with a brush and three coats! I have used it on dozens of pieces, it's amazing. One caution: It is possible to duplicate a transparent glaze like this but not a coloured one (a lab could not analyze the complexities of the color, stain colors are about more than chemistry (firing method, particle physics). For colored glaze you have to do trial-and-error testing with stain additions to this base.
Links