Water Smoking
In ceramics, this is the period in the kiln firing where the final mechanical water is being removed. The temperature at which this can be done is higher than you might think.
Key phrases linking here: water smoking - Learn more
Details
Refers to the period in a kiln firing where the last of the mechanical water in body (and glaze if on second firing) are being released. Firing can normally proceed quickly after this water has been ejected (750C/hour or more is common in industry but potters would typically proceed at half of that). Typically firings are taken to the boiling point (or somewhat beyond that) and held there for the amount of time necessary to remove all the water (the "water smoking soak"). The degree to which the drying process has removed water determines not only the soak time needed, but also the temperature at which the water smoking soak can be conducted (heavy pieces do require more caution).

Contrary to what you might assume, for well-dried ware (in industry) this smoking is effectively conducted beginning at 140C (284F) and proceeding gradually to 260C (500F). However, potters, being more conservative, might smoke at 250F (120C). Amazingly, thin-walled ware of even cross-section and a high percentage of exposed surface area can be put into a 250F kiln and it will not explode or even crack as it quick-dries.
Related Information
Put almost-dry ware into a kiln. This happens!
Tap picture for full size
An example of what can happen if ware is heated too fast during early stages of firing. This bowl was not quite dry on the base, it is Plainsman M370. Even though the firing proceeded to 220 degrees and soaked for an hour, it was not enough time for the water to escape before the second step in the firing schedule.
Will leather-hard ware explode or crack of you put it into a kiln at 250F?
Tap picture for full size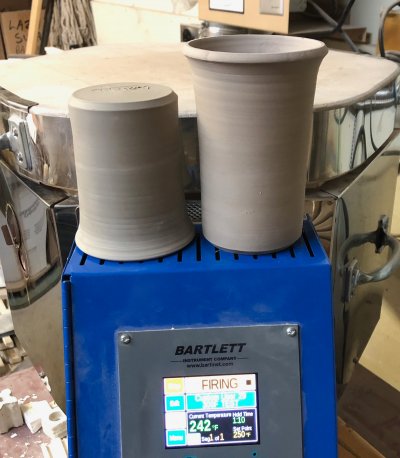 Not if it is thin walled and a high percentage of surface area is evenly exposed to the heat. These pieces are made from 65% ball clay and 35% feldspar, that is not a body one would expect to be able to handle at 15-minute drying, yet it does. The one on the right is completely dry, the one of the left is partly dry (and steaming). They were put into the kiln upside down, exposing all surfaces evenly.
Links
Glossary
Firing Schedule
Designing a good kiln firing schedule for your ware is a very important, and often overlooked factor for obtained successful firings.
Glossary
Kiln Firing
All types of ceramic are fired in a kiln to cement particles together to produce a hard and water and temperature resistant product.
Glossary
Decomposition
In ceramic manufacture, knowing about the how and when materials decompose during firing is important in production troubleshooting and optimization
Projects
Temperatures

Articles
Firing: What Happens to Ceramic Ware in a Firing Kiln
Understanding more about changes are taking place in the ware at each stage of a firing and you can tune the curve and atmosphere to produce better ware
Articles
Drying Ceramics Without Cracks
Anything ceramic ware can be dried if it is done slowly and evenly enough. To dry faster optimize the body recipe, ware cross section, drying process and develop a good test to rate drying performance.
By Tony Hansen
Follow me on

Got a Question?
Buy me a coffee and we can talk
---


https://digitalfire.com, All Rights Reserved
Privacy Policy