Home-made propeller mixer with mount and switch
This is a heavy-duty unit, home made, with a 1/3 hp motor. It that can handle 5 gallons of high density suspension glaze or body slurry.
The powder blender for making porcelain bodies at Plainsman Clays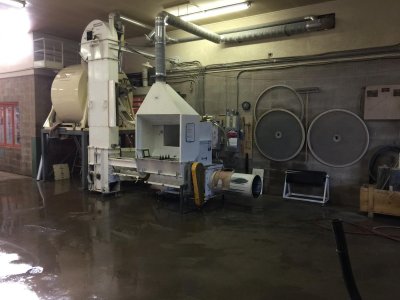 All of the equipment has been washed in preparation for a porcelain run. Original container bags are broken in the dust-hood unit on the right and augered and elevated into the rotating blender/mixer. It feeds a vibrating screen (not visible) that removes paper and other contaminants. For wet clay bodies the screen feeds hoppers on the other side of the wall, they in turn feed the pugmill. For dry bodies and glazes the powder goes to one of the hoppers and that feeds a bagging unit. This type of equipment can handle 1200 lb batches (doing one every five minutes for some products, longer for others).
A must-have: Laboratory variable speed propeller mixer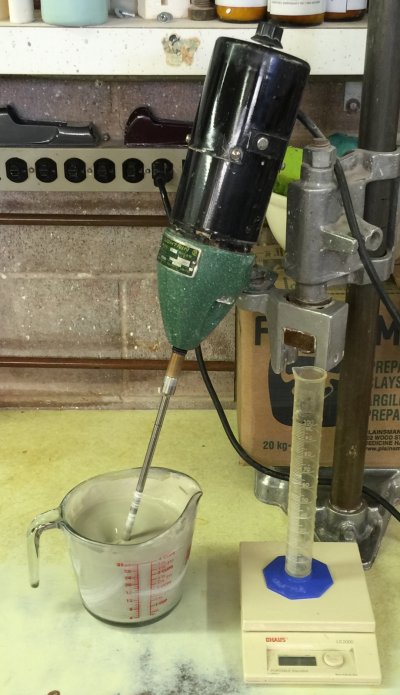 If you are at all serious about testing glazes and clay bodies, you need one of these. There are other methods, but nothing else comes close to this. It is the most valuable and frequently used tool in any ceramic bodies and glazes testing lab or classroom. These are expensive new, this Lightnin 1/20 hp variable speed cost more than $1000 many years ago, now it could be $4000! But you can get them used on ebay.com. I adapted a mount (to give it vertical adjustment) from a hardware store. Propellers are also expensive, but you can design and 3D print them yourself or have them printed at a place like shapeways.com.
By Tony Hansen

---

Copyright 2008, 2015, 2017
https://digitalfire.com
, All Rights Reserved