Insight-Live comparing a glossy and matte cone 6 base glaze recipe
Insight-live is calculating the unity formula and mole% formula for the two glazes. Notice how different the formula and mole% are for each (the former compares relative numbers of molecules, the latter their weights). The predominant oxides are very different. The calculation is accurate because all materials in the recipe are linked (clickable to view to the right). Notice the Si:Al Ratio: The matte is much lower. Notice the calculated thermal expansion: The matte is much lower because of its high levels of MgO (low expansion) and low levels of KNaO (high expansion). Notice the LOI: The matte is much higher because it contains significant dolomite.
A secret to an ultra clear at low fire. Magnesia-alkali, low Si:Al ratio, more boron.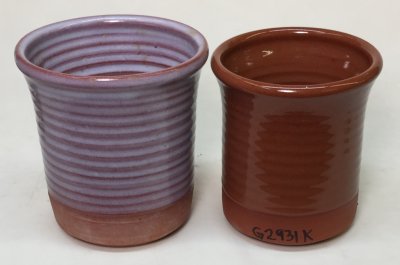 On the left is G2931J, a zinc alkali fluxed and high Si:Al ratio glaze. Those look like micro-bubbles but they are much more likely to be micro-crystals. High-zinc and high-silica is the mechanism for crystalline glazes, so it appears that is what they are. G2931K on the right has much more boron, double the Al2O3, less SiO2 and is magnesia-alkali instead of zinc-alkali. It is the product of dozens of tests to find an ultra-clear having a glassy smooth surface. This particular chemistry, although having only a 6:1 SiO2:Al2O3 ratio is ultra-gloss. In addition is has low expansion, will fast fire and the boron is not high enough to compromise the hardness.
Related Information
Links
Glossary
Calculated Thermal Expansion
The thermal expansion of a glaze can be predicted (relatively) and adjusted using simple glaze chemistry. Body expansion cannot be calculated.
Glossary
Silica:Alumina Ratio (SiO2:Al2O3)
A formula ratio used to evaluate and predict firing properties in ceramic glazes.
Glossary
LOI
Loss on Ignition is a number that appears on the data sheets of ceramic materials. It refers to the amount of weight the material loses as it decomposes to release water vapor and various gases during firing.
By Tony Hansen

---


Copyright 2008, 2015, 2017 https://digitalfire.com, All Rights Reserved