Fritware
Fritware is the crow-bar method of making porcelain vitrify at very low temperatures. This is typically done by doing a frit-for-feldspar (or frit-for-part-of-the-feldspar) substitute in the recipe. Of course, frits are dramatically more expensive than other typical body materials, but their use can bring equally dramatic advantages. Bodies can be made to fire glassy, white, translucent and super-strong cone 04. Fritware porcelains achieve greater density than is possible in traditional porcelains and fired strength is comparable, that density produces strength. However, a downside of this is the higher firing shrinkage, that in turn will mean more warping on vulnerable shapes. Fritware bodies can be fired at a rapid rate of rise and fall. The extra expense of the frit justifies the use of whiter more expensive kaolins (and super-white bentonites and smectites) enabling very white fired surfaces. Fritware bodies respond exceptionally well to stains, the glass development intensifies the color).

Traditional porcelains are made from feldspar, clay and quartz and they fire above 2200F (1065C). Typically around 20-30% quartz is needed so that common commercial glazes fit. 25-35% feldspar is needed for maturity. The remainder of the recipe is a mix of kaolins, plasticizers and binders (proportions dependent on the amount of plasticity and dry strength needed). As noted, dense and strong fritware bodies at and above cone 04 are most easily formulated by simply replacing the feldspar with a high sodium frit (in North America the most common is Ferro Frit 3110). If lower expansion glazes are available the percentage of silica can be reduced in favor of more frit (for lower firing) or more clay (for better workability).

Where plasticity can be sacrificed, or augmented by binders, frit percentages can be increased to 90% or more in the recipe to get a vitreous body as low as cone 020! Using Veegum such bodies can be plastic enough for forming and throwing. Using binders even higher frit percentages can be tolerated for casting or pressing.

An advantage of fritware to potters is that standard low-temperature glazes can be used. This includes underglazes. Low fire transparent glazes produce ultra-clear and brilliant surfaces not possible at higher temperatures. The edges of underglaze decoration also bleed much less. Of course, fritware must be bisque fired at much lower temperatures (e.g. 1500-1600F or lower) to be absorbent enough for efficient glazing.

If you wish to experiment with fritware, consider mixing our Zero3 or Zero4 porcelains (and matching glazes).
Related Information
Zero4 fritware mugs fired at cone 04
Tap picture for full size and resolution
To a potter, it may seem impossible that porcelain can be this dense and strong at such a low temperate. To achieve its very high plasticity and fired density this has 18% total shrinkage. Using this Zero4 fritware porcelain, very thin-walled pieces can be thrown. The frit also produces a higher expansion body that fits any low-temperature glaze we have tried. This is G1916QL3 ultra gloss clear glaze on Amaco Velvet underglazes. The low temperature has another benefit: Very sharp edges on painted underglaze designs. Zero4 replaces our old Zero3 porcelain.
Zero4 frit ware broken with cross section close-up
Tap picture for full size and resolution
The body is highly plastic and can be thrown very thin. At cone 04 this thin-walled mug did not warp even though it fired to a near-glasslike cross-section. The density and strength are amazing, it took about 30 hits with a hammer to break it, hitting it as hard as I dared without risking being cut with the handle I was holding it with. The whiter flecks are agglomerates of New Zealand kaolin (because of improper mixing of the slurry), later batches we made were much better.
Zero4 fritware is more resistant to overfiring than you might think
Tap picture for full size and resolution
Most technical sources would say that one of the disadvantages of fritware bodies is volatility in firing. They should deform and warp more readily as they reach maturity. And if overfired we would expect rapid increase in deformation. However, that is not the experience we have had with Zero4 low fire porcelain. It reaches zero porosity (maximum density by cone 06, 1800F). Yet it is still very stable at cone 04 which is more than 100F hotter. Also, at cone 04 it achieves very good translucency. But this cast piece, which is about 10 cm tall (4 in) has a wall thickness of only 2.5mm, has wide flat areas that have not warped and it is fired another 100F hotter (cone 02). Yet it is not warping! This body has the same density and firing shrinkage across the entire cone 06-02 range.
Firing a porcelain in less than 4 hours total
Tap picture for full size and resolution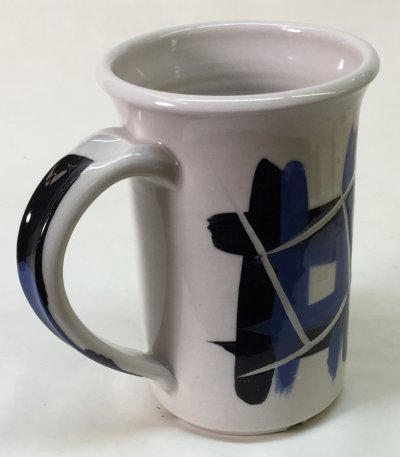 This porcelain mug put into kiln at 8:45am and I was drinking coffee from it at 12:15! How? One way to fast-fire is to fire a lot lower. This is Zero3 porcelain made using Dragonite Halloysite (not quite as white-burning as New Zealand Halloysite). It is the L2934C recipe. It was fired to cone 03 and glazed with G2931K clear glaze (which has fired crystal clear and flawless). I fired at 1200F/hr to 1950F, held it for 15 minutes, cooled at 999F/hr to 1850F and held it for 30 minutes, then dropped as fast as the kiln would do. Is this really porcelain? Yes. And it is super strong. The frit in the recipe is magic, making it vitrify quickly and completely.
Casting Zero3 Porcelain
Tap picture for full size and resolution
Look at how translucent this is! I can fire one of these in three hours, cold-to-cold. I am casting them with molds made using the 3D-printing process. Anyone could do this. Incredibly exciting. And with the G3879 glaze it looks awesome, just like bone china. Notwithstanding this, the Zero3 recipe has to be altered for casting. Initially I have reduced the VeeGum to 1% but it is still casting too slow. And it is not shrinking enough to pull away from the mold well. I am considering strategies on how to increase drying shrinkage and am going to add more frit to take it down to cone 04.
Zero3 casting porcelain at cone 04, 03
Tap picture for full size and resolution
Compared to a typical cone 6 porcelain, left, which has zero translucency, these are fired 10 cones lower. I am using the G3879 clear glaze and it is working very well.
Links
By Tony Hansen
Follow me on

Got a Question?
Buy me a coffee and we can talk
---


https://digitalfire.com, All Rights Reserved
Privacy Policy