Glaze Gelling
Glaze slurries can gel if they contain soluble materials that flocculate the suspension. Gelling is a real problem since it requires water additions that increase shrinkage.
Key phrases linking here: glaze gelling - Learn more
Details
Glaze slurries can gel if they contain soluble materials that flocculate the suspension. Gelling can be a real problem since the glaze will not pour properly, pieces cannot be dipped without getting an excessively thick layer and the glaze does not drain off the ware to form an even layer. When water is added to thin the slurry, drying shrinkage increases and the glaze cracks during drying (this leads to other problems like crawling). On subsequent storage, the glaze can gel again and further water additions are needed. Gelling glazes often dewater or dry very slowly, this becomes a production issue.

Gerstley Borate glazes are most well-known for this problem (although other slightly soluble materials like Nepheline Syenite can cause it). Common recipes that employ 50% or more Gerstley Borate will stir up to a nice suspension, but within minutes they can turn to a gel that is so firm the bucket can be turned upside down. There are lots of pages on this site on how to go about adjusting a recipe to source CaO and B2O3 from others materials instead.

Gelling can also good in a slurry, especially in brushing glazes and engobes. It makes them more paintable and suspends particulates.
Related Information
Original glaze with Gerstley Borate vs. improved version with frit
Tap picture for full size
These pieces are fired at the same temperature. The glaze on the left is a popular recipe found online, Worthington Clear (our code number G2931). The Gerstley Borate in it is "farting" as the glaze is melting (the calculated LOI of the glaze as a whole is 15% mainly from that one material). Unless applied very thinly tons of micro-bubbles appear (this example is fired to cone 03). And strange, it is crazing badly also despite the low calculated thermal expansion. Using my account at insight-live.com I was able to source the B2O3 and MgO from a frit (actually two frits) to create the G2931K recipe. Although the thermal expansion calculates higher it is strangely fitting better (albeit not firing as white). As you can see, the new fritted glaze is very glassy and clear (thick or thin).
Why would a glaze turn into a jelly like this?
Tap picture for full size
This is one of the things Gerstley Borate does to glazes (when its percentage is high enough). This slurry has a high water content and should be far more watery. It is also highly thixotropic - this can be stirred vigorously to thin it and yet within seconds it turns back to jelly again. This was deflocculated with Darvan yesterday and it was stable enough to dip bisque ware - but overnight salts have gone into solution and it is no longer dispersed. It also dries very slowly on bisque ware. What can be done with a mess like this? Replace the Gerstley Borate with something else. Gerstley Borate sources B2O3, it can be supplied using frits or Ulexite (glaze chemistry calculations are needed to juggle the recipe), this can be done in an account at insight-live.com.
One reason why Gerstley Borate can make glaze difficult to use
Tap picture for full size
This glaze slurry contains 30% Gerstley Borate. I poured it onto a plaster table and it can take five or ten minutes to dewater enough to form it in test balls. A typical glaze would dewater twenty times faster! Gerstley Borate contains microfine clay (e.g. hectorite, bentonite), the percentage is high enough that it voraciously hangs on to the water it has. This is the reason that many GB glazes take a long time to dry on bisque ware. And why they require more water and gel the slurry. Generally, slow drying also means cracking, that in turn can lead to crawling.
Frit made this Gerstley Borate glaze much better
Tap picture for full size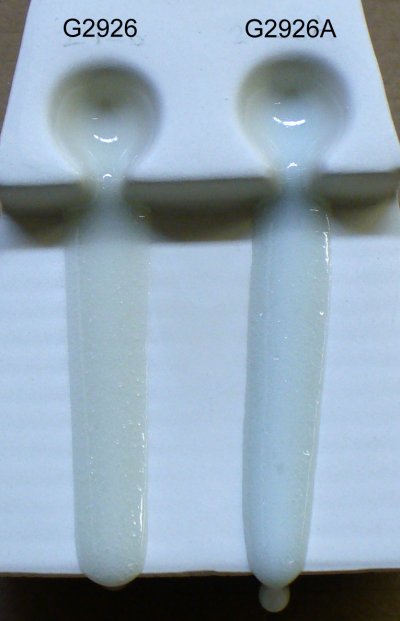 This is a GBMF test, it compares the melt fluidity of the Gerstley Borate based cone 6 Perkins Studio clear recipe original (left, our code number G2926) and a reformulated version that sources the boron from Ferro Frit 3134 instead (right, our code number G2926A). The latter is less amber in color (indicating less iron). The good news was that it melted so much better that we were able to add significant Al2O3 and SiO2 to really drop the thermal expansion (improving glaze fit on common clay bodies), which produced our G2926B base recipe. Every time I use it I think of how unfortunate we would have been had we continued to use the Gerstley Borate original.
Can you actually throw a Gerstley Borate glaze? Yes!
Tap picture for full size
G2931 Worthington Clear is a popular low to medium-fire transparent glaze recipe. It contains 55% Gerstley Borate (GB) plus 30% kaolin (GB melts at a very low temperature). GB is also very plastic, like a clay. I have thrown a pot from this glaze recipe! This explains why high Gerstley Borate glazes often dry so slowly and shrink and crack during drying. When recipes also contain a plastic clay the shrinkage is even worse. GB is also slightly soluble, over time it gels glaze slurries even in smaller percentages. Countless potters struggle with Gerstley Borate recipes.
Links
By Tony Hansen
Follow me on

Got a Question?
Buy me a coffee and we can talk
---


https://digitalfire.com, All Rights Reserved
Privacy Policy