Clay Stiffness
In ceramics, clays exhibit plasticity in accordance with their recipe but also the water content. The stiffness considered correct varies for different types of forming methods.
Key phrases linking here: clay stiffness - Learn more
Details
Clay bodies used in machine forming must have a correct stiffness in order to optimize the forming process. Great effort is expended in the body mixing departments of factories to produce a product of standard stiffness and plasticity. In such production situations, the body is used soon after it is made and there is no need to worry about how the stiffness might change over time. However companies that manufacture bodies (either for use in large scale production or by potters) need to consider this. Some bodies soften over time, others stiffen. There are a range of reasons why this happens (e.g. slight solubility in one or more materials, the presence of electrolytes in the water used, particle agglomeration).

In addition, it is common for bodies to appear to stiffen, but re-soften as soon as they are wedged or moved. Each body has its own specific water content percentages that correspond to specific stiffnesses. Usually, the more plastic it is the more water is needed. Water contents can vary with changes in the materials, so when deciding how to run a body it is common for production departments to put more weight on the feel of the material leaving the pugmill and use the water content numbers as a secondary guide (however if the clay will be aged before use, there is more emphasis on the percent water content). Although there are a variety of devices employed to gauge stiffness, the usefulness of these is often questioned by experienced people (who prefer simply judging by feel).

Cracking problems with drying rise exponentially as the water content of pugged clay rises. So it is better to avoid softer clay unless you have experience using it for the intended application (e.g. jiggering). Using clay on a potters wheel that is too soft also means experiencing less plasticity and not being able to throw as thin, high or true as would otherwise be possible. And the clay will be stickier.

If you are a hobby potter and a clay has become too stiff (because of water loss) it can likely be softened (assuming the slugs are in plastic bags). Make some small holes on one side of the bag and set it face down on some gravel in the bottom of a water-filled basin (enough water to go a little above the gravel-level enabling it to access the bottom side of the bag). After a few days it should begin to soften. If needed, make holes on the other side(s) and put them face down for continued softening. Clays can be stiffened by taking the slug out of the bag and covering it with cloths for a day or two. Using either of these two methods, you will of course need to wedge the clay well to prepare it for use.
Related Information
This simple device continuously gauges clay stiffness
Tap picture for full size and resolution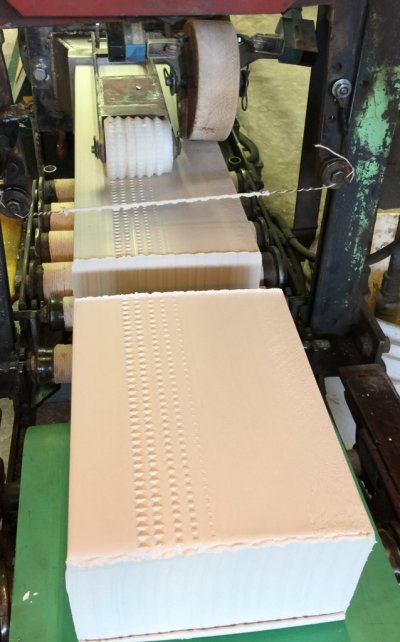 Here is how the pugmill operators at Plainsman Clays gauge the stiffness of the clay coming out of the pugmill. The machined nylon roller is on a slant and weighted. The softer the clay the more lines show. When they are like this (5th line steady) the operator knows the water content is around 22% for this clay, Polar Ice. For each type of clays it is different. Stiffness at pugging must also compensate when the clay tends to stiffen or soften over time. Over the years they have tried many devices to measure stiffness, but this has proven the most reliable.
Is the clay too stiff to use? Maybe not.
Tap picture for full size and resolution
Clays of very high plasticity often stiffen during storage in the bag. This is Plainsman Polar Ice, it contains 4% VeeGum. This slug is like a brick, yet it will loosen up completely. But it is far too stiff to attempt wedging. However, simply throwing it on the floor a few times (turning it each time) will pre-soften it enough to be able to wedge. Then, before you know it, it is too soft and needs to be put on a plaster table to stiffen it before throwing.
A home made moisture sensor for pugged clay
Tap picture for full size and resolution
This is an Arduino controller board that has been wired to a display and a moisture sensor probe (which is stuck into a piece of soft clay). The sensor outputs a voltage that varies with changes in the resistance encountered between the probes (according to the material being measured). In this case the controller is directly outputting the number being returned by the probe. A study is needed to compare outputs with actual measured water content, this data would enable changing the software to output the percentage-of-water directly. However this sensor is intended for soils, it is not giving repeatability and consistency for measuring the much higher water content found in pugged clay. So we need to find a better one.
By Tony Hansen
Follow me on

Got a Question?
Buy me a coffee and we can talk
---

https://digitalfire.com
, All Rights Reserved
Privacy Policy