How do you measure the stiffness of a clay?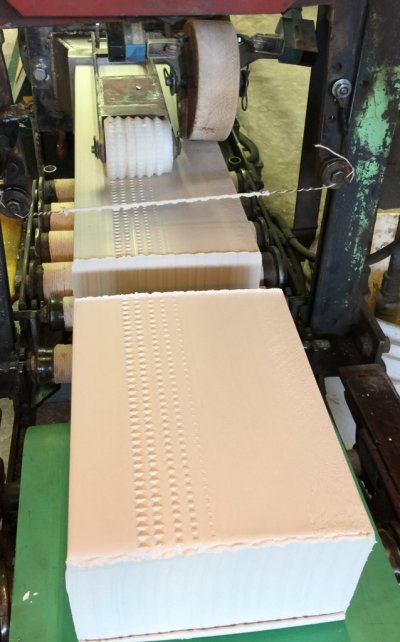 Here is how the pugmill operator at Plainsman Clays gauges the stiffness coming out of the pugmill. That roller is on a slant and weighted. The softer the clay the more lines show. When they are like this (5th line steady) they know the water content is around 22% for this clay, Polar Ice. For other clays it is different. Stiffness at pugging must compensate when the clay tends to stiffen or soften over time on storage. Over the years they have tried many devices to measure stiffness, but this has proven the most reliable.
Is the clay too stiff to use? Maybe not.
Clays of very high plasticity often stiffen during storage in the bag. This is Plainsman Polar Ice, it contains 4% VeeGum. This slug is like a brick, yet it will loosen up completely. But it is far too stiff to attempt wedging. However simply throwing it on the floor a few times (turning it each time) will pre-soften it enough to be able to wedge. Then, before you know it, it is too soft and needs to be put on a plaster table to stiffen it before throwing.
A home made moisture sensor for pugged clay
This is an Arduino controller board that has been wired to a display and a moisture sensor probe (which is stuck into a piece of soft clay). The sensor outputs a voltage that varies with changes in the resistance encountered between the probes (according to the material being measured). In this case the controller is directly outputting the number being returned by the probe. A study is needed to compare outputs with actual measured water content, this data would enable changing the software to output the percentage-of-water directly. However this sensor is intended for soils, it is not giving repeatability and consistency for measuring the much higher water content found in pugged clay. So we need to find a better one.
By Tony Hansen

---

Copyright 2008, 2015, 2017
https://digitalfire.com
, All Rights Reserved