A flameware body being tested for thermal shock. Is this a joke?
A recommended flameware recipe from a respected website (equal parts of 35 mesh grog, talc and ball clay). Looks good on paper but mix it up for a surprise. The texture is ridiculously coarse. Recipes like this often employ fire clays and ball clays, but these have high quartz contents (in a test like this a ball clay vessel could easily fail in 5 seconds). But this one is surviving still at the 90-second mark. Or is it? While porcelain pieces fail with a spectacular pop of flying shards, these open-porous bodies fail quietly (note the crack coming up to the rim from the flame). There was an intention to create cordierite crystals (the reason for the talc), it is hard to say whether than happened or not. But the porosity of 12.5% would be difficult to deal with. On the positive side, you could likely continue using this vessel despite the crack.
A flameware recipe. Are they kidding?
This is a flameware, made from a recipe promoted by a popular website. Are they serious? How could you throw this? Maybe it is possible, but we need an explanation. How could the page fail to mention how coarse this surface would be? How porous and weak ware would be? We find many body and glaze recipes on the internet. These almost always just sit there, taking screen space, not explaining themselves in any way.
The texture of 33% 20-48 mesh grog in a flameware body
The body is a 50:50 talc:ball clay mix, it is very smooth and slick so the only particulate is from the grog. In this case the grog addition is being used to make the body resistant to thermal shock failure (for use as a flameware). The body itself is not low expansion nor are the grogged particles. But the sheer quantity of aggregate particles and their size creates an open porous matrix that makes it difficult for cracks to propagate. Of course lots of burnishing, an engobe or a thick glaze layer will be needed to make this surface functional. We could call this the "crow-bar" approach to flameware.
Can terra cotta ware resist an open flame? Yes.
This is a road-side stand in Mexico in 2016. Each of these "cazuelas" (casseroles) have a flame under them to keep the food inside warm. The pedestal is unglazed. The ware is thick and heavy. The casseroles are hand decorated with under glaze slip colors and a very thin layer of lead glaze is painted over (producing a terra sigilatta type appearance, but with brush stoke texture). These have been made and used here for hundreds years. How can they not crack over an open flame? The flame is small. The clay is fired as low or lower than potters in Canada or the US would even fired their bisque. It is porous, open and able to absorb the stresses. They know these pieces are not strong, so they treat them with care.
The porcelain is harder, but the terra cotta has it beat for thermal shock!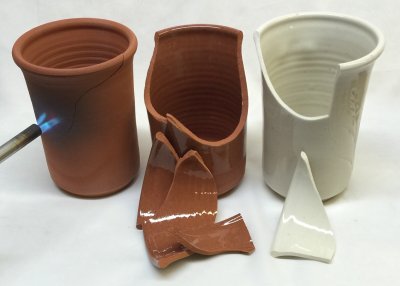 This terra cotta cup (center) is glazed with G2931G clear glaze (Ulexite based) and fired at cone 03. It survives 30 seconds under direct flame against the sidewall and turns red-hot before a fracture occurs (the unglazed one also survived 30 seconds, it only cracked, it did not fracture). The porcelain mug (Plainsman M370) is glazed with G2926B clear, it survived 15 seconds (even though it is much thinner). The porcelain is much more dense and durable, but the porous nature of the earthenware clearly withstands thermal shock much better. It is actually surprisingly durable.
Related Information
Links