GA6-F - Alberta Slip Cone 6 Oatmeal
Modified: 2019-03-13 15:13:49
Plainsman Cone 6 Alberta Slip based glaze. It can be found among others at http://albertaslip.com.
Notes
Alberta slip is well suited to oatmeal glazes because it already has the iron content needed. Vary the titanium for more or less gloss and oatmeal appearance.

This glaze is very attractive, but one issue you might encounter is pinholing or blistering if it is too thick (a common problem with this type of glaze). Try using it on different bodies and thicknesses to find the best combination. Adjust the frit if you would like it to melt lower or higher. Do not hesitate to reduce the rutile and titanium by a percent to experiment. Getting this glaze working is well worth the effort, not just for the fired results, but for how well it works in the studio. It is actually less troublesome than most others that fire similarly.

This recipe was referred to as GA6-B in past.

For mixing instructions please see the master recipe, GA6-A.
Related Information
How much rutile can a glaze take before it becomes unstable?
The 80:20 base Alberta slip base becomes oatmeal when over saturated with rutile or titanium (left:6% rutile, 3% titanium; right:4% rutile, 2% titanium right). That oatmeal effect is actually the excess titanium crystallizing out of solution in the melt as the kiln cools. Although the visual effects can be interesting, the micro-crystalline surface is often susceptible to cutlery marking and leaching. This is because the crystals are not as stable or durable as the glass of the glaze.
Cone 6 black with a second layer of oatmeal glaze
The underglaze is G1214M cone 6 black (adds 5% Mason 6666 black stain). Overglaze left: GR6-H Ravenscrag Oatmeal. Overglaze right: GA6-F Alberta Slip oatmeal. Both produce a very pleasant silky matte texture (the right being the best). Both layers are fairly thin. In production it would be best to spray the second layer, keeping it as thin as possible. It is also necessary to adjust the ratio of raw to calcined Alberta or Ravenscrag Slips to establish a balance between drying hardness but not too much drying shrinkage (and resultant cracking).
Roasting Alberta Slip at 1000F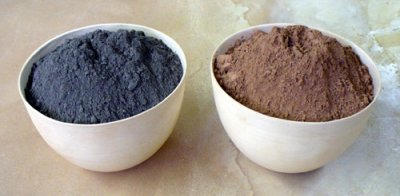 Roasted Alberta Slip (right) and raw powder (left). These are thin-walled 5 inch cast bowls, each holds about one kg. I hold the kiln at 1000F for 30 minutes. Why do this? Because Alberta Slip is a clay, it shrinks on drying. Roasting eliminates that, a 50:50 raw:roast mix works well for most recipes having high percentages of Alberta Slip. And 1000F? Calcining to 1850F sinters some particles together (creating a gritty material) while 1000F produces a smooth, fluffy powder. Technically, Alberta Slip losses 3% of its weight on roasting so I should use 3% less than a recipe calls for. But I often just swap them gram-for-gram.
Links