Clay body
A term used by potters and in the ceramic industry. It refers to the earthenware, stoneware or porcelain that forms the piece (as opposed to the engobe and covering glaze).
Key phrases linking here: clay bodies, clay body - Learn more
Details
For potters and in industry, the term "clay" is not specific enough, thus the term "body" is used. Technically, "clays" are ingredients that can be found in glazes, engobes and in the body. Bodies have a much higher clay proportion than glazes. Thus there is danger of ambiguity when one refers to the body as "the clay". Notwithstanding this, the term "clay" is often used, e.g. "I am going to buy some clay". Clays that are ingredients in bodies and glazes are normally referred to by their mineral names in commerce (e.g. kaolin, ball clay, bentonite) and by their brand names.

A typical vitreous stoneware or porcelain body is mixture of raw and/or refined clays with likely additions of silica as a filler (and thermal expansion increaser) and feldspar as a flux. In bodies the larger grains of quartz and other refractory particles remain mostly unmelted while the clay particles go into solution in the feldspar glass or convert to mullite. Sintered and earthenware bodies have strength by virtue of whatever particle bonding mechanisms occur. When potters or technicians refer to the fired clay or porcelain matrix under the glaze they also call it "the body" (e.g. "the body is vitrified", "the glaze crazes on this body").

Plastic bodies require high percentages of ball clay (or ball-clay-containing materials) or additions of bentonite (or other plasticizer). Casting bodies can be made using only kaolin as the clay component of the recipe (since the body does not need high plasticity). That being said, casting bodies most often also contain ball clay to give them leather hard and green strength. Dust pressing bodies can be workable with even lower clay contents, relying on binders to impart dry strength. That being said, it is normal for such bodies to use high percentages of local clays with fillers to minimize firing shrinkage.
Related Information
Testing your own native clays is easier than you think
Tap picture for full size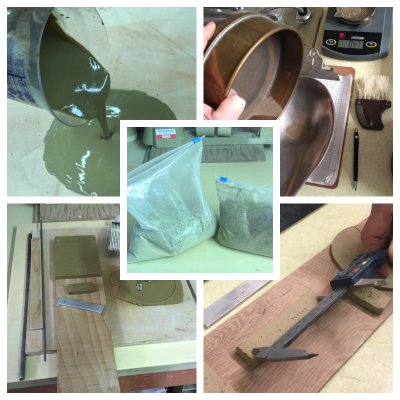 Some simple equipment is all you need. You can do practical tests to characterize a local clay in your own studio or workshop (e.g. our SHAB test, DFAC test, SIEV test, LDW test). You need a gram scale (preferably accurate to 0.01g) and a set of callipers (check Amazon.com). Some metal sieves (search "Tyler Sieves" on Ebay). A stamp to mark samples with code and specimen numbers. A plaster table or slab. A propeller mixer. And, of course, a test kiln. And you need a place to put all the measurement data collected and learn from it (e.g. an account at insight-live.com).
Twenty six bodies. Porcelains and native. Which do I like best?
Tap picture for full size
I am testing runs of clays we (Plainsman Clays) make for potters. We are doing too many small-run products, bodies that we want to discontinue because others we are really good at making are much better. I am using native bodies and porcelains but the native ones will turn out best. I got lots of s-cracks on the porcelains, the low humidity at this time of the year caught me by surprise. But I got zero cracks on native bodies. And I am using engobes on the natives, these can turn even a dark colored stoneware surface pure white (I am also using a black engobe here). I'll use a mix of base and cover glazes that I make myself (using recipes we publish) for food surfaces and decorate some using bottled commercial glazes.
Step-by-step how to test and evaluate a new native clay
Tap picture for full size
"It Starts With a Lump of Clay", a step-by-step Insight-Live.com tutorial (from its help system and the link below) on how to document every step (in an account at insight-live.com) of testing a raw clay. You will learn about drying shrinkage, drying performance, particle size distribution, plasticity, firing shrinkage, fired porosity, fired color, soluble salt content, fired strength, etc. We will not just observe these properties, but measure them. In doing so we will characterize the material. We will answer simple questions about how the material forms, dries and fires across a range of temperatures. In doing the testing I will be generating a lot of data. No single factor is more intimidating to new technicians than what to do with this data, how and where to store it, how it can be searched, learned from, compared.
Links
Glossary
Clay
What is clay? How is it different than dirt? For ceramics, the answer lies on the microscopic level with the particle shape, size and how the surfaces interact with water.
Glossary
Batch Recipe
In ceramics, glazes are made by weighing out dry ceramic powdered materials to fill a recipe. Batch recipes often are a combination of a base recipe and additions.
Glossary
Characterization
In ceramics, this normally refers to the process of doing physical or chemical testing on a raw material to accurately describe it in terms of similar ones.
Glossary
Physical Testing
In ceramics, glazes and bodies have a chemistry, a mineralogy and a physical presence. All of these need to be understood to adjust and fix issues.
Articles
Formulating a body using clays native to your area
Being able to mix your own clay body and glaze from native materials might seem ridiculous, yet Covid-19 taught us about the need for independence.
By Tony Hansen
Follow me on

Got a Question?
Buy me a coffee and we can talk
---


https://digitalfire.com, All Rights Reserved
Privacy Policy