Ball milling
A method of grinding particles in ceramic powders and slurries. A porcelain, metal or rubber vessel filled with pebbles tumbles and particles are ground between colliding pebbles.
Key phrases linking here: ball milling, ball milled, ball-milled, ball mill - Learn more
Details
A device used to reduce the particle size of materials, bodies or glazes. A ball mill is simply a container that is filled with pebbles (either of porcelain or stones e.g. Flint) into which a charge (powder or slurry) is put and that is then mechanically rotated to cause the tumbling pebbles to crush particles that happen between them. Ball mills can be continuous or periodic, they can be small or gigantic, low-speed or high-speed rotated or vibrated or both. For maximum efficiency, a ball mill should be made of, or lined with, a porcelain or other very hard surface (so grinding also occurs between the wall and the balls), and the balls should be of a range of sizes (to maximize points of contact), the mill should have the correct quantity of balls, the slurry should be the right viscosity and the charge should be an optimal amount (overcharging reduces efficiency). Various compromises are often made (for example rubber lined mills to reduce wear and noise).

Large manufacturers hire ball mix supervisors, operators and mechanics. Technicians occupy themselves with getting a consistent and predictable product (surface area and particle size distribution), they employ mathematical formulas to determine the number of balls needed, the distribution of ball sizes and other operating parameters like duration and speed. They are wary of grinding products as mixes, it is often better to mill hard and soft powders separately and combine them later. Engineers typically use surface area measurement instrumentation to evaluate mill efficiency. Rheology of the slurries being processed are also controlled, milling time and efficiency can be greatly improved by additives to increase cohesion.

Ball mills can reduce particles to nano sizes, the process is very important in creating powders used in hi-tech industries (e.g. alumina). Ball mills are slow compared to other methods of grinding, it could take hours, for example, to grind all the particles in a clay to minus 200 mesh. Industrial mills seeking nano-sizes might run 24 hours or more! Ball milling is normally done in consort with wet screening and/or roller-milling/air floating, for example, so that large particles have already been removed by the time the material reaches the ball mill. Air floating can also be done in consort with dust ball milling. The milling process can also reduce particle sizes by too much for an application, so a means of measuring the distribution of ultimate particles is important to be able to set the parameters for the process.

A clay body that has been ball milled will be more plastic, potentially much more plastic. Ball milling of the body or selected body materials will reduce or eliminate many types of fired glaze imperfections (especially specking, blistering and pin-holing). That being said and as already noted, iron particulates are best removed before milling).

Milling a glaze will produce a cleaner-fired result with fewer imperfections. Materials deliver their chemistry to the glaze melt only if their particles dissolve in the melt. But some glaze materials are refractory and resistant to dissolving (e.g. silica, alumina). When silica does not completely dissolve in a transparent glaze it will fire cloudy and its actual thermal expansion will be higher than it would otherwise be. By ball milling silica to very small particle sizes all the particles dissolve, producing a much better-fired product.

Milling of slurries presents fewer technical challenges than dust milling. We have found that thicker creamy slurries mill better than watery ones. A simple ball mill can be constructed by almost anyone, but obtaining the hard pebbles with the correct range of sizes for inside the mill can be a challenge (they are expensive).
Related Information
How long do you need to ball mill a glaze?
Tap picture for full size and resolution
You can measure to see. How? Wash a measured amount through a 200 mesh screen and note the amount of residue. These two show the oversize on a 200 mesh screen of 100 grams of glaze slurry. On the left: Unmilled. On the right: Milled 1 hour. Clearly, it needs more than 1 hour in this mill. A factor here is the high percentage of silica in this recipe. And the fact that the coarser grade of US Silica #95 was used (rather than #45).
3D Printed spout for ball mill
Tap picture for full size and resolution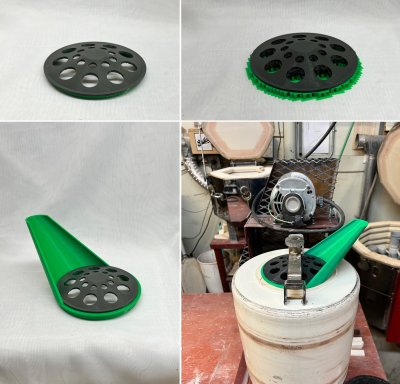 When full of balls and glaze this Royal Doulton ball mix weighs about 80 lbs. If efforts to pour it out don't cause a hernia the slurry ends up spilling everywhere as the balls come out with it! Trying to stop the balls with my hand ends up spilling even more. The answer was to 3D print a spout and a ball retainer. The bar and screw that normally hold the lid on work well to hold this in place. For multiple batches of the same glaze, it can now be poured right from the rack, no need to carry it to our sink. And not a drop spills. In the upper right picture, I had to change the filament midway, from green to black. It was easy to draw this in Fusion 360. I first printed the ring and flange to be sure of a good fit into the rim. A rubber band stretched around the flange provides a very good seal with the jar.
Make your own ball mill rack - Front side
Tap picture for full size and resolution
DIY wheel mount ball mill rack
Tap picture for full size and resolution
Courtesy of Lawrence Weathers
Ball mill jar and rack made by @andygravesstructures
Tap picture for full size and resolution
Possible to grind your own ceramic grade rutile?
Tap picture for full size and resolution
Yes, the granular and powdered grades or pure rutile are the same material. But grinding it is very difficult. Commercial ceramic grade powder is minus 325 mesh, the companies doing this obviously have very good grinding equipment. They also have patience because even in this efficient porcelain ball mill, 90 minutes was only enough to get 50% to minus 325 mesh! The color of the powder is a good indication of its quality, the finer the grind the lighter tan it will be.
Can we ball mill a clay and make it more colloidal? Yes.
Tap picture for full size and resolution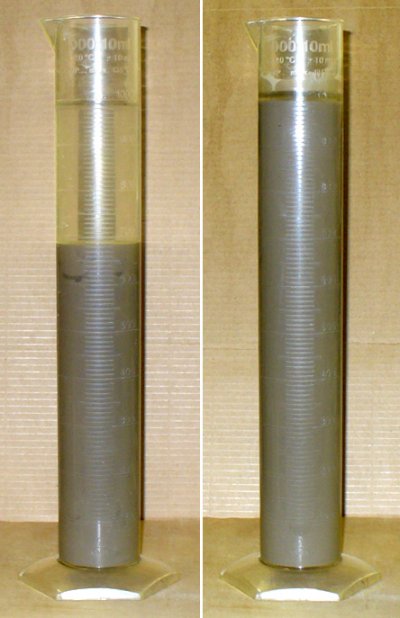 This 1000 ml 24 hour sedimentation test compares Plainsman A2 ball clay ground to 10 mesh (left) with that same material ball milled for an hour (right). The 10 mesh designation is a little misleading, those are agglomerates. When it is put into water many of those particles break down releasing the ultimates and it does suspend fairly well. But after 24 hours, not only has it settled completely from the upper section but there is a heavy sediment on the bottom. But with the milled material it has only settled slightly and there is no sediment on the bottom. Clearly, using an industrial attrition ball mill this material could be made completely colloidal.
Particle size drastically affects drying performance
Tap picture for full size and resolution
These DFAC testers compare the drying performance of Plainsman A2 ball clay at 10 mesh (left) and ball milled (right). This test dries a flat disk that has the center section covered to delay its progress in comparison to the outer section (thus setting up stresses). Finer particle sizes greatly increase shrinkage and this increases the number of cracks and the cracking pattern of this specimen. Notice it has also increased the amount of soluble salts that have concentrated between the two zones, more is dissolving because of the increased particle surface area.
An hour in a ball mill does less than I thought for this clay
Tap picture for full size and resolution
This is all of the oversize on a 35-200# PSD test of a clay body slurry of a 50-gram sample (thus the +200 mesh material). The oversize on the right was measured after 1 hour in our ball mill (porcelain jar). That hour only reduced the total +200 oversize from 7g to 3g. This underscores the amount of energy it can take to reduce the particle size of a ceramic material.
Links
By Tony Hansen
Follow me on

Got a Question?
Buy me a coffee and we can talk
---


https://digitalfire.com, All Rights Reserved
Privacy Policy