Plaster table
Every serious potter, studio, school and lab needs a plaster table. The bigger the better. Plaster is porous, it can absorb a lot of water. Thus, when a clay slurry is poured onto a plaster surface the water is pulled out of it. The speed at which the water can be removed is determined by the permeability of the mix, more plastic clays are less permeable. Also, clay does not stick to plaster, that makes it a perfect surface for wedging. And it is great for setting freshly wheel-thrown ware (to pull water out of the thicker, and thus slower-drying base).

If you live in a wet climate, water may not evaporate from your table fast enough. You can solve that by emulating the industry practice of making molds air-releasable (especially important in RAM pressing operations). Molds are made with internal ductwork and a compressed air fitting/coupler. On pressurization air travels outward through the plaster's capillary system, releasing the just-pressed object. A side benefit is that the escaping air also purges the plaster of water that may be blocking the capilliaries, it bubbles out with the escaping air. This same principle can be adapted to a plaster table by incorporating molduct tubing (available at Lagunaclay.com) making it possible to quickly purge water.
Related Information
A plaster table: Better than a pugmill, essential for testing
Tap picture for full size and resolution
This is an example of an angle iron utility table being made into a plaster table. The cardboard sides extend upward to make the slab thicker and create a buffer gap to prevent the expanding and setting plaster from pressing outward on the frame. 150 lbs plaster (92 lbs water) was poured into the plastic-lined space (the bottom cardboard sections were supported from below). In a dry enough climate, this table could make enough clay to support slurry-to-plastic production for a potter (a thicker slab and a fan would enable even more capacity). The slurry-up process is better than a pugmill for small operations. It's much cheaper and is an easier way to utilize scrap material and weigh out custom recipes. The clay quality and de-airing is better (without hard chunks and contamination common to pugmilling). The procedure generates much less dust and the tank is easily cleaned. Slurries are easily sieved, especially if you have a sieve shaker.

Resurface your plaster table and make it like new!
Tap picture for full size and resolution
This plaster slab is about 5 years old. I have used it to dewater many raw clays that contain significant soluble salts. Over time they sealed the surface with a hard scum. That not only made the table slower to dewater slurries but it also significantly slowed down the time it took for water to evaporate out of it. Using this carpenter's plane I removed about half a millimetre. The blade self-sharpened. It took some experimentation to set it at a depth that would effectively remove the hard layer. I thought it would produce grooves and unevenness in the surface, but it did not. Sanding was not necessary. And the first slurry stiffened quickly, like a freshly-poured slab, and there were no bits of plaster in it.
Sanding the surface of a plaster table to keep it absorbent
Tap picture for full size and resolution
The water that a plaster table absorbs from clay slurries contains soluble salts. They penetrate into the plaster and then come back out to the surface as the water evaporates, forming a hard and less absorbent layer. Variable absorbency in a plaster surface can easily be observed as it is cleaned with a sponge and water. Fortunately, that layer is very thin and can be removed by sanding. Plaster is durable and can serve for decades using this technique. These durable fabric sand paper screens work exceptionally well because they can be used with water and to not blind. They are available in hardware stores and sold as drywall sand screens. We have seen 150, 120 and 80 grit (the latter is the one used here).
Pouring the slurry on a plaster table to dewater it
Tap picture for full size and resolution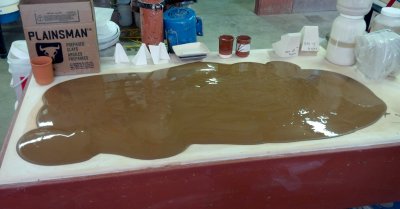 Pottery plaster is highly absorbent, it can remove the water from this thick slurry, made from a 5 kg powder mix, in an hour. Slurries of higher water content dewater much quicker, a 1 kg mix can be ready in minutes. This table weighs 400 lbs dry, but smaller ones are equally practical for smaller test batches. Plaster tables are much more practical in arid climates, it is dry here so one this size can supply enough clay for production of a potter. In wetter climates ductwork can be installed within the plaster and air pressure can be used to dewater the table. If you need one of these, photos are linked to our plaster table article.
A plaster table makes it easy to make a drying box
Tap picture for full size and resolution
These mugs are on a plaster table, freshly thrown on the wheel. I made the box cover from a large sheet of cardboard and painted wax emulsion on the inside. When left overnight under the box the mugs dewater evenly, the plaster pulls water from the air in the box and directly from the thicker bases. If I am worried they will stiffen too much overnight I water down the plaster to keep the humidity. When things are right, in the morning they are stiff enough for handle attachment and to turn over to ready them for trimming. An advantage of this method is that I can throw ware minutes before closing time, come back in the morning, and they are ready. And pieces do not experience the unevenness in drying that happens typically when pieces are left to air dry (after throwing) until they are stiff enough to support a cloth and plastic to cover them.
Why are there so many different kinds of plaster?
Tap picture for full size and resolution
The Laguna catalog is striking for the number of different kinds of plaster they stock (at the time of this writing: fifteen). This catalog is an eye opener to the number of applications in which plaster is used and the number of properties it can offer. Among these are ability to pressure purge, the wet strength or dry strength, setting expansion, setting speed, absorption, density, toolability, suitability for hand layup or carving or layering, ability to surface harden, high density for simulating stone, low water needs, fire resistance and others. Plastic notches and molduct tubing are notable also (these are not generally easy-to-find, the latter is also available at axner.com).
Inbound Photo Links

Plaster bats are indispensable to the potter
Links
By Tony Hansen
Follow me on

Got a Question?
Buy me a coffee and we can talk
---


https://digitalfire.com, All Rights Reserved
Privacy Policy