Ferro Frit 3110
Alternate Names: F3110, Frit KFG 4110, Ferro Crystal Frit, Ferro Frit 3110-2
Notes
This is a USA pottery frit, Ferro now calls it Frit 3110-2.
Soft sodium borosilicate frit for glazes. Since it is a good source of Na2O it is very commonly found in glaze recipes all temperatures. It has a high thermal expansion, therefore useful for substitution into glazes that are shivering (e.g. the G1916Q recipe trades it for frit 3195 to increase expansion). Often used in crystal glazes.

Since it is somewhat soluble some precipitation can occur in glazes stored for lengthly periods.

This frit can be very useful to reduce the feldspar content in glazes (since many high feldspar glazes have low clay content and therefore poor slurry suspension properties and dried hardness). The chemistry of this frit is similar to a feldspar (but with low alumina and CaO in addition to the alkali fluxes). That means if least part of the feldspar can be substituted for Frit 3110 you can increase the kaolin (to supply the alumina) and thereby improve slurry properties (we have done this with excellent success up to cone 10R). In addition you will be able to reduce the amount of troublesome calcium carbonate. Of course, glaze chemistry is needed to calculate how to do this, there are videos at digitalfire.com on how to do this.

It can be used with 3403 for bright and semi-matte wall tile glazes. This frit is also good for use as a body flux to substitute for feldspar, much lower vitrifying ranges are possible. However it is somewhat soluble, so bodies should be used soon after making them.

Cone Range: 08-8
Fusion temperature: 1400F
Flow temperature: 1700F
This frit has a very low melting point like 3124, 3134, 3185.
Formerly Frit 1078
Related Information
Frit Melt Fluidity Comparison - 1850F
These melt flow tests were fired at 350F/hr to 1850F and held for 15 minutes (I did firings at 50-degree increments across a wide range). It is amazing how active some frits are, even well below normal bisque temperatures! Frit 3110, Frit 3134, Frit 3195, Frit F-75 have all flowed all the way down for many previous temperatures. LA300 and Frit 3124 were just starting at 1800F, look at them now! Frit F-524 and Frit F-38 have gone from half-way at 1800F to water-falling over the end. Frit 3249 is still not out-of-the-gate but Frit F-69 (the Fusion Frits equivalent of 3249) is half-way. Note how the melt surface tension is evident by the way in which the melts spread out or hold together. By contrast, Gerstley Borate (labelled "GB"), the only raw material here, suddenly melted and flowed right over-the-cliff between 1600 and 1650! The best melter of all of them is high-boron high-zinc Frit FZ-16.
Ferro Frit 3110 vs Fusion F-75 at cone 04
On paper, Fusion F-75 has a very similar chemistry to 3110. However, as can be seen here, it is flowing a little more and appears to have a lower surface tension. The bubbling character is also a little difference. The differences could be partly to Fusion using a different set of raw materials to source the chemistry or differences in their smelting process.
Frits melt so much better than raw materials

Feldspar and talc are both flux sources (glaze melters), they are common in all types of stoneware glazes. But their fluxing oxides, Na2O and MgO, are locked in crystal structures that neither melt early or supply other oxides with which they like to interact. The pure feldspar is only beginning to soften at cone 6. Yet the soda frit is already very active at cone 06! As high as cone 6, talc (the best source of MgO) shows no signs of melting activity at all. But a high-MgO frit is melting beautifully at cone 06! The frits progressively soften, starting from low temperatures, both because they have been premelted and have significant boron content. In both, the Na2O and MgO are free to impose themselves as fluxes, actively participating in the softening process.
Melt fluidity comparison of frits - 1350F
Fired at 350F/hr to 1350F and held for 15 minutes. Some are still burning off carbon (which seems strange). The two FZ16s are starting to move. Frit 3134 is expanding. 3602 is also starting to melt.
Melt fluidity comparison of frits - 1400F
Fired at 350F/hr to 1400F and held for 15 minutes. Frit 3134 is still expanding. 3602 is also starting to flow. A number of them are shrinking and densifying like a porcelain would.
Melt fluidity comparison of frits - 1450F
Fired at 350F/hr to 1450F and held for 15 minutes. Frit 3134 is still expanding. 3602 is blasting out of the gate, taking the lead. F75 is starting to flow.
Melt fluidity comparison of frits - 1500F
Fired at 350F/hr to 1500F and held for 15 minutes. Frit 3134 is still expanding. 3602 and FZ16 are really starting to move. 3195, F38 and F15 are softening.
Melt fluidity comparison of frits - 1550F
Fired at 350F/hr to 1550F and held for 15 minutes. Frit 3134 is still expanding. 3602 and FZ16 are going to be off-ramp by next firing.
Melt fluidity comparison of frits - 1650F
Fired at 350F/hr to 1650F and held for 15 minutes. FZ16 has turned crystal clear and spread out across the runway (has low surface tension). Frit 3110 has so much surface tension that the flow can be lifted off the tester. Since 1600F Gerstley Borate has gone from unmelted to passing all the rest!
Melt fluidity comparison of frits - 1700F
Fired at 350F/hr to 1700F and held for 15 minutes. 3110 is finally starting to move. 3134 also (being full of bubbles). Gerstley Borate has turned almost transparent (because the Colemanite portion of it is now melting). 3195 is looking very well behaved compared to most others, forming a bubble free glass of high surface tension (F15 and F524 are starting to do the same).
Frits vs. raw materials in glazes: It is not just about the chemistry
I have done alot of work recently comparing the sourcing of fluxing oxides from frits vs. raw materials. The differences are often incredible. The oxides MgO and CaO normally come from materials that melt high. But common frits that source them melt low. The chemistry in the two cone 6 glazes (comparing on this melt flow tester) are the same. But Y4 sources the KNaO from Ferro Frit 3110 instead of feldspar and alot of the MgO from Ferro Frit 3249 instead of talc. Y4 would flow even more but also has 10% calcined alumina! Sourcing Al2O3 from such a refractory material should make it melt less than sourcing it from kaolin, but the frits overcome even that to create this amazing fluidity in a matte glaze. The lesson: All glazes have a chemistry, but that cannot be taken in isolation from the materials that source it.
Melt fluidity comparison - 1750F
Fired at 350F/hr to 1750F and held for 15 minutes. Frit 3110 has taken off. And F75, 3195 and 3134 (the latter two having big differences in surface tension).
Frit Melt Fluidity Comparison - 1800F
Fired at 350F/hr to 1800F and held for 15 minutes (I already did firings from 1300F-1750F in 50 degree increments, all of them are visible in the parent project). Frit 3110, 3134, 3195, F75 have run all the way down. All of the frits have softened and melted slowly over a range of temperatures (hundreds of degrees). By contrast, Gerstley Borate, the only raw material here, suddenly melted and flowed right over the cliff (between 1600 and1650)! But not before Frit 3602 and FZ16 had done so earlier. Frit 3249 is just starting to soften but F69 (the Fusion Frits equivalent) is a little ahead of it. LA300 and Frit 3124 are starting also. F524, F38, F15 will all be over the end by the next firing. The melt surface tension is evident by the way in which the melts spread out or hold together.
The first of 15 "Fool-Proof Recipes" wrecked my kiln shelf!
This is recommended in the booklet "15 Tried and True Cone 6 Glaze Recipes". This melt flow tester compares it with a typical cone 6 glossy, G2926B. This recipe is 90% Frit 3110 and 10% kaolin and their booklet recommends adding stains to it. But anyone knowing a little about this frit knows it would run off this flow tester even before bisque temperatures. It is crazy to recommend this. Even as a crackle. For cone 6 it needs to be diluted much more, not just with kaolin but also silica. I knew this would run but I underestimated its melt fluidity. I put a large tile below the tester to catch overrun, yet the melt ran off that and a big three-cm-wide blob melted through the kiln wash and so far into my zircon shelf I cannot chip it off! I cannot imagine how many people have tried this on vertical surfaces and had the same thing happen. The lesson: Use common sense when looking at recipes, then you don't even need waste time testing them. Even if their authors did not!
Five common frits fired at cone 03 (1950F)
Five common North American Ferro Frits fired at 1850F on alumina tiles (each started as a 10 gram GBMF test ball and flattened during the firing). At this temperature, the differences in the degree of melting are more evident that at 1950F. The degree of melting corresponds mainly to the percentage of B2O3 present. However Frit 3134 is the runaway leader because it contains no Al2O3 to stabilize the melt. Frit 3110 is an exception, it has low boron but very high sodium.
Melting glaze balls at various temperatures to see when all carbon has been expelled
G1916Q and J low fire ultra-clear glazes (contain Ferro Frit 3195, 3110 and clay) fired across the range of 1650 to 2000F (these were 10 gram GBMF test balls that melted and flattened as they fired). Notice how they soften over a wide range, starting below cone 010 (1700F)! At the early stages carbon material is still visible (even though the glaze has lost 2% of its weight to this point), it is likely the source of the micro-bubbles that completely opacify the matrix even at 1950F (cone 04). This is an 85% fritted glaze, yet it still has carbon - think of what a raw glaze might have! Of course, these specimens test a very thick layer, so the bubbles are expected. But they still can be an issue, even in a thin glaze layer on a piece of ware. So to get the most transparent possible result it is wise to fire tests to find the point where the glaze starts to soften (in this case 1450F), then soak the kiln just below that (on the way up) to fire away as much of the carbon as possible. Of course, the glaze must have a low enough surface tension to release the bubbles, that is a separate issue.
A Redart cone 03 body shines when it come to ease of glaze fit

These bowls are fired at cone 03. They are made from 80 Redart, 20 Ball clay. The glazes are (left to right) G1916J (Frit 3195 85, EPK 15), G191Q (Frit 3195 65, Frit 3110 20, EPK 15) and G1916T (Frit 3195 65, Frit 3249 20, EPK 15). The latter is the most transparent and brilliant, even though that frit has high MgO. The center one has a higher expansion (because of the Frit 3110) and the right one a lower expansion (because of the Frit 3249). Yet all of them survived a 300F to icewater IWCT test without crazing. This is a testament to the utility of Redart at low temperatures. A white body done at the same time crazed the left two.
A settling, running glaze recipe gets a makeover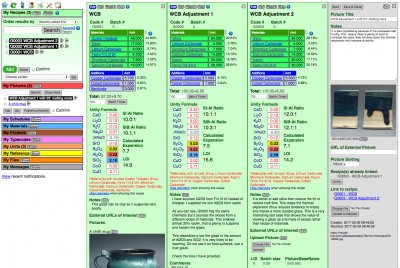 The original cone 6 recipe, WCB, fires to a beautiful brilliant deep blue green (shown in column 2 of this Insight-live screen-shot). But it is crazing and settling badly in the bucket. The crazing is because of high KNaO (potassium and sodium from the high feldspar). The settling is because there is almost no clay. Adjustment 1 (column 3) eliminates the feldspar and sources Al2O3 from kaolin and KNaO from Frit 3110. The chemistry of the new chemistry is very close. To make that happen the amounts of other materials had to be juggled (you can click on any material to see what oxides it contributes). But the fired test reveals that this one, although very similar, is melting more (because the frit releases its oxide more readily than feldspar). Adjustment 2 (column 4) proposes a 10-part silica addition (to supply more SiO2). SiO2 is the glass former, the more a glaze will accept, the better. Silica is refractory so the glaze will run less. It will also fire more durable and be more resistant to leaching.
Frit melt fluidity comparison - 1300F
Fired at 350F/hr to 1300F and held for 15 minutes. Some are still burning off carbon (which seems strange). There are two early leaders: Ferro frit 3110 and Fusion frit F75 are starting to deform (they have almost the same chemistry). Amazingly, these two frits have low boron, they rely on high soda as the flux.
1700F Frit Melt-Off: Who is the winner? Not the lead bisilicate!
These were 10g balls melted using our GBMF test. Frit 3602 is lead bisilicate. But it got "smoked" by the Fusion FZ-16 high-zinc, high-boron zero-alumina! Maybe you always thought lead was the best melter. That it produced the most transparent, crystal clear glass. But that is not what we see here. Notice something else: Each frit has a melt-fingerprint. When two are similar we can see it immediately.
Do you know the purpose of these common Ferro frits?
I used Veegum to form 10 gram GBMF test balls and fired them at cone 08 (1700F). Frits melt really well, they do not gas and they have chemistries we cannot get from raw materials. These contain boron (B2O3), it is magic, a low expansion super-melter. Frit 3124 (glossy) and 3195 (silky matte) are balanced-chemistry bases (just add 10-15% kaolin for a cone 04 glaze, or more silica+kaolin to go higher). Consider Frit 3110 a man-made low-Al2O3 super feldspar. Its high-sodium makes it high thermal expansion. It works in bodies is great to make glazes that shiver. The high-MgO Frit 3249 (for the abrasives industry) has a very-low expansion, it is great for fixing crazing glazes. Frit 3134 is similar to 3124 but without Al2O3. Use it where the glaze does not need more Al2O3 (e.g. already have enough clay). It is no accident that these are used by potters in North America, they complement each other well (equivalents are made around the world by others). The Gerstley Borate is a natural source of boron (with issues frits do not have).
Links
Data
| | |
| --- | --- |
| Co-efficient of Linear Expansion | 10.08 |
| Frit Melting Range (C) | 1400-1700F |
Mechanisms