Bone China
A ceramic whose priorities are translucency, whiteness, fired strength and resistance to thermal shock failure.
Key phrases linking here: bone china - Learn more
Details
True bone china is a special type of translucent porcelain. Instead of feldspar as a flux, bone ash is used (today available in synthetic form as tri-calcium phosphate). A typical recipe is 50% bone ash, 25% Cornwall Stone and 25% kaolin. The quality of the porcelain hinges on the quality of the materials, especially the kaolin, it needs to be low in iron (for whiteness) and low in titanium (for translucency). With only 25% kaolin the body has extremely low plasticity, which limits manufacturing methods (casting is most suitable). How do they fit glazes on a body that has no silica? Lead bisilicate frits. How do they keep the thin pieces from warping during firing? Custom-made setters for each piece.

The process is completely different than what a potter would do: Bisque fire, glaze, high fire. Bone china is bisque fired to high fire and then glazed at a very low temperature. Since the porcelain has zero porosity, getting a glaze to stick and dry on it is not easy, the process needed goes well beyond what a normal potter would be willing to do.

The vitrification range of bone china is narrow so kilns need to be fired carefully. Traditional bone china is fired to temperatures that would make the average potter gasp: 1400C or more (that is about Orton cone 16!). No common pottery kiln can achieve anywhere near this temperature. On paper, the bone china recipe should melt during firing (having that much feldspar-like Cornwall Stone and no quartz). It seems that the tricalcium phosphate is refractory and inert enough to keep ware stable until just before a tipping point temperature beyond which rapid failure occurs. The ceramic achieved by this has outstanding strength, thermal shock resistance and translucency.

So-called "fine china" compromises this firing temperature to within reach of normal kilns (about 1250C), typically by the addition of fluxes (e.g. feldspar, frit). Fine china, fired at cone 10, is also very translucent and resistant to thermal shock failure.

Since the temperature of bone china is likely well beyond your capability, consider this page as about ways to achieve white-porcelain-translucency using more humble materials and firing. Actually, potters have access to an exotic body material: Frit. Fritware can be made translucent at almost any temperature (all the way down to cone 06) and ware does not need to be fired in custom setters.
Related Information
Zero3 casting porcelain at cone 04, 03
Tap picture for full size and resolution
Compared to a typical cone 6 porcelain, left, which has zero translucency, these are fired 10 cones lower. I am using the G3879 clear glaze and it is working very well.
A Lithophane exploits porcleain translucency to reveal its design
Tap picture for full size and resolution
Top: A thin porcelain tile with etched design. Bottom: The same tile with a back light. By Stephanie Osser. L3778G is an example of a translucent porcelain that will work for this.
Now that is a translucent porcelain! But much more.
Tap picture for full size and resolution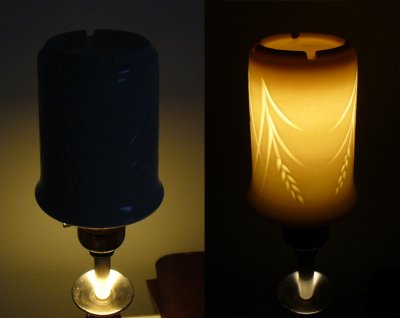 These are two cone 6 transparent-glazed porcelain mugs. On the left is the porcelainous Plainsman M370 (Laguna B-Mix 6 would have similar opacity), it is semi-vitreous and has no translucency. Right is a highly vitreous, New Zealand kaolin based porcelain, Polar Ice. The secret to making this porcelain super-white is the NZ kaolin. The secret of its impossibly-high plasticity is the very expensive plasticizer, VeeGum T. What about the translucency? Nepheline syenite is used as the feldspar, but it alone cannot deliver this kind of translucency at cone 6. Amazingly the 4% Veegum acts as a translucency catalyst, it is the secret. Commercial manufacturers could never use a sticky and difficult-to-dry porcelain like this, but a potter can do incredible things with it (e.g. throw thinner, lighter, bigger than any other clay he/she has ever used!).
Inbound Photo Links

Bone China Anti-Warp Setter test molds
Links
URLs
http://home.howstuffworks.com/lenox.htm#
What is bone china and how is it made at howstuffworks.com
Glossary
Fritware

Glossary
Translucency
A highly sought-after property in porcelain, fired close enough to melting to take on the glass-like property of passing light. Translucency implies tendency to warp during firing.
Glossary
Vitrification
The term vitrified refers to the fired state of a piece of porcelain or stoneware. Vitrified ware has been fired high enough to impart a practical level of strength and durability for the intended purpose.
Glossary
Stoneware
To potters, stonewares are simply high temperature, non-white bodies fired to sufficient density to make functional ware that is strong and durable.
Glossary
Terra Cotta
A type of red firing pottery. Terra cotta clay is available almost everywhere, it is fired at low temperatures. But quality is deceptively difficult to achieve.
Glossary
Plasticity
Plasticity (in ceramics) is a property exhibited by soft clay. Force exerted effects a change in shape and the clay exhibits no tendency to return to the old shape. Elasticity is the opposite.
Materials
Bone Ash

By Tony Hansen
Follow me on

Got a Question?
Buy me a coffee and we can talk
---


https://digitalfire.com, All Rights Reserved
Privacy Policy