Slurry
A slurry is a water-based mix of insoluble mineral and material powders. When the term refers to a ceramic glaze or engobe or a casting clay body, the slurry is also a suspension in which rheological properties are maintained (e.g. fluidity, thixotropy, specific gravity). Slurries can also be a means of transporting or processing materials (e.g. for sieving, metal removal, particle size reduction, mixing, body preparation). Ceramic slurries almost always contain some clay.

Ceramic glazes are the most common slurry used by potters. They are a suspension, not a solution. This sounds impossible because silica powder, for example, is tiny silica stones, they are just as dense as big ones and thus should thus settle quickly. This makes the first problem evident: Separation of certain materials as they settle faster than others, obviously not a good thing. But there is an key reason most glazes don't settle out: The clay content. Clay particles have an affinity for water that the particles of other materials do not have. They are "magnets", having electrolytic attraction, not just for water but for each other. Another fortunate property they have is a flat particle shape. This enanables the creation of a house-of-cards structure in the water, holding in suspension other particles caught in the gel created.

The most plastic clays tend to also be the best suspenders. Bentonites (and related minerals and materials) create the best gel. It is actually possible to suspend glazes made of inert particles using only a few percent of bentonite. Ball clays are also excellent suspenders. As little as 10% will keep a glaze slurry suspended and as much as 20% can be tolerated before any danger of cracking during drying. This being said, kaolins are actually the most common suspenders used in ceramics. While less plastic they are lower in iron. A higher percentage is needed, typically 15-20%, even 25-30% can be tolerated if the kaolin is not too plastic. Kaolins have the added benefit that they supply both Al2O3 and SiO2, oxides needed in the chemistry of virtually every glaze.

Other strategies can also make the slurry gel (make it thixotropic). It is common to add Epsom salts or vinegar for this purpose (industry has electrolytes that are specifically targetted at this). Of course, this approach is not suitable alone since it does not add any hardening properties. Thus, it is common to use enough kaolin to harden and adhere the slurry and top that off with an electrolyte if any tendency to settle is noted.
Related Information
Fundamentals of Fluid Mechanics - book
Tap picture for full size and resolution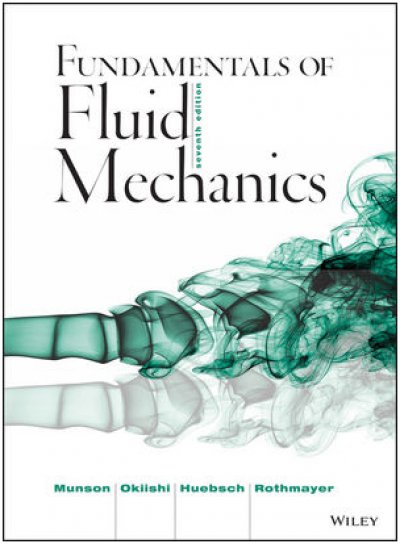 Many aspects of ceramic production relate to the control of fluids (mostly suspensions). This is also true of material production. If you want to solve problems and optimize your process this is invaluable knowledge. This book is available at amazon.com.
Measuring glaze slurry specific gravity
Tap picture for full size and resolution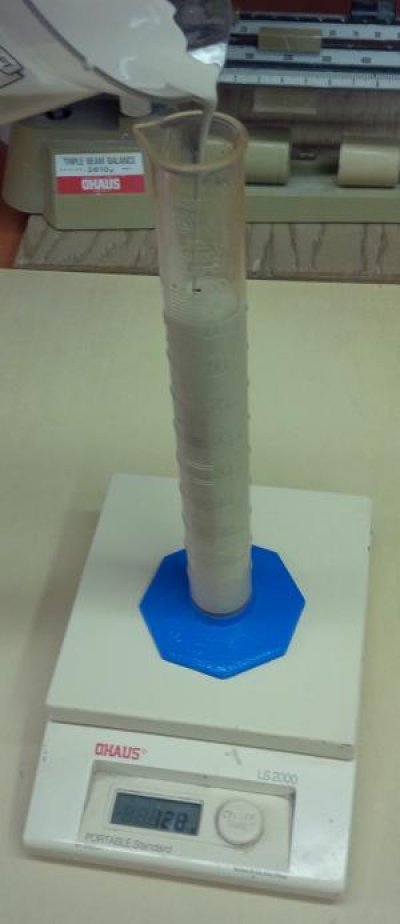 This is the easiest way to measure the specific gravity of a glaze if it is not in a container deep enough to float a hydrometer (or if it is too viscous to enable free movement). Just counterbalance the empty graduated cylinder to zero (you can buy these at amazon.com), fill it to the 100cc mark and the scale reading divided by 100 is the specific gravity. Be careful on cheap plastic graduated cylinders like this, check them with water and mark the true 100cc mark if needed. You could actually use any container, just fill it with water and mark the level, then fill to the same level with slurry and divide the slurry weight by water weight.
By Tony Hansen
Follow me on

Got a Question?
Buy me a coffee and we can talk
---

https://digitalfire.com
, All Rights Reserved
Privacy Policy