Earthenware
What is the difference between earthenware and a regular stoneware body? Earthenwares lack the glass development to fill voids and glue particles.
Key phrases linking here: low temperature bodies, earthenware, low fire, low-fire - Learn more
Details
A clay fired at low temperatures (cone 010-04). Earthenwares are natural clays, they do not develop fired maturity (vitrify), no natural pottery clay on earth vitrifies at these low temperatures. The term earthenware most often refers to red-burning terra cotta ware. Earthenwares are porous, sintering is the particle bonding mechanism. If glazed, ware is usually bright colored. In developed countries glazes are boron based (from frits), in others lead is often still used as the melter.

Although the low-fire clays, from which earthenware is made, can be burned higher to achieve much better strength, ware is normally intentionally fired lower (because of lack of resources or kilns to burn higher, the need for porosity and thermal shock resistance intrinsic with this type of ware, to maintain the natural red body color, to fit low-temperature glazes).

While stoneware clays fire strong and durable, these properties can take backstage to other priorities in many situations. Stonewares come with "baggage" that includes a more brittle nature, susceptibility to thermal shock cracking, muted colors, and dramatically higher firing costs. In comparison, earthenware provides an attractive alternative where high strength is not really needed. The earthenware process lends itself to decoration at the leather hard stage using slips and engobes, this may or may not be followed by a simple glaze on functional surfaces. Earthenware is often less about art and more about tradition and simple utility. A thriving ecosystem of commercial products also exists where more elaborate decoration or glazing is desired.


Related Information
The porcelain is harder, but the terra cotta has it beat for thermal shock!
Tap picture for full size and resolution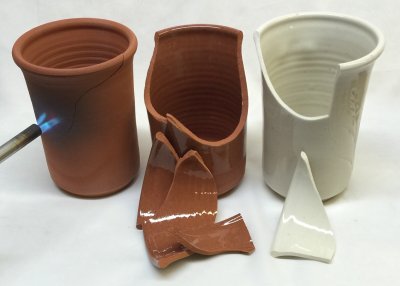 This terra cotta cup (center) is glazed with G2931G clear glaze (Ulexite based) and fired at cone 03. It survives 30 seconds under direct flame against the sidewall and turns red-hot before a fracture occurs (the unglazed one also survived 30 seconds, it only cracked, it did not fracture). The porcelain mug (Plainsman M370) is glazed with G2926B clear, it survived 15 seconds (even though it is much thinner). The porcelain is much more dense and durable, but the porous nature of the earthenware clearly withstands thermal shock much better. It is actually surprisingly durable.
Terra cotta and a surprising thing about thermal shock
Tap picture for full size and resolution
This terra cotta cup is glazed with G2931G clear glaze (Ulexite based) and fired at cone 03. It survives 25 seconds under direct flame against the sidewall before a crack occurs. Typical porcelains and stonewares would survive 10 seconds. Super vitreous porcelains 5 seconds. This is an advantage of earthenware. Sudden changes in temperature cause localized thermal expansion, this produces tension and compression that easily cracks most ceramics. But the porous nature of earthenware absorbs it much better. During initial testing I found better performance for glazed earthenware (vs. unglazed), but in later testing they proved to be fairly similar. The TSFL test on consistently size tiles can be used to log more precise results.
Cone 2: Where we see the real difference between terra cottas and white bodies
Tap picture for full size and resolution
The terra cotta (red earthenware) body on the upper left is melting, it is way past zero porosity, past vitrified. The red one below it and third one down on the right have 1% porosity (like a stoneware), they are still fairly stable at cone 2. The two at the bottom have higher iron contents and are also 1% porosity. By contrast the buff and white bodies have 10%+ porosities. Terra cotta bodies do not just have high iron content to fire them red, they also have high flux content (e.g. sodium and potassium bearing minerals) that vitrifies them at low temperatures. White burning bodies are white because they are more pure (not only lacking the iron but also the fluxes). The upper right? Barnard slip. It has really high iron but has less fluxes than the terra cottas (having about 3% porosity).
Bisque temperature can make a big difference with fitting glaze at low fire
Tap picture for full size and resolution
This is Plainsman Buffstone with G2931L glaze fired at cone 06. A hotter bisque not only produces a stronger body but also eliminates crazing (these specimens where glaze-fired one month ago). Firing the bisque just one cone hotter has transformed the ceramic into a denser matrix having a higher thermal expansion. That has the power to put the squeeze on the glaze, preventing it from crazing. Hotter bisque temperatures can be problematic as they reduce bisque absorbency (thus lengthening dip and drying time for the glaze slurry). But for low temperature hobby ware this is not as much of a problem since glazes are gummed and dry slowly anyway. They are multi-coated for this reason (these were applied in two coats).
Links
Typecodes
Clay Other
Clays that are not kaolins, ball clays or bentonites. For example, stoneware clays are mixtures of all of the above plus quartz, feldspar, mica and other minerals. There are also many clays that have high plasticity like bentonite but are much different mineralogically.
Glossary
Interface
In ceramics, the zone of adherence between glaze to the underlying body is called the clay-glaze interface. The integrity of this interface is important to strength and functionality.
Glossary
Secondary Clay
Clays form by the weathering of rock deposits over long periods. Primary clays are found near the site of alteration. Secondary clays are transported by water and laid down in layers.
Glossary
Porcelain
How do you make porcelain? There is a surprisingly simple logic to formulating them and to adjusting their working, drying, glazing and firing properties for different purposes.
Glossary
Stoneware
To potters, stonewares are simply high temperature, non-white bodies fired to sufficient density to make functional ware that is strong and durable.
Glossary
Majolica
Majolica is white opaque glazed red earthenware clay having colored overglaze decoration. But if you know more about what it is technically you will have more control of your product.
Glossary
Terra Cotta
A type of red firing pottery. Terra cotta clay is available almost everywhere, it is fired at low temperatures. But quality is deceptively difficult to achieve.
By Tony Hansen
Follow me on

Got a Question?
Buy me a coffee and we can talk
---


https://digitalfire.com, All Rights Reserved
Privacy Policy