Plucking
A firing issue in ceramics where the foot rings of vitreous ware stick to the kiln shelf. Removing them leaves sharp fragments glued to the shelf.
Key phrases linking here: plucking - Learn more
Details
Plucking refers to the chipping away of small fragments of the base of a ceramic vessel because the piece sticks to the kiln shelf during firing. The stuck piece either pops off during kiln cooling (due to the difference in thermal expansion with the shelf) or it needs to be broken off. There are several causes. Over-firing ware to the point that body fluxes begin to bridge the gap between shelf and foot. Clays that contain soluble salts that migrate to the surface on drying and melt and glue ware to the shelf. The use of a low quality kiln wash that does not offer a powdery, non-stick surface to melted glass. Porcelains that are over-mature (having too much feldspar or other flux).

The problem can almost always be solved using quality kiln wash.

Plucking does not necessary mean that something is wrong. If you wish to fire a highly vitreous body, then it is expected that it will bond to the shelf during firing and that counter measures must be taken.
Related Information
Plucking on a vitreous porcelain at cone 6
Tap picture for full size and resolution
The mug on the left is made from a whiteware body (Plainsman M370), the one on the right is a highly vitreous translucent one (Plainsman Polar Ice). Both have been over-fired slightly. The Polar Ice mug has stuck to the shelf somewhat, taking chips out of the base on the outer perimeter of the bare porcelain (a fault called Plucking). If the shelf had been better dusted with alumina powder (or a kiln wash based on it) rather than a cheap kiln wash made from a kaolin:silica mix there would have been no problem.
The foot ring on the left is plucking, the right one is not. Why?
Tap picture for full size and resolution
These are translucent porcelains, they are vitreous. The firing is to cone 10. The one on the left is a cone 6 body, and, while it survives to cone 10 it does warp. But more important, it is much more vitreous (more melted). The plucking problem makes it quite difficult to get a good foot ring. The other, which has only slight plucking, is also quite vitreous (high in feldspar). The plucking problem on both can be solved by simply using a better kiln wash. What is better? More refractory, and therefore having a powdery, non-stick surface. Spend more money on your kiln wash, base it on calcined alumina or zircon.
Plucking in a cone 10R stoneware body having soluble salts
Tap picture for full size and resolution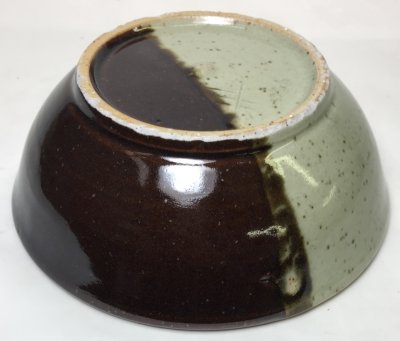 The soluble salts have formed the brown coloration on the bare clay foot ring. While the actual salts layer is very thin, it is glassy and enough to glue parts of the base to the kiln shelf (the latter did not have adequate kiln wash or sand). The glaze line is close to the foot and this complicates the problem. There are a couple of solutions. Sand the foot ring at the dry stage to remove the soluble salt layer. Use a more refractory kiln wash that offers a powdery, non-stick surface.
Even with good kiln wash plucking can sometimes occur
Tap picture for full size and resolution
These were left by ware made from a cone 6 highly vitreous translucent porcelain. For that type of clay it would be advisable to set ware on a thin layer of silica sand or granular alumina.
Inbound Photo Links

Super-vitrified clay bodies does this when fired
Links
Glossary
Soluble Salts
In ceramics, certain compounds in clays and glazes can dissolve into the water, then on drying these are left on the surface.
Glossary
Vitrification
The term vitrified refers to the fired state of a piece of porcelain or stoneware. Vitrified ware has been fired high enough to impart a practical level of strength and durability for the intended purpose.
Glossary
Kiln Wash
A high-melting powder applied to kiln shelves to prevent ware from sticking to the shelf during firing. It is also used as a parting agent for to keep elements of fired ware from sticking to each other.
Glossary
Sulfates
Soluble sulfates in clay produce efflorescence, an unsightly scum that mars the fired surface of structural and functional ceramic products.
By Tony Hansen
Follow me on

Got a Question?
Buy me a coffee and we can talk
---


https://digitalfire.com, All Rights Reserved
Privacy Policy