Mosaic Tile
While traditional mosaic imagery have been created from small pieces of glass or stone, computerized equipment is making it increasingly practical to create the pieces from clay or porcelain
Key phrases linking here: mosaic tile - Learn more
Details
More information coming on automation techniques to make it practical for potters and ceramic artists or entrepreneurs to take on projects and contracts to make architectural mosaics.
Related Information
Mosaic by Sikiu Perez
Tap picture for full size and resolution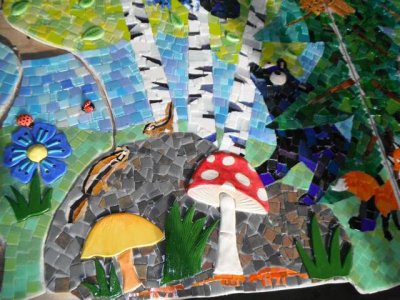 Low temperature white talc body with bright glazes.
Mosaic by Sikiu Perez
Tap picture for full size and resolution
Made using low fire white earthenware and glazes
QRCode mounted on Plainsman "Snow" tile
Tap picture for full size and resolution
Plainsman Snow clay (developed under code number L4410P) makes this QRCode mosaic possible. Each 8mm square porcelain pixel is glaze-glued onto a 21cm square 5mm thick ceramic tile made of Snow (simply rolled and cut and dewatered between sheets of Gyproc). During the bisque firing to cone 04, the Snow tile had zero shrinkage, from dry to fired, and therefore did not curl up at the edges. On refiring to melt the glaze it again stays flat. No other common plastic clay can do this! Snow continues this zero-shrinkage performance for seven more cones of firing (all the way to 4). The secret is the 40% dolomite it contains. We silicone-sealed this work front and back, now it is ready for outdoor installation.

Making complex ceramic tile shapes by 3D printing your own cookie cutters
Tap picture for full size and resolution
This was done on an affordable RepRap printer. The red plastic templates were drawn in Fusion 360 and sliced and printed using Simplify3D. A wooden block was used to press these cookie cutters into the clay. The plastic wrap made sticking a non-issue (and rounded the corners nicely). Commercial bottled glazes were applied to this low fire talc body by brushing (in three coats) after bisque - the rounded corners make brushing easier. The tiles were fired at cone 03. This is an old classic design that I discovered when researching Damascus tile. The toughest obstacle was learning how to use Fusion 360. It turns out that cookie cutters are a starter project for many 3D software packages, there are lots of videos on making them.
Inbound Photo Links

Mosaics on the wall in the New York Subway
Links
By Tony Hansen
Follow me on

Got a Question?
Buy me a coffee and we can talk
---


https://digitalfire.com, All Rights Reserved
Privacy Policy