Bloating
When clay materials and bodies bubble as they melt or over fire. This normally happens in raw materials that contain particulates that produce gases during firing.
Details
Bubbling occurs in some clay bodies (especially those made from coarsely ground raw materials) if they are over fired; others just melt without bloating. Aggravating conditions that produce bloating include the presence of mineral particles (e.g. sulfates) that generate gases during the the firing stage at which the body densifies toward zero porosity, the presence of excessive carbon or carbon-containing particles not burned away by bisquit or oxidation firing, laminations in the clay matrix or the presence of an early melting glaze (or soluble salt) that seals the surface preventing gas escape. Clay bodies containing manganese granular particles to produce fired speckle will almost certainly bloat if over fired.

Many kilns do not have reliable shut-offs or have deteriorated temperature measurement sensors, thus overfiring can be quite common. It is best to confirm firing temperature using properly set cones to avoid bloating (especially for volatile bodies). Better yet, fire the clay body to a temperature well short of a range where it might bloat. Finer grinding of the clay containing the offending particles will also help alot, enabling vitrifying it more without fear of bloating (although warping during firing will be an issue).

Related Information
Red burning, customer-found terra cotta clays charachterized
We tested four different clays (brought in by customers). One is from BC and three from Alberta. These fired sample bars show rich color, low soluble salts and high density and strength at very low temperatures. L4233 (left): Cone 06 to 3 (bottom to top). Reaches stoneware-density at cone 02 (middle bar). Plasticity is very low (drying shrinkage is only 4.5%). But, it is stable even if over-fired. L4254 (center bottom): Cone 04,02,3,4 (bottom to top). Very fine particled but contains an organic that is gassing and bloating the middle two bars. L4243: Fires lighter and looks stable here (cone 02,01,1,2 shown) but melts suddenly less than a cone above the top bar (well before vitrification is reached). L4242 (right): Hyper-plastic, with 12% drying shrinkage! Already melting by cone 02 (third from top). Achieves almost zero porosity (porcelain density) at cone 04 (#2 bar). Even when mixed with 20% kaolin and 20% silica it still hits zero porosity by cone 1. What next? I'll mix L4233 (left) and L4242 (right), that should produce stoneware density at cone 02 (about 1% porosity).
What happens when a terra cotta body is fired to cone 6
It may not melt, but will certainly warp and blister/bloat. If there is inadequate kiln wash it will stick to the kiln shelf.
Decomposing manganese granular particles in a buff stoneware causing it to bloat
A cone 6 stoneware with 0.3% 60/80 mesh manganese granular (Plainsman M340). Fired from cone 4 (bottom) to cone 8 (top). It is normally stable to cone 8, with the manganese it begins to bloat at cone 7. The particles of manganese generate gases as they decompose and melt, these produce volumes and pressures sufficiently suddenly that closing channels within the maturing body are unable to vent them out.
What on earth is happening with this fired clay bar?
The two clay bars were fired side-by-side at cone 01. The back bar is of a raw clay dug from a creek bed in Alberta, Canada. Notice how it puffs up inside and eventually splits open the outer layer (which has sealed in the gases of decomposition). The front bar is that same clay, but mixed 50:50 mix with Redart. It is stable and strong as a stoneware. You can see all the lab tests I did on this in my insight-live account at http://goo.gl/KiUoU0
Raw clays can be volatile in firing
Here is a good reason not to have single-temperature-tunnel-vision when evaluating or using a clay body or clay material. This high-iron clay looks great at cone 3 or 4 (the bottom bar is cone 5 and out-of-place). But by cone 5 the solubles (invisible at lower temperatures) begin to melt. Shortly after it rapidly descends into serious bloating and then melting by cone 8.
Bloating can happen suddenly
Example of a buff stoneware clay bloating at cone 10 oxidation (whereas it appears very stable at cone 8).
Some iron clays bloat before reaching zero porosity, others do not
A very fine particled low fire red burning terra cotta clay (Plainsman Redearth) fired at cone 2,3 and 4 (top to bottom). Notice the cone 4 bar is beginning the melting process (signaled by the fact that it is expanding). Yet it is not bloating as this type of raw clay normally would. The cone 2 and three bars have reached zero porosity also. Other clays that fire to very similar color begin to bloat long before they reach zero porosity.
Iron oxide goes crazy in reduction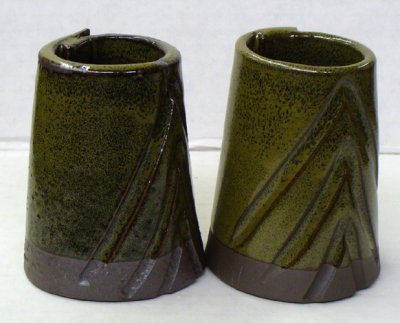 Cone 6 iron bodies that fire non-vitreous and burn tan or brown in oxidation can easily go dark or vitreous chocolate brown (or even melting and bloated in reduction). On the right is Plainsman M350, a body that fires light tan in oxidation, notice how it burns deep brown in reduction at the same temperature. This occurs because the iron converts to a flux and the glass development that occurs brings out the dark color. On the left is Plainsman M2, a raw high iron clay that is quite vitreous in oxidation, but in reduction it is bloating badly. When reduction bodies are this vitreous there is a much great danger of black coring.
Some bodies cannot be fired to even near zero porosity
Bloating in an over fired middle temperature high iron raw clay (Plainsman M2). It is still stable, dense and apparently strong at cone 4 (having 1.1% porosity). But between cone 6 and 7 (top bar) it is already bloating badly. Such clays must be fired at low enough temperatures to avoid this volatility (if accidentally over fired). This clay only reaches a minimum of 1% porosity (between cone 4 and 5), it is not possible to fire it to zero porosity. This is because of the particulate gas-producing particles (it is ground to 42 mesh only).
What happens when you fire a terra cotta at cone 5-8?
This one can take more temperature than most. It looks OK at cone 5 (bottom bar). But at cone 6 bloating (bubbles) begin to occur. This body, while smooth to the touch, contains some iron and sulphate particulates that generate gases during firing, these are the catalyst for the bloating (the clay matrix becomes dense enough that it can no longer vent the gases of decomposition through it).
Bloating on a range of bodies at cone 6: Why is this happening?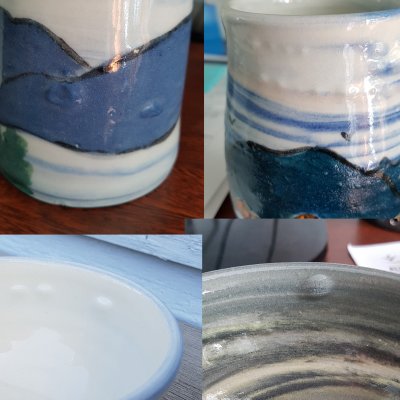 The problem occurred with standard Plainsman M340, M390, M350, M370 and P300. The stonewares have porosities of 2.5%, the M370 1% and the P300 0.5%. Thus, all of these have comfortable margins for over firing. The G2926B glaze, used on all of them, does seal the surface pretty early so it will contribute to over-fired ware bloating sooner than typical. The problem here is the cone-fire modes on kiln controllers. For this kiln, the cone 6 program goes to 2236F. That's cone 7. Or more. Most people do not want to manually program their controllers. This is unfortunate since they do not benefit from the drop-and-soak PLC6DS and slow-cool C6DHSC firing schedules. And they end up over-firing their ware. Here is what many do: They cone-fire to cone 5. That produces cone 6!
Links
Articles
Electric Hobby Kilns: What You Need to Know
Electric hobby kilns are certainly not up to the quality and capability of small industrial electric kilns, but if you are aware of the limitations and take precautions they are workable.
Glossary
Stoneware
To potters, stonewares are simply high temperature, non-white bodies fired to sufficient density to make functional ware that is strong and durable.
Glossary
Laminations
Laminations because of improper pugging of a clay body will cause separations and drying cracks in the ware.
Glossary
Black Coring
A common fault in reduction gas fired ceramic ware made from iron bearing clays. The interior cross section of the clay turns black.
Glossary
Clay Body Porosity
In ceramics, porosity is considered an indication of density, and therefore strength and durability. Porosity is measured by the weight increase when boiled in water.
Glossary
Warping
Warping happens during the firing of ceramic ware when there is a high degree of vitrification or a shape is unstable. But warping is expected in translucent ware, it is just a factor that must be compensated for.
Troubles
Body Bloating
Bloating in clay bodies occurs when the firing goes high enough to seal the surface and prevent the passage of gases releasing inside.
By Tony Hansen

---
---


https://digitalfire.com, All Rights Reserved
Privacy Policy