GR10-B - Ravenscrag Cone 10R Gloss Base
Modified: 2016-09-30 22:48:58
Cone 10 Reduction glaze made using 90% Ravenscrag Slip.
Notes
100% Ravenscrag slip fires to a silky matte at cone 10R so you need to melt it a little more to get a good gloss.

This version produces excellent results on porcelain, buff and dark stonewares (see the photo). There are some suspended micro bubbles in the matrix, but they enhance the appearance on stonewares. On porcelains, the color has a greenish hue because of the small amount of iron in Ravenscrag clay.
Related Information
Ravenscrag slip (left half) vs. Ravenscrag plus 10% whiting (right half) on Plainsman H550 at cone 10R
GR10-B Ravenscrag transparent glaze (with 10 talc)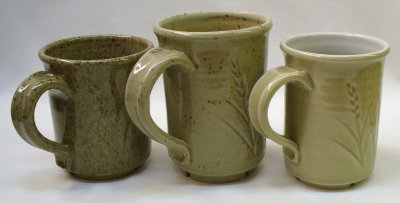 Because this glaze employs 10% dolomite instead of 10% calcium carbonate it has a lower thermal expansion and is less likely to craze. While the dolomite is contributing MgO, which normally mattes glazes, there is not enough to do it here.
Links