GR10-C - Ravenscrag Cone 10R Silky Talc Matte
Modified: 2019-05-26 09:56:08
Just Ravenscrag Slip plus 10% talc produces a visually variegated surface that feels silky and looks stunning!
Notes
This glaze is more silky (less matte) than the GR10-J glaze, it is more beautiful visually and to the touch than a photo can convey. It works well on both buff and dark stonewares and even porcelain. It would also be an excellent base for the addition of a zircon opacifier and of colors.

For mixing instructions please see the notes for the base GR10-A recipe.
Related Information
RavenTalc silky matte on the outside of a cone 10R buff stoneware mug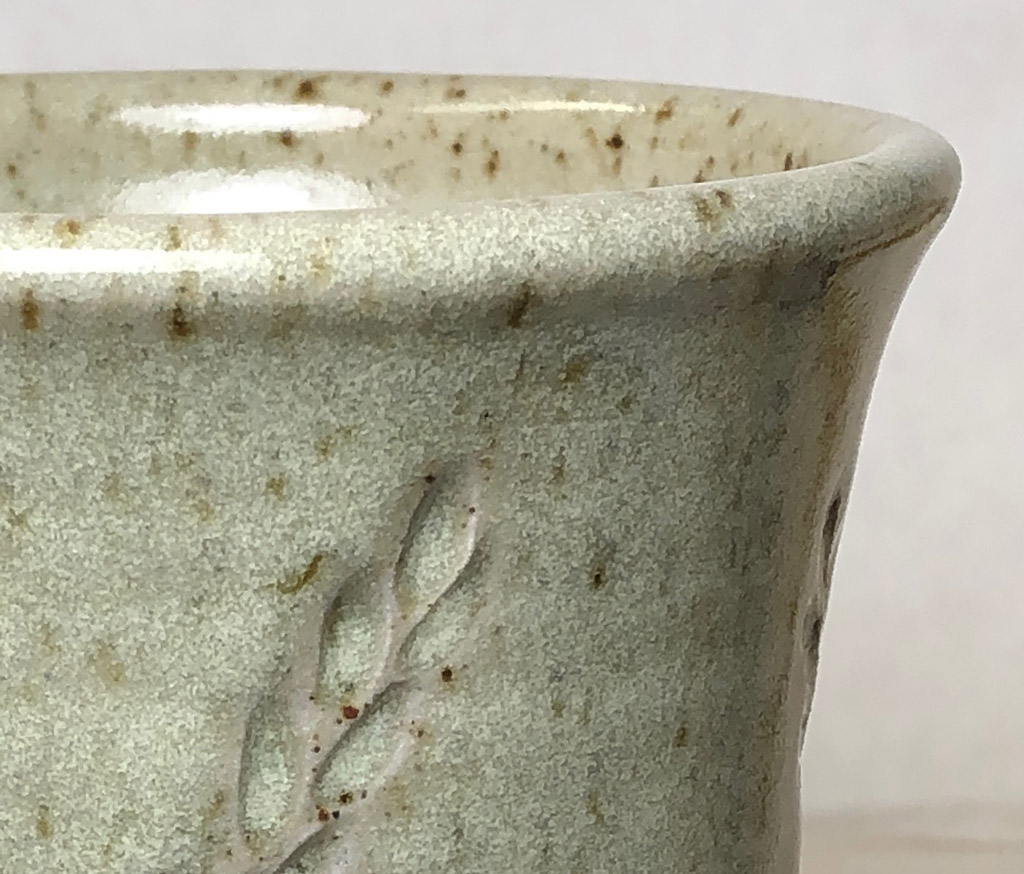 GR10-C Ravenscrag cone 10R silky matte glaze closeup (on Plainsman H550 stoneware). The recipe is 90% Ravenscrag Slip (roast:raw combo) and 10% talc. The inside of this piece just has pure Ravenscrag (raw:roast).
Laguna B-Mix, B-Mix+Fireclay with Ravenscrag GR10-A, GR10-C glazes
Left two mugs are glazed with pure Ravenscrag Slip (roast:raw combo), far right one is RavenTalc silky matte (GR10-C). The speckled mugs have 10% of a Plainsman Fire-Red (a blend of a red fireclay, M2 and a heavily speckled ball clay).
Transparent and RavenTalc silky matte glazes on black engobe at cone 10R
Clay is Plainsman H450. The L3954N black engobe was applied at leather hard stage (on the insides and partway down the outside). The G1947U clear glossy glaze over it on the inside produces a deep and vibrant hue (left). The inside glaze on the right is GR10-C Ravenscrag silky matte. The outsides are GR10-J Ravenscrag Dolomite matte with a little added cobalt and iron (for blue and brown).
Laguna B-Mix Cone 10R mugs with Alberta and Ravenscrag glazes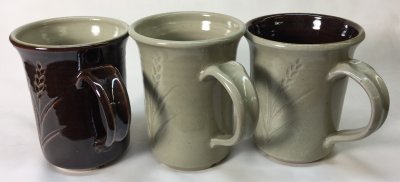 B-Mix is a popular high-ball clay very plastic grey cone 10R stoneware in North America. The two mugs on the left have pure Ravenscrag Slip on the inside (the middle on the outside also), it fires almost transparent with a slightly silky surface. Pure Alberta Slip is employed on the outside of the left one and the inside of the right one. The outside of the right one is RavenTalc silky matte. In all cases the Ravenscrag and Alberta Slip are mixed half-and-half calcined and raw. B-Mix fires dark enough and with enough specks that a normal transparent glaze is not very interesting. But these Ravenscrag ones look much better (for use as a liner glaze).
Plainsman H435 with Ravenscrag Talc glaze matte inside, Ravenscrag Dolomite matte outside
Fired at cone 10R. The GR10-C Raven-Talc matte is just 90% Ravenscrag Slip and 10% talc. This produces a stunning silky, variegated surface (which could be a base for many colorants). The GR10-J Raven-Dolomite matte was patterned after our G2571A glaze, but using as much Ravenscrag Slip in the recipe as possible while maintaining the same chemistry (its surface is less variegated and more matte).
Difference between oxidation and reduction! GR10-C matte on Plainsman H443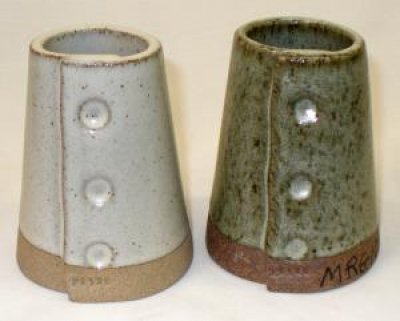 Same body, same glaze. Left is cone 10 oxidation, right is cone 10 reduction. What a difference! This is a Ravenscrag-Slip-based recipe on a high-fire iron stoneware. In reduction, the iron oxide in the body and glaze darkens (especially the body) and melts much more. The behavior of the tin oxide opacifier is also much different (having very little opacifying effect in reduction).
One simple addition makes Ravenscrag Slip into a fabulous silky matte glaze: 10% talc
The clays are Plainsman H450 and H550. Firing is cone 10 reduction. A 50:50 mix of roasted and raw Ravenscrag slip was used. L3954N black engobe was applied at leather hard stage (on the insides and partway down the outsides). We call this recipe GR10-C Ravenscrag Talc Matte, it is on the insides of both and on the outside of the one on the left. The outside of the other is G2571A Bamboo, it is also an excellent matte base. The silky matte surfaces produced by these two are both functional (they are very durable and do not stain or cutlery mark). And they are very pleasant to the touch.
Links