GA10x-A - Alberta Slip Base for cone 10 oxidation
Modified: 2015-10-30 18:59:53
Alberta Slip creates a glossy transparent brown at cone 10 with the simple addition of 10% frit.
Notes
In oxidation, Alberta Slip creates a glaze that is more transparent and lighter in color. It also melts less than in cone 10R so a little flux is needed (thus the use of the frit here). Since Alberta Slip is plastic, you need to use a mix of calcined and raw powder (see http://albertaslip.com for information on preparation of the calcine).
Related Information
Alberta Slip plus 10% frit 3134 fire at cone 10 oxidation.
Roasting Alberta Slip at 1000F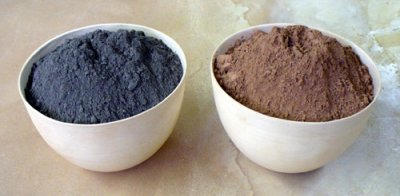 Roasted Alberta Slip (right) and raw powder (left). These are thin-walled 5 inch cast bowls, each holds about one kg. I hold the kiln at 1000F for 30 minutes. Why do this? Because Alberta Slip is a clay, it shrinks on drying. Roasting eliminates that, a 50:50 raw:roast mix works well for most recipes having high percentages of Alberta Slip. And 1000F? Calcining to 1850F sinters some particles together (creating a gritty material) while 1000F produces a smooth, fluffy powder. Technically, Alberta Slip losses 3% of its weight on roasting so I should use 3% less than a recipe calls for. But I often just swap them gram-for-gram.
Links