GA6-G - Alberta Slip Lithium Brown Cone 6
Modified: 2019-04-05 16:10:15
Plainsman Cone 6 Alberta Slip based glaze. It can be found among others at http://albertaslip.com.
Notes
One of the most popular Albany Slip glazes was 11% lithium, 4% Tin and 85% Albany Slip. A portion of the Alberta Slip must be milled or the glaze will crack during drying.

This recipe reduces the lithium to reduce shivering problems (that were common with this) and it employs a frit to help melt the glaze. The surface is very smooth and variation in color with thickness is very good. The added alumina hydrate darkens the color and slightly dulls the very glossy nature of the recipe, you can leave it out if you want.

Visually, this glaze works very well on porcelain showing variegated effects even on smooth surfaces, especially where very thinnly applied. However it crazes on porcelains, please use the alternate lithium brown recipe.
Related Information
Roasting Alberta Slip at 1000F: Essential for good glazes
Tap picture for full size
Roasted Alberta Slip (right) and raw powder (left). These are thin-walled 5 inch cast bowls, each holds about 1 kg. I hold the kiln at 1000F for 30 minutes. Why do this? Because Alberta Slip is a clay, it shrinks on drying (if used raw the GA6-B and similar recipes will crack as they dry and then crawl during firing). Roasting eliminates that. Calcining to 1850F sinters some particles together (creating a gritty material) while roasting to 1000F produces a smooth, fluffy powder. Technically, Alberta Slip losses 3% of its weight on roasting so I should use 3% less than a recipe calls for. But I often just swap them gram-for-gram.
Alberta Slip using in the common lithium-tin cone 6 glaze
Tap picture for full size
This is 85% Alberta Slip, 11% lithium and 4% tin fired at cone 6 in oxidation. Like the original Albany version, it has a very low thermal expansion (because of the high lithium content) and likes to shiver on many bodies.
A variation of Albany lithium brown glaze
Tap picture for full size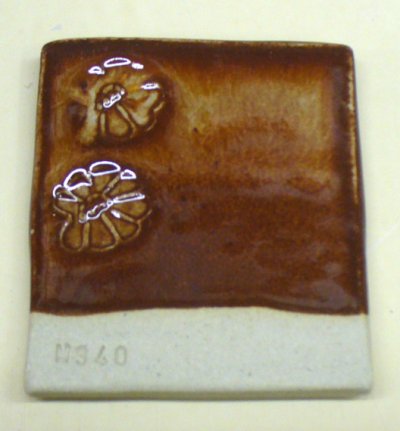 Alberta Slip 75, lithium carbonate 10, tin oxide 4, nepheline syenite 11, calcined alumina 5.
A classic Albany glaze that often shivers
Tap picture for full size
These mugs have experienced very serious shivering. This is an Albany Slip glaze with 10% lithium carbonate, it is known to have a very low thermal expansion. This problem can be solved by reducing the amount of lithium or adding high-expansion sodium or potassium. However these fixes will likely affect the appearance.
A closeup of Alberta Slip lithium brown cone 6 recipe GA6-G on a porcelain
Tap picture for full size
This has been applied very thinly, yet still covers very well and exhibits alot of variation even where thicknesses are slightly different.
Links
XML to Paste Into Desktop Insight
<recipes>XML not functional: We are working on this problem.</recipes>
By Tony Hansen
Follow me on

Got a Question?
Buy me a coffee and we can talk
---


https://digitalfire.com, All Rights Reserved
Privacy Policy