BORY1 - Bory 1 Crystalline Glaze
Modified: 2022-10-13 21:47:59
Cone 6-10 - Added Gerstley Borate lowers temperature to cone 6, titanium to seed crystals
Notes
From Crystal Glazes Book 2 by Fara Shimbo, page 60.

Purpose: To obtain greater firing range and more "flowery" crystals by the addition of extra boron and calcium.

The boron level in this glaze is actually quite low compared to many other (non-crystalline) glazes, but even this little bit is highly effective to reduce the firing temperature. The original Gerstley Borate gives me the brightest and purest colors.

This gives lovely copper turquoise. I suggest not going over 2.5% cobalt carbonate or 2% cobalt oxide and adding 0.5% vanadium or rare earth oxide (of your choice) to prevent felting.

Bory 1 and nickel - either carbonate or oxide - are not a match, due to Bory's high titania content. But you will get some good results with the GBCG base.

Mixed Bory has a decently long shelf life (over six months). I've fired Bory 1 as low as D6 and gotten some nice crystals; however, at D5, you'll need to seed the crystals, as they won't form on their own. To use Bory at D6, fire to 1221C, hold there for 20 minutes, cool slowly to about 1070C, and then hold anywhere between 1010° and 1140°. You will find much less variation in crystal shapes at D6 than you will at D9 (actually, this is true of just about all these glazes).

One point I should mention is that Bory is quite soft. It is very easily scratched so probably not a good glaze for any object that is going to be well handled.
Related Information
Bory 1 crystal glaze
Tap picture for full size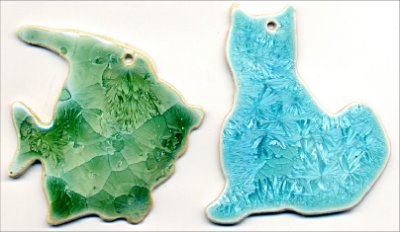 This has surpassed the old Octal on my list of favorites and it's my base of choice for workshops. Many variations and revisions of this recipe are covered in book 1 and 2.

Bory 1 produces crystals in profusion, but only rarely does it cover a surface completely. If you prefer to see a lot of ground, this is a good choice.


Bory 1
Tap picture for full size
Original File: bory1.png
Links
Mechanisms
| | |
| --- | --- |
| Crystal Glaze Variations | Addition of boron via Gerstley Borate produces broad, flat crystal fans. (Any borate can be used if Gerstley is not available.) |
| Glaze Color | Crystals will be more yellowish than the ground, which is generally a soft white when no colorants are used. Cobalt used in this glaze yields blue crystals on a mustard-colored ground; copper crystals and ground shaded toward light grass green. |
XML to Paste Into Desktop Insight
<recipes>XML not functional: We are working on this problem.</recipes>
By Tony Hansen
Follow me on

Got a Question?
Buy me a coffee and we can talk
---


https://digitalfire.com, All Rights Reserved
Privacy Policy