Creating a Non-Glaze Ceramic Slip or Engobe
Description
It can be difficult to find an engobe that is drying and firing compatible with your body. It is better to understand, formulate and tune your own slip to your own body, glaze and process.
Article
Non-glaze slips (referred to as engobes when applied thickly) for pottery and tile decoration have long fostered great fascination. Almost everyone has marvelled at the simple beauty of terra cotta ware decorated with white slip and finished with a transparent glaze. Many potters are adapting this age old process to stoneware and porcelain. Industry, especially tile, routinely applies slips and engobes (e.g. white layers are put on darker burning dry tiles before applying glaze over top). They are almost universally used in the single fire process. This is logical since their key application is to cover over dark burning or dirty bodies made from local materials, in these cost conscious situations it makes little sense to fire more times than needed.
Pairing of engobe-thickness slips with a specific body is difficult so recipes travel even less well than glazes. They need to be drying, firing and thermal expansion compatible with both the underlying body and overlying glaze. Each of these should be tested individually. Compare this to a glaze being applied directly to a bisque body: you only need to focus on thermal expansion compatibility with the body; this is so much easier.
Consider the first major challenge: Adhesion with the body (both in drying and firing), getting the stuff to stick on! If the slip is applied thick enough and does not shrink at the correct rate or amount during drying and firing, cracks will develop or it will flake off. No matter what logic, theory or lab instruments might indicate or what others might advise, if cracking or flaking is occurring it is much more likely you need to react by adjusting the recipe appropriately than by adjusting the way it is prepared or applied. Different factors are involved in attaining compatibility for firing and drying and a change that improves one aspect of fitness may detrimentally affect another. While each material in the recipe is there for a drying, firing, adhesion, thermal expansion or aesthetic reason, it is also potentially detrimental to one or more other parts of the process; this means developing the right recipe is a real juggling act.
The most obvious use of a fine-grained white engobe is to cover a dark colored (and possibly coarse-grained) body so that brightly colored or lightly shaded glazes appear as they do on fine porcelain. The tile industry is by far the largest user of engobes, it is very common for them to use red burning clays (they are often locally available and fire much stronger than light burning clays at low temperatures). They cover the red bodies with a white burning opaque engobe. Obviously good adherence to the fired body is paramount, so the engobe needs frit or other melters to create a glass bond. Adherence will obviously be best on vitrified bodies where an interface can develop (if the body does not vitrify well extra frit will be needed to create a more glassy interface, but not so much that opacity is lost).
Dry Adherence, Shrinkage, Hardness; Slurry Suspension
Non-glaze-slips have physical working properties that determine how well they paint, dip or spray; how well they adhere, how they drain after dipping, how fast they dry to reach the same water content as an underlying leather hard body (if applied at this stage), how thick they can be applied with each coat, whether double-coats can be applied, how well they stay in suspension during storage, how much they tend to gel, etc.
It would seem logical that the body surface needs some roughness to give the slip a place to grab on to. While this is true with glaze application over bisque ware, it is not true with slip over dry body. But the slip is wet and any existing discontinuities on the dry body surface are going to be smoothed anyway by the wetness. Slip and body are both clays and they are sticky and thus have a natural affinity for each other.
Both glazes and slips shrink during drying because they contain clay. While slips are applied thinly and bonding is not usually an issue, the drying and bonding of engobes is much more troublesome. They are much less glaze-like (and more clay-like), so it would seem that there would be more problems with cracking during drying (due to the shrinkage). However, in practice this does not need to be so. Engobes with even 10% bentonite (which you will never see in a clay body) will often work well on both leather hard and dry ware. The extra stickiness imparted seems to be a key to this phenomenon. Obviously, the same slip is not going to adhere well in all situations, you have to determine the formulation and when and how to apply it. For example, when engobes do not have enough plastic ingredients they flake off during drying.
If it is being applied during leather hard stage, and of significant thickness, the slip must dry to the same water content as the body and then shrink together with the body, obviously that final shrinking period is going to reveal any difference between the two (if you intend to apply the glaze over the dry slip layer that will rewet it and test the bond again).  Drying compatibility can be tested by simple observation, it is easy to tell the difference between slips that shell because do not shrink enough (when being applied to leather hard body) or crack because they are too plastic and shrink to much.
While it is not practical to apply slips at engobe thickness to dry ware, they can often to applied thinly (by brushing) with little problem. In our experience even a 45% kaolin and 10% bentonite slip does not crack when painted on to dry ware. In fact, slips with no bentonite at all flake off. The stickiness of the slip seems to be important. Obviously, by observation you will see whether it cracks or flakes and adjust as needed. Kaolins shrink the least, ball clays much more. Kaolins are available in many ultimate particle sizes, the larger the size the lower the shrinkage will be (and the less hard the dry glaze will be). Organic binders can be employed to impart or augment hardening and adherence properties, but their burn off could bring trouble during firing (with slip adherence and glaze imperfections).
A slip will not prevent the deposit of soluble salts (from the body), they will simply migrate through it and be left on its surface as water evaporates and leaves them behind. You thus need adequate barium carbonate in the body to precipitate them.
Fired Shrinkage and Adherence
The fired interface between slip and body will never be as good as one between glaze and body. This is potentially a weakness if the fired adherence of the slip is not evaluated and optimized. Since slips do not melt formulation is normally done on the recipe level (the physical properties must simply be observed, ceramic calculations are not really applicable).
The fired slip layer may be loosely or tightly bonded to the underlying body. A slip containing glassy fluxes that melt and flow will form an interface with a vitrified body to securely hold it on (the body can also supply some glassy fluxes to form a better interface to the covering slip). If the body is not vitreous then even a glassy bonded slip of engobe thickness can disengage simply by taking some of the body surface with it. If the slip is not glassy then it can only hang on mechanically to any available surface irregularities. Thus it is very important to make sure that the slip has the same fired shrinkage as the body (even slight differences can compromise the bond).
An engobe is too vitreous it can crack and pull away from the body in some places. How? It is normal for high-clay glazes to form some cracks as the temperature rises in the kiln, this is a by-product of the shrinkage associated with the early stage melting and densification of the ceramic powder. However as the glaze melts the cracks are healed back together. But with a engobe the liquid healing phase never arrives. There is thus a tightrope to walk between an engobe that is vitreous enough to form a bond but not so vitreous that it suffers early-stage melt shrinkage.
There is a difference between the integrity of the bond when a tile comes out of the kiln and over the long haul of it's useful life. If the engobe and body did not shrink together there will be stress, if the kiln has not revealed it a simple chipping test might. The ability of a thickly applied slip to hang on through a firing and also resist mechanical chip testing is an even better test of firing shrinkage compatibility.
A engobe has a characteristic firing shrinkage just as a body does. They must shrink together during cooling in the kiln in a way that does not introduce tension that can weaken the slip-body bond. Not only does the total shrinkage need to match, but the shrinkage curves need to be similar. Stress the bond to test and determine if the bond is the problem first. If not then it is a shrinkage mismatch, adjust in the right direction and test again.
The fired shrinkage of a engobe can be increased by using more fluxes to impart greater vitrification or melting, or by using a finer particle sized clay. In many cases it is practical to make a pugged sample of the slip and make test bars for measuring the fired shrinkage, this is an excellent way to evaluate quantitatively the drying and fired effects of recipe changes.
Thermal Expansion
To function together as a fired object body and slip must have a similar thermal expansion. It the covering slip layer on a ceramic piece is relatively thin there is usually no problem, but once it is applied thickly enough to function as an engobe then it must be considered a separate entity which has its own coefficient of thermal expansion. If the object is heated or cooled quickly during use the amount of expansion and contraction that occurs must be similar in slip and body. If sufficient incompatibility exists the engobe-body bond will be the point of failure and it can flake off at vulnerable sites (like edges and rims).
When a glaze is applied over an egobe or slip more complexities arise. The slip is acting as a buffer layer and it must be expansion compatible with both the underlying body and the overlying glaze. How? Thermal expansion 'compatability' for a slip is different than for a glaze, a slip cannot be put under the same amount of compression because it is bonded much less intimately with the underlying body. For the same reason, overlying glazes also must not impose too much compression on the slip or they could break its bond with the body. Glazes may need to be of a lower expansion than if applied to the body directly. The difficulty of matching a slip for making functional ware that can survive constant heating and cooling may be very onerous (by comparison a floor tile experiences only moderate temperature changes during it's service).
. Engobes often contain silica (which is raw quartz) and can be on a body that contains much less. Or the engobe may be low in quartz and the body high. These are a recipe for trouble as the firing falls through quartz inversion.
You can test the likelihood of the ongoing integrity of the slip-body bond as related to thermal expansion: The IWCT test (which stresses it by suddenly cooling the surface) and the BWIW test (the sudden expansion on immersion into hot water will demonstrate whether the engobe is under too much compression).
Laydown and Application
You need a different mindset than with glazes to have success with engobes. Glazes smooth out when they melt, engobes do not. Like paint, the surface you apply is the one you get after firing. Thus drips, variations in thickness, roughness, pinholes, bubbles, etc are going to show. Normally a glaze over-layer is not going to be thick enough to cover over problems in the slip laydown, infact, slip irregularities can produce glaze defects. Application for tiles is straightforward since the surface is flat and horizontal, but for uneven shapes it is a lot more complicated. Here are some ideas.
Consider ball milling
Slips need to be flocculated to apply well. This generally means that they need enough water to flow well and then a flocculant addition to gel them so they hang onto the ware without moving after application.
Slips need to be bubble free to apply in a flawless surface. Bubbles can develop as the they sit over time (they can be a product of material particle decomposition, for example). Mix under a variable speed mixer such that it sucks a whirlpool but does not suck air into the mix. If the speed is right, bubbles existing will break at the surface as they near it and you will have a silky smooth product to work with.
Slips are more opaque than glazes and theoretically have better 'hiding power' to enable them to cover the body and mask its color and surface character (including smoothing an otherwise rough or coarse surface, obscuring an undesired color, hiding specks and surface imperfections (like those caused by iron impurities), tightening and sealing an otherwise porous and soft surface, and providing a whiter surface to brighten glaze colors). However in actual practice slips applied too thinly can have surprisingly little covering power.
Spraying can work well but you need to have a sprayer that can function with a slip of the lowest possible water content. Gravity fed devices are good (the can is above the nozzle). If the slip is too viscous however it will lay down as droplets and give an uneven surface. Greater air pressure can help, but that will create more overspray and breathable mist and produce a pebbled surface. It can be a challenge to get a thick enough laydown that covers body imperfections. On one hand the multiple coats needed consume extra time while attempting to spray a thick-all-at-once layer can produce drips and a water-logged fragile item, not to mention a slip that might crack and pull away on drying. You may find that heating the ware (assuming you are spraying dry (unbisqued ware) will help dry the slip and enable you to apply a thicker more even and smoother layer. Like glaze, it is best to have a process where the slip dries quickly.
Pouring the slip can work very well for some shapes (e.g. continuous waterfall type application). But it may only be practical for one coat application: your slip consistency, ware temperature, manner of application all must be right to avoid drips and overlap layers.
Dipping is not entirely practical for engobe application to dried ware. While dipping a bisque fired object using tongs is a simple procedure that works very well, for a dry item it is not practical because items do not have the strength to be held by tongs and even if they did the water from the slip will cause the object to crumble from the stress of being handled. In the past heavy stoneware was done this way, it had the thickness strength to survive the handling. However these days no one can afford to fire heavy objects (and quality demands are higher). However ware at the stiff leather hard stage can be dipped in an engobe. This can work very well, however the engobe will rewet the entire piece (if walls are thinner) and it can take many hours to restiffen.
Slip-thickness layers can be brushed on at various stages of the process. However this has issues. Thin-walled leather-hard ware will soften and become pliable to the point it cannot be handled (multiple coats can require lengthy stiffening times between them). Brush strokes will often be clearly visible (although sometimes desired). Porous bisquit will quickly dry the strokes, sometimes so fast that the brush actually sticks (making even coverage impossible). Bisque can be fired higher to avoid this issue but the higher density could mean slow drying. Even then, it can be difficult to get even coverage. Employing a gum is the way to make a slip paint on very well on bisque ware (see the link "Brushing Glazes" below).
The Recipe
Conceptually a recipe can be as simple as a porcelain body with enough added frit for adherence but no so much that glass development reduces the opacity. This can be a fine line. For example, only 15% Ferro Frit 3134 may flux it too much at cone 04. It is better to mix your slip as a recipe of ingredients that include those for the porcelain rather than just adding something to a powdered porcelain whose recipe you do not know, this will give you the needed flexibility to adjust.
For high temperature you should be able to flux using feldspar and other raw materials rather than frits (e.g. wollastonite, dolomite). Thus, an alteration of the standard 25 porcelain could be the 40% kaolin, 35% feldspar, 25% silica (I have combined the ball clay and kaolin to just kaolin (for extra whiteness), you may need to add a plasticizer like Veegum. If it can be more mature, try 40 feldspar at the expense of silica this time. For medium temperature a typical base porcelain recipe might be 40 kaolin/ball clay, 40 feldspar and 20 silica. Add 5% of a boron frit (like Ferro 3134). The idea is to tune it degree of maturity to get maximum melting without loss of opacity.
For more whiteness consider using a whiter kaolin or adding some zircopax (perhaps 5%, for opacity). If the slip is too plastic, use calcined kaolin for part of the clay complement if needed to cut drying shrinkage. If it is flaking off, then try adding Veegum (up to 10%). And as a last resort use gum to harden it and give better flow (however it is better to adjust or substitute clays to get the flow and drying properties needed, gummed slips dry slower).
A Few General Notes About Using Slip
An additional test for the engobe body bond is simply to break a fired item into small pieces and examine the shards closely to see if fracture lines tend to prevail at the slip-body interface.
While slips can act as mediums for stains and metal oxide colors, stains do not develop their color as well in slips (because of the lack of a glassy phase and because slips are opaque the only stain particles that influence color are those exposed at the surface). Like a glaze, a slip must have a chemistry that is compatible with the color system (each different stain system has its own needs and the slip may need to be tuned for specific systems). The recipe may even need to be adjusted with varying proportions of certain colors (e.g. refractory ones) to maintain the same degree of melt development.
Understand your engobe. For example, with a problem like flaking off, we as users have to accept that engobes are not stuck on well at the best of times. And we are responsible for the recipe. There are so many things we can do in our formulation and process to make them fail and to make them resistant to failure. Even more important, it is our responsibility to understand the mechanisms of the engobing process as it relates to our recipe. If it is flaking, why? Are we monitoring its shrinkage and plasticity to be able to recognize differences, for example. It is better to ask the supplier: "Why does your clay have a 7% drying shrinkage now when it used to be 5%?", than to say "your clay is the reason my engobe does not work". We may still be the reason it does not work even if their material has changed a little. Our formulations should be tolerant of some change in the material rather than be formulated to be on the edge of "problem precipices".
Creating your own slip will take time, determination, and a methodical approach with plenty of adapting over time. Like glazes, it is far better to have one recipe you understand and control than mess around with 10 that you don't understand and don't work?
Related Information
Creating a Body/slip Equilibrium in Terra Cotta Ware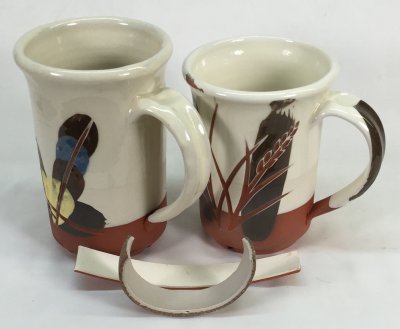 L3685X white slip (left mug) has 5% more frit than Y (right). The frit is a melter, creating more glass bonds to adhere it to the body (it also hardens it and darkens the color a little). But the frit also increases firing shrinkage, 'stretching' the white layer on the body as the kiln cools (the slightly curled bi-clay bar demonstrates that). However the glaze, G2931G, is under some compression (to prevent crazing), it is therefore 'pushing back' on the white slip. This creates a state of equilibrium. The Y slip on the right is outside the equilibrium, it flakes off at the rim because the bond is not good enough. Adding more frit, the other side of the balance, would put the slip under excessive tension, reducing ware strength and increasing failure on exposure to thermal shock (the very curled bi-clay bar in the front, not this clay/slip demonstrates the tension a poorly fitted slip could impose).
The same engobe. Same water content. What is the difference?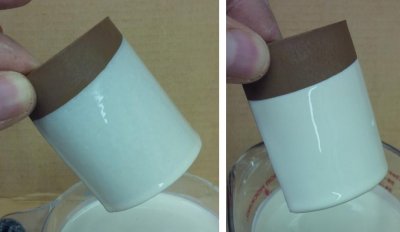 The engobe on the left, even though it has a fairly low water content, is running off the leather hard clay, dripping and drying slowly. The one on the right has been flocculated with epsom salts (powdered), giving it thixotropy (ability to gel when not in motion but flow when in motion). Now there are no drips, there are no thin or thick sections. It gels after a few seconds and can be uprighted and set on the shelf for drying.
Adding water actually made this white engobe run less? How?
The white slip (applied to a leather hard cup) on the left is dripping downward from the rim (even though it was held upside down for a couple of minutes!). Yet that slurry was very viscous with a 1.48 specific gravity. Why? Because it was not thixotropic. The fix? I watered it down to 1.46 (making it runny) and added pinches of powdered epsom salts (while mixing vigorously) until it thickened enough to stop motion in about 1-2 seconds on mixer shut-off. But that stop-motion is followed by a bounce-back. That is the thixotropy. It is easy overdo the epsom salts (gelling it too much), I add a drop or two of Darvan to rethin it if needed. When the engobe is right it gels after about 10 seconds of sitting, so I can stir it, dip and extract the mug, shake to drain it and then it gels and holds in place. Keep in mind, this is a pottery project. In industry they deflocculate engobes to reduce water content. But a deflocculated slurry can still be gelled (if it is runny).
Solving a difficult engobe flaking problem
This demonstrates the difficulty you can encounter when trying to get an engobe working with a clay body. Here the slip/glaze is flaking off the rim of pieces at cone 04 (does not happen at 06). The front bi-clay bar demonstrates the white and red clays dry well together (the slight curve happened on the drying). They also fire well together (the curvature did not change on firing). The back two thin bars seem to demonstrate thermal expansion compatibility: a thick layer of glaze is not under enough compression to curve either bar during firing. While the white clay contains 15% frit and forms a good bond with the red body, that bond is not nearly as good as the one between the glaze and the white slip. Yet it is still flaking off the rim at the slip/body interface. Why? At first it seemed that failure was happening at quartz inversion (because the body had less quartz than the white slip). However now it appears that the combination of compressions of the slip and glaze are sufficient to break the slip-body bond on convex contours. The compression of the slip and glaze likely did not demonstrate well on the bars because at this low a temperature they are not vitreous enough to be easily curled.
Bi-Clay strips test compatibility between engobe and body
Slips and engobes are fool-proof, right? Just mix the recipe you found on the internet, or that someone else recommends, and you are good to go. Wrong! Low fire slips need to be compatible with the body in two principle ways: drying and firing. Terra cotta bodies have low shrinkage at cone 06-04 (but high at cone 02). The percentage of frit in the engobe determines its firing shrinkage at each of those temperatures. Too much and the engobe is stretched on, too little and it is under compression. The lower the frit the less the glass-bonding with the body and the more chance of flaking if they do fit well (either during the firing or after the customer stresses your product). The engobe also needs to shrink with the body during drying. How can you measure compatibility? Bi-body strips. First I prepare a plastic sample of the engobe. Then I roll 4 mm thick slabs of it and the body, lay them face-to-face and roll that down to 4 mm again. I cut 2.5x12 cm bars and dry and fire them. The curling indicates misfit. This engobe needs more plastic clay (so it dry-shrinks more) and less frit (to shrink less on firing).
Too much frit in an engobe and it will lose opacity and whiteness
The white slip on the left is an adjustment to the popular Fish Sauce slip (L3685A: 8% Frit 3110 replaces 8% Pyrax to make it harder and fire-bond to the body better). The one on the right (L3685C with 15% frit) is becoming translucent, obviously it will have a higher firing shrinkage than the body (a common cause of shivering at lips and contour changes). The slip is basically a very plastic white body. Since these are not nearly as vitreous as red ones at low fire they need help to mature and a frit is the natural answer. With the right amount the fired shrinkage of body and slip can be matched and the slip will be opaque. This underscores the need to tune the maturity of an engobe to the body and temperature. Although zircon could be added to the one on the right to opacify and whiten it, that would not fix the mismatch in fired shrinkage between it and the body.
An extreme case of firing shrinkage mismatch between engobe and body
Example of fritted white engobe over-fired to cone 2. During firing it has shrunk and the bond with the body has been completely compromised. The body has a firing shrinkage of about 6% but the slip is closer to 10%. Because glazes melt they do not have a firing shrinkage. But engobes do and it must be compatible with the body.
Applying an engobe by pouring or spraying
An example of an engobe (slip) applied to dry ware and then fired at cone 2. The one of the left has been poured, the right sprayed. Control of the thickness of engobes is important, thus the specific gravity and viscosity of the slurries are very important. Engobes are invaluable since a red or brown burning body can be made to fire white like porcelain (enabling much better glaze surface quality).
The glaze is flaking off this low temperature plate. Why?
At low temperatures glazes and slips/engobes are not stuck on nearly as well as with stoneware and porcelain. So the glaze fit has to be better (poor fit will be evidenced by flaking at the lip). But that is not what is happening here. In this case a pigmented slip, or underglaze, was applied first, at leather-hard stage (thus it is being used as an engobe). The integrity of two bonds must now be considered: Slip-with-body and glaze-with-slip. Slip-to-body bonding is never as good as glaze-to-body or glaze-to-slip. When an engobe, or underglaze, is refractory then the bond-with-body is especially poor. Ceramic stains are highly refractory in comparison with low-fire bodies, simply adding them to an underglaze base recipe will make it refractory also. In addition, stains vary widely in their refractory character and the percentage of stain needed varies greatly with color. Some underglaze manufacturers compensate by incorporating a compensatory percentage of frit in each underglaze recipe. Other manufacturers simply have one base and add all the colours to that. Claims that underglazes work well across wide temperature ranges do not get tested when they are brushed on as decoration, but when they are applied like this, as an engobe, disaster strikes! In this case we can see that the failure is occurring at the underglaze-body interface and the glaze/underglaze "sandwich" is releasing in large flakes.
Links
Materials
Ravenscrag Slip
Glossary
Brushing Glaze
Hobbyists and increasing numbers of potters use commercial paint-on glazes. It's convenient, there are lots of visual effects. But there are also issues compared to making your own.
Glossary
Mocha glazes
A technique used by ceramic artists to decorate pottery. It happens when bleeding occurs at the edges of a thin colored acidic mixture painted over a still-wet slip.
Glossary
Once fire glazing
Refers to the practice of firing ceramics in one firing (rather than two) to produce a fully glazed product. This practice requires more technical expertise.
Glossary
Ceramic Slip
The term Slip can have various meanings in traditional ceramics.
Troubles
Glaze Crawling
Ask yourself the right questions to figure out the real cause of a glaze crawling issue. Deal with the problem, not the symptoms.
Articles
Ravenscrag Slip is Born
The story of how Ravenscrag Slip was discovered and developed might help you to recognize the potential in clays that you have access to.
By Tony Hansen

---
---


https://digitalfire.com, All Rights Reserved
Privacy Policy