GR6-C - Ravenscrag Cone 6 White Glossy
Modified: 2022-10-31 13:55:48
Plainsman Cone 6 Ravenscrag Slip based white glossy glaze. It can be found among others at http://ravenscrag.com.
Notes
A white base glaze with all the advantages of Ravenscrag Slip base GR6-A. It is not drab-looking like a porcelain toilet, but is vibrant and interesting on stoneware bodies. It breaks to clear on the edges of contours and has variegation. It works well with added stains, the variegation of this base (adding a little titanium dioxide) makes the color much more interesting.

Adjust the amount of zircopax as needed to adjust the degree of whiteness. Recently we have begun using a mix of tin and zircopax (3% and 5%) to minimize crawling.

Because it contains an opacifier, this can be a base for the addition of colorants to produce pastel colors (adding them to the transparent base will produce deeper more brilliant colors). We recommend stains rather than metal oxides.

For mixing instructions please see the master recipe, GR6-A.

Consider using G2926B clear with added Zircopax if this recipe does not produce the degree of whiteness and homogeneity you need.
Related Information
Ravenscrag white on Plainsman M340
Tap picture for full size and resolution
How do you turn a transparent glaze into a white?
Tap picture for full size and resolution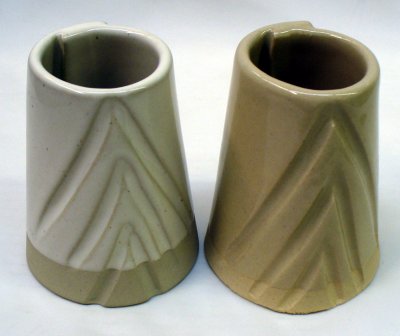 Right: Ravenscrag GR6-A transparent base glaze. Left: It has been opacified (turned opaque) by adding 10% Zircopax. This opacification mechanism can be transplanted into almost any transparent glaze. It can also be employed in colored transparents, it will convert their coloration to a pastel shade, lightening it. Zircon works well in oxidation and reduction. Tin oxide is another opacifier, it is much more expensive and only works in oxidation firing.
Ravenscrag Cone 6 white glaze with 10% Mason chrome tin stain
Tap picture for full size and resolution
The body is Plainsman M340 and these two glazes are based on the GR6-A recipe (Ravenscrag Slip + 20% frit). The GR6-C creamy white glaze adds 10% Zircopax to opacify it. The pink version, our code number GR6-L, adds Mason 6006 stain instead. The GR6-A base is zinc-free and just hits the 10% minimum CaO recommended to get color development with a chrome tin stain. This recipe also couples a low MgO level (MgO can kill the color in chrome tin stains).
Tap picture for full size and resolution
0.5% fine granular illmenite added to Ravenscrag cone 6 clear glossy white base glaze.
Links
XML to Paste Into Desktop Insight
<recipes>XML not functional: We are working on this problem.</recipes>
By Tony Hansen
Follow me on

Got a Question?
Buy me a coffee and we can talk
---


https://digitalfire.com, All Rights Reserved
Privacy Policy