Fire-Red
Alternate Names: Plainsman FireRed
Description: Plainsman Native Clay
Notes
A natural, high iron, high-temperature stoneware clay blend of a refractory low plastic red clay, a medium temperature medium plastic red clay and a bentonitic ball clay. Fire-Red has medium plasticity and is thus a plasticity neutral additive to clay bodies. It is slightly sandy and by itself is a deep, solid red at cone 10R with speckle. It is stable to cone 12+. This material is a better choice for imparting red color to medium and high-temperature bodies than typical low-fire red clays (the latter tend to flux to brown rather than red colors even in bodies with low feldspar).

This material is a possible alternative to Newman red fireclay with caveats.
-This material is more plastic (thus ball clay or bentonite in the recipe can be reduced to compensate)
-Fire-Red is a little more vitreous (thus feldspar can be reduced).
-Fire-Red has a much coarser particle size distribution so homogeneous red burning bodies will look less so and they will have a much more toothy feel.
-Fire-Red has less staining power, you may need to augment it with iron oxide.

Fired Temperature, Cone 6 7 8 9 10 11 10R
--------------------------------------------
Fired Shrinkage: 3.2% 3.4% 3.6% 3.6% 3.7% n/a n/a
Absorption: 8.2% 8.0% 7.8% 7.5% 7.1% n/a n/a
Fired Strength:
(lbs/ square inch) 3800 4200 4300 4300 4300

Sieve Analysis Wet Washed
(Root of 2 series) +35 +48 +65 +100 +150# +200 +325
--------------------------------------------
0.1% 0.5% 2.5% 5.0% 6.0% 11.0% 11.0%

Texture: Sl. tooth
Plastic Index (1-10): 5
Green Strength (lbs/sqaure inch): 800
Dry shrinkage: 5.5
Dried density: 2.06
PCE: 16.5
Related Information
Fire-Red fired to cone 10R with Ravenscrag Slip as an inner glaze.
Tap picture for full size and resolution
This can fire almost black on reduction. However, as a pure material, it is prone to dunting as it is high in larger quartz particles.
Fire-Red and Restone fired test bars
Tap picture for full size and resolution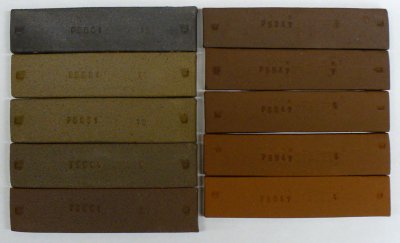 Plainsman Fire-Red (left) fired at cone 8,9,10,11 and 10R and Redstone (right) fired at cone 4,5,6,7,8.
Amazing iron-blossoms in a vitreous reduction stoneware body
Tap picture for full size and resolution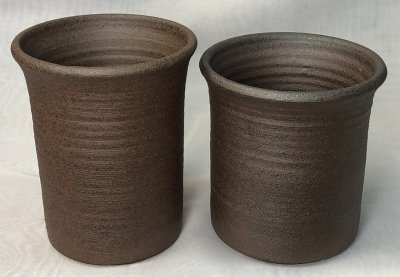 Fire-Red is an unusual material for several reasons. It has a high iron content yet is a fireclay. It is also non-plastic. Most important, it is not ground to 200 mesh like industrial materials. These bodies demonstrate it well, left: 42.5% Fire-Red, 42.5% ball clay and 15% Custer feldspar, right: 60% Fire-Red, 30% ball clay and 10% feldspar. The ball clay adds plasticity. The feldspar gives control of the degree of vitrification (the left one has 1.3% porosity at cone 10R, the right one 1.5%). This recipe vitrifies so it does not exhibit the deep red color that Fire-Red would give if there was no feldspar. Look closely at the surface: It is covered by thousands of tiny iron-eruptions, they occurred as the iron pyrite particles liquify as FeO (because of the reduction atmosphere in the firing), and these produce a metallic appearance. And, they will bleed through an over-glaze, if present, to give stunning speckled surfaces.
Links
Data
| | |
| --- | --- |
| Drying Shrinkage | 6.0-7.0 |
| Firing Shrinkage | Cone 4: 3.0-4.0% Cone 6: 3.5-4.5 Cone 8: 4.0-5.0 Cone 10: 4.5-5.5 Cone 10R: 3.0-4.0 |
| Frit Softening Point | PCE 17 |
| Sieve Analysis Dry | +48 mesh: 0.5-1.0% 48-65: 2.0-4.0 65-100: 3.0-5.0 100-150: 4.0-6.0 150-200: 5.0-7.0 200-325: |
| Water absorption | Cone 4: 9.0-11.0% Cone 6: 7.5-9.5 Cone 8: 6.0-8.0 Cone 10: 5.0-7.0 Cone 10R: 2.0-3.0 |
By Tony Hansen
Follow me on

Got a Question?
Buy me a coffee and we can talk
---


https://digitalfire.com, All Rights Reserved
Privacy Policy