GA6-G1 - Alberta Slip Lithium Brown Cone 6 Low Expansion
Modified: 2020-12-01 19:51:14
Plainsman Cone 6 Alberta Slip based glaze. It can be found among others at http://albertaslip.com.
Notes
The regular Alberta Slip lithium brown recipe crazes on porcelain. This one was formulated to maintain the appearance but reduce the thermal expansion. It does this by reducing the KNaO and increasing the MgO. This was effected by employing MgO sourcing frit 3249. This frit is more expensive and difficult to get but it is the only way we have found to effectively reduce the thermal expansion and maintain the aesthetic.

Like the original Albany glaze, this recipe contains lithium carbonate (which is partially soluble), thus the slurry can gel over time. This necessitates the addition of water and increases the drying shrinkage and there cracking (which results in crawling). We are working on substituting a lithium frit to eliminate this issue.

For mixing instructions please see the master recipe, GA6-A.
Related Information
Fine tuning glaze shrinkage vs. hardness
Tap picture for full size and resolution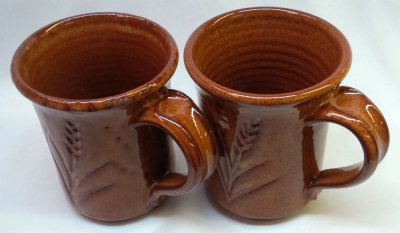 These mugs are fired at cone 6 with GA6-G1 Alberta Slip lithium brown. The difference: the ratio of raw to calcine Alberta Slip. In this glaze, a 50:50 ratio was not working well (left). The glaze was shrinking too much on drying, then crawling on firing (it needs to be thickly applied to get the visual effect I want). I mixed the recipe using pure calcine Alberta Slip, then repeated a cycle of pouring a little of this into the 50:50 mix and trying it. I kept doing that and glazing another mug until I had a minimum of drying cracks (while still having good gelling, application properties and dry hardness). The mug on the right was the last cycle, it has fired perfect. Using this technique I can perfect the ratio of raw:calcine for each Alberta Slip glaze I use.
Roasting Alberta and Ravenscrag Slips at 1000F: Essential for good glazes
Tap picture for full size and resolution
Roasted Alberta Slip (right) and raw powder (left). These are thin-walled 5 inch cast bowls, each holds about 1 kg. I hold the kiln at 1000F for 30 minutes. Why do this? Because Alberta Slip is a clay, it shrinks on drying (if used raw the GA6-B and similar recipes will crack as they dry and then crawl during firing). Roasting eliminates that. Calcining to 1850F sinters some particles together (creating a gritty material) while roasting to 1000F produces a smooth, fluffy powder. Technically, Alberta Slip losses 3% of its weight on roasting so I should use 3% less than a recipe calls for. But I often just swap them gram-for-gram.
Links
XML to Paste Into Desktop Insight
<recipes>XML not functional: We are working on this problem.</recipes>
By Tony Hansen
Follow me on

Got a Question?
Buy me a coffee and we can talk
---


https://digitalfire.com, All Rights Reserved
Privacy Policy