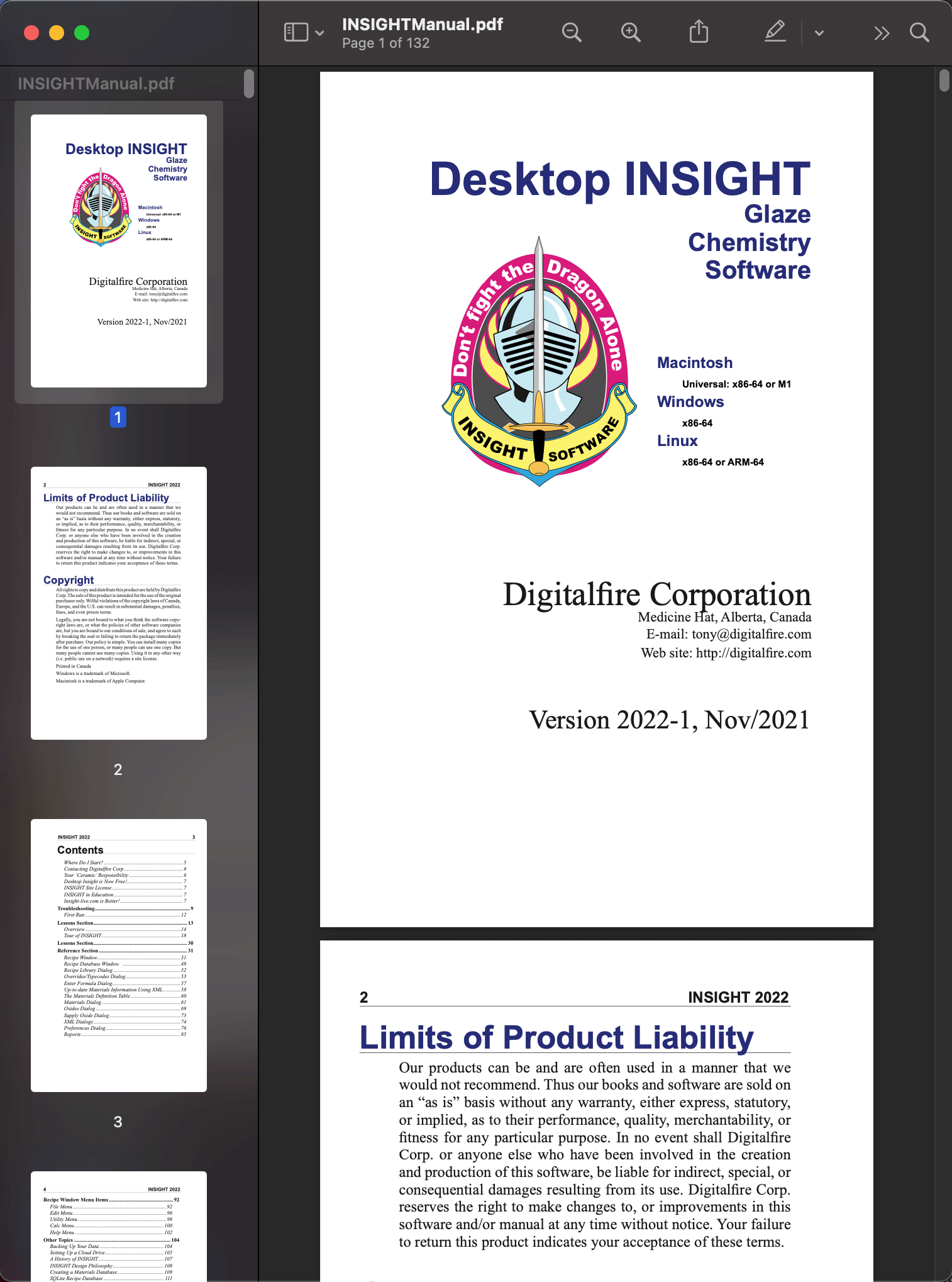 The PDF Manual.
Modified: November 19, 2016
Right-click here to download it.
Desktop Insight is now free!
Download it from the Files panel in your Insight-live.com account (it costs $15 for 6 months access). Current downloads only include the program file, starter recipe, materials, overrides data is built in. It functions as level 2, without need of a key. No features have been removed. It will never expire.
Do you really need Desktop Insight now that Insight-live is here?
No. Insight-live has a much broader scope and is far superior, it is the future (it still does the chemistry but is much more about data and access-from-anywhere). We still support desktop Insight for users who need to convert data for import to insight-live or who must work off-line.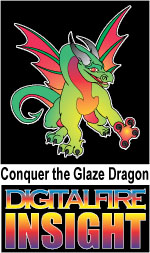 Desktop Insight is About Glaze Chemistry
Insight FAQ
There is a direct relationship between the way ceramic glazes fire and their chemistry. Insight is a calculation tool anyone can use to learn and harness the power of glaze chemistry.
Fix problems like crazing, blistering, pinholing, settling, gelling, clouding, leaching, crawling, marking, scratching, powdering.
Substitute frits or incorporate better, cheaper materials, replace no-longer-available ones (all while maintaining the same chemistry).
Adjust melting temperature, gloss, surface character, color.
Identify weaknesses in glazes to avoid problems.
Create and optimize base glazes to work with difficult colors or stains and for special effects dependent on opacification, crystallization or variegation.
Create glazes from scratch and use your own native materials in the highest possible percentage.
Without glaze chemistry you'll never really have control and you could be a slave to your suppliers or the trafficing in recipes that never work.
A desktop application for Windows, Linux, Macintosh that you download and install.
Insight is a classic glaze chemistry calculator
It interactively converts recipes to formulas and back. The main Insight window shows side-by-side recipes and their formulas, you can make chemistry changes to one while comparing it with the other.
Insight is also a library and a teacher
It puts at your fingertips a huge amount of information to help you learn the principles of glaze chemistry and it teaches you how to adjust, fix and formulate glazes.
It is a database
You can store all your recipes, picture, material information where you can easily find it.
It is a problem solver
Using our videos, instructional and reference materials and our personal help you can solve problems like crazing, leaching, crawling, pinholing, blistering, etc.
Insight was first released in 1979 and has been used world wide since. It is an excellent teaching tool for demonstrating the principles of formula/analysis/unity, limit formulas, LOI, and material-oxide relationships.
Overwhelmed by glaze chemistry? Try starting here.
What People Have Said
"I've recently purchased your software, and am totally blown away by the completeness of the package. The tutorial is incredible, I've learned so much from it already! This will be invaluable to me; glazes have always been somewhat mysterious, and I've relied far too heavily on the Kiln Gods. I'm looking forward to completing the tutorial and start experimenting.... As to the software, as an old Foxpro programmer myself, I can appreciate what it took to do what you did."
"I am getting better at using Insight for what it is intended in the ability to select different materials to provide the various oxides and to compare them to target glazes. I have also used Insight to review recipes to decide whether I want to try them or not, given the likely characteristics and avoided wasting my time with poorly constructed recipes."
"I enjoy using INSIGHT."
"Thank you for all the work ... good info that you have put into Insight. It is well worth the money. I like your philosophy, you come highly recommended."
"It looks TERRIFIC!"
"Your support for Linux is a big reason why I purchased your program."
To see more (at random) refresh this page
---