C6PLST Firing Schedule
Plainsman Cone 6 Electric Standard
We use this schedule to fire clay test bars. Pieces in the kiln have not been bisque fired and are generally not glazed. All the other temperatures (from 06 to 10) follow that same pattern, slowing down for the last 100 degrees F to top temperature and then holding for 10 minutes. If the kiln is more densely packed we lengthen the first step hold time (to drive out all residual water from body and glaze) and hold for longer than 10 minutes. This rate of increase is one that our kilns can manage, even when their elements age.

For glazed ware, it is essential to do a drop-and-hold and optionally, a slow cool firing, such as C6DHSC or PLC6DS.

We always include a self supporting cone. If the cone does not fall the correct amount, we adjust the firing schedule for next time.
| | | | | | |
| --- | --- | --- | --- | --- | --- |
| 1 | 55°C/hr to 121C | 100°F/hr to 250F | 60min | 2:45 | |
| 2 | 194°C/hr to 1148C | 350°F/hr to 2100F | 0 | 8:02 | |
| 3 | 60°C/hr to 1204C | 108°F/hr to 2200F | 10min | 9:07 | |
Start temperature assumed: 25°C or 75°F
Related Information
Example of test bars stacked into an electric kiln for firing
These have already been measured to deduce drying shrinkage. After firing they will be measured again to calculate the firing shrinkage. Then they will be weighed, boiled in water and weighed again to determine the water absorption. Fired shrinkage and absorption are good indicators of body maturity.
A batch of fired clay test bars in the Plainsman Clays lab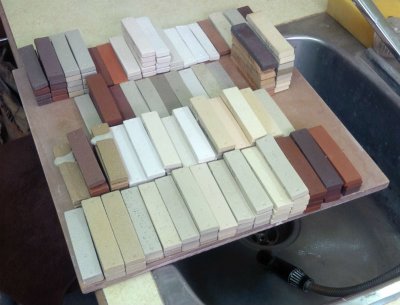 A batch of fired test bars that have just been boiled and weighed, from these we get dry shrinkage, fired shrinkage and porosity. Each pile is a different mix, fired to various temperatures. Test runs are on the left, production runs on the right. Each bar is stamped with an ID and specimen number (the different specimens are the different temperatures) and the measurements have all be entered into our group account at insight-live.com. Now I have to take each pile and assess the results to make decisions on what to do next (documenting these in insight-live).
Links