I am the creator of Digitalfire Insight, the Digitalfire Reference Database and Insight-live.com. ... moreMy posts are like no others, they help you understand your glazes and clay bodies, take control. A master timeline can be seen at Digitalfire.com or visit and like my pages to get a notification each time I post.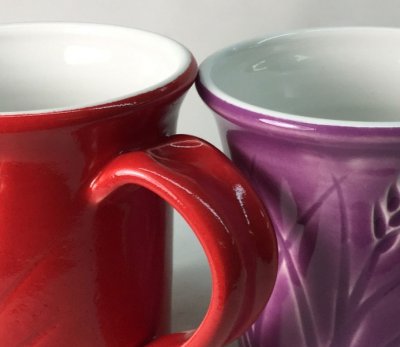 When using stains, customize the percentage, host glaze and firing schedule
These are G2926B clear glazes with stains added and fired at cone 6. The one on the left has 11% Mason 6021 encapsulated red. It is pebbling the surface (even with 2% zircon), it may be at the upper end of its firing range. Possible solutions are faster firing up and down to give the stain less ... more
Context: Encapsulated Stains, Stain
Tuesday 3rd July 2018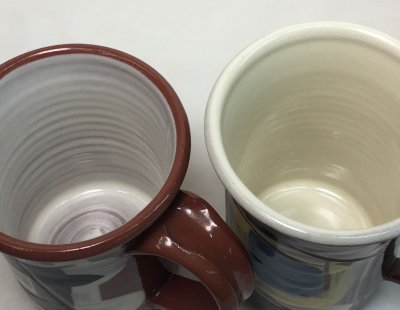 The difference between a slip and an engobe
L3685U slurry was applied to the insides of both of these mugs. But on the left it is a "slip", on the right an "engobe". Why? The left mug only has a thin layer, applied by painting a gummed version on (at leather hard stage). On the right a gelled slurry was poured into the leather hard piece, ... more
Context: EBCT Engobe Body Compatibility Test, Engobe, Slip
Tuesday 3rd July 2018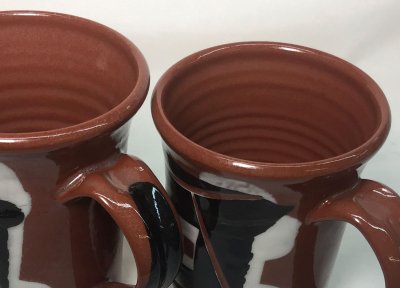 Terra cotta transparent glaze: Too thick and just right
When clear-glazing terra cotta ware (Plainsman L215 here) an important issue is glaze thickness. The mug on the left was double-dipped (so suspended bubbles are present in the handle recess, thumb-hold and along its edges). The glaze needs to be thick enough so that it feels glassy smooth but thin ... more
Context: G2931K - Low Fire Fritted Zero3 Transparent Glaze
Tuesday 3rd July 2018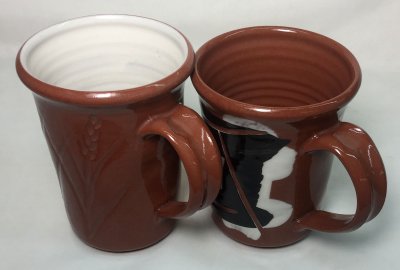 Terra cotta with transparent glaze: At cone 04, 03
The body is Plainsman L215 (bisque fired at cone 06). The glaze is G2931K. There is good reason to glaze fire to cone 03 instead of 04. Although these commercial underglazes work the same the clay fired at cone 03 is stronger and a deeper red color. But best of all, the glaze is more transparent ... more
Context: G2931K - Low Fire Fritted Zero3 Transparent Glaze, Terra cotta
Tuesday 3rd July 2018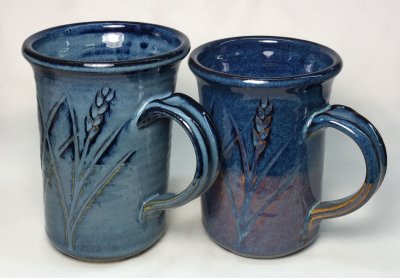 Ravencrag rutile blue vs. Alberta Slip floating blue at cone 6
Both have been applied at moderate thickness on Plainsman M325 (using a slurry of about 1.43-1.45 specific gravity, higher values end up getting them on too thick). The Ravenscrag version highlights contours better (the edges are black because of the black engobe underneath). It also produces the ... more
Context: GA6-C - Alberta Slip Rutile Blue Cone 6, GR6-M - Ravenscrag Cone 6 Floating Blue, Plainsman Cone 6 Slow Cool (Reactive glazes)
Tuesday 3rd July 2018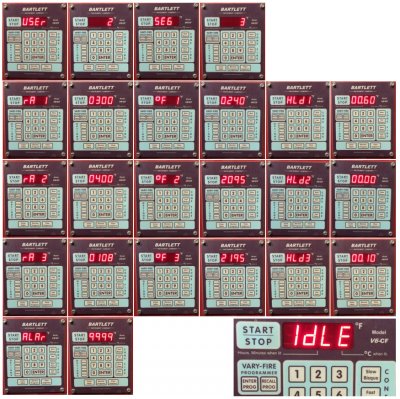 Manually programming a typical electric hobby kiln electronic controller
I document programs in my account at insight-live.com, then print them out and enter them into the controller. This controller can hold six, it calls them Users. The one I last edited is the one that runs when I press "Start". When I press the "Enter Program" button it asks which User: I key in "2" ... more
Context: Electric Hobby Kilns: What You Need to Know, Why is the clay blistering on this figurine?, Controller, Firing Schedule, Drop-and-Soak Firing, Manually program your kiln or suffer glaze defects!, Cone 6 Drop-and-Soak Firing Schedule
Thursday 28th June 2018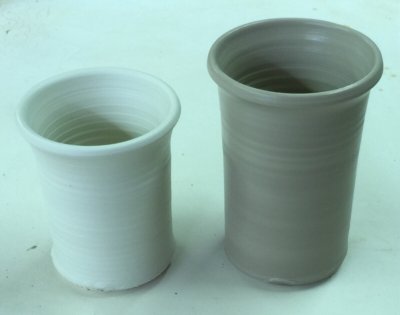 Thrown pieces made from pure Grolleg and EP Kaolin
These have just been thrown on the wheel. They were slurried and dewatered to about the same water content and the same amount was thrown on a potters wheel to compare the plasticity. While the Grolleg is stickier and dewaters a little slower, it is not nearly as plastic. Curiously, New Zealand ... more
Context: EPK fired bar (top) vs Grolleg at cone 10R. Why shrinking more?
Sunday 24th June 2018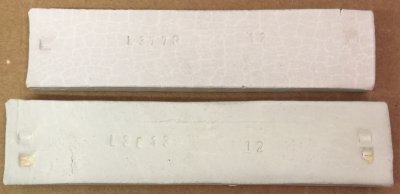 EPK fired bar (top) vs Grolleg at cone 10R. Why shrinking more?
From these (SHAB test bars) EP kaolin appears to have a much higher fired shrinkage. But half of that happened during drying. Still, EPK shrinks 4% more during firing. Yet Grolleg produces more vitrified porcelains. The EPK bar also appears be whiter. Yet in a porcelain body Grolleg fires much ... more
Context: Grolleg Kaolin, EP Kaolin, Thrown pieces made from pure Grolleg and EP Kaolin
Sunday 24th June 2018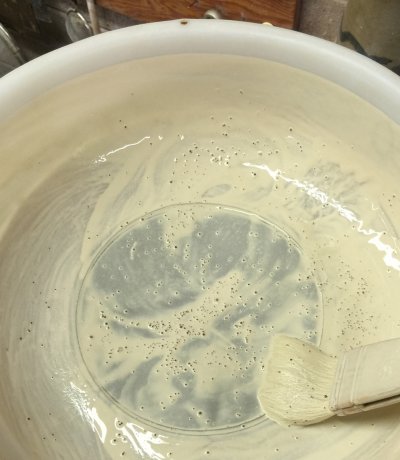 Precipitate can forms in fritted glazes, remember to screen it
Potters often store glazes for long periods so tiny spherical precipitate particles can form. These were found in a months-old bucket of G2926B (M370 clear) cone 6 clear glaze (about 2 gallons). These can appear over time, depending on factors like temperature, electrolytes in your water or ... more
Context: Are frits partially soluble? Yes, many are., Precipitation, Sieve
Saturday 16th June 2018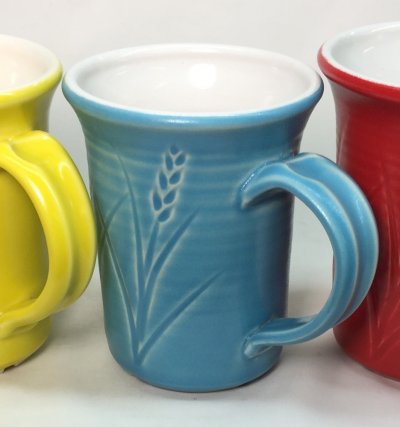 G2926S low expansion cone 6 base glaze is here
G2926B has proven to be my most durable, crystal clear, non-crazing, easy-to-use general purpose cone 6 base glaze (from dozens I developed). However, some porcelains (e.g. Plainsman P300) need an even lower thermal expansion. G2926S adjusts "B" (by adding low-expansion MgO at the expense of ... more
Context: G2926B - Cone 6 Whiteware/Porcelain Transparent Base Glaze, G2926S - Low Expansion version of G2926B
Saturday 16th June 2018
Contact Us:
Use the contact pages within or outside your account at Insight-Live.com
---
Login to your online account
Chemistry plus physics. The on-line successor to desktop Insight. Get an account for as little as $15. It does so much more.
Still available for Mac, PC, Linux
Interactive glaze chemistry calculations (legacy, no longer supported)
---
What people have said about digitalfire
• I'm excited to get started learning how to use the program. I've drawn much from your online glaze chemistry information over the years, and now I hope to apply some of that knowledge effectively.
• Firstly, I want to thank you about this very good site in the net which helps very much in the development of the ceramics industry.
• I have been perusing through some of the level 2 areas of your site and am just in awe of what a great resource you have developed.
• I must say that your article on geting pink colors from Chrome and Tin had an appealing writing style and was very informative.
• First of all I'd like to congratulate you for the incredible source of information and Guidelines in your website. We are changing our fast-firing process (cold to cold in 4.5 hours) to a slow-firing process (cold to cold in 24.0 hours) and all our glaze formulas have lost their acid resistant characteristic, after dipping in 24 hrs at Ph1.3.
• You have been more than helpful and I will recommend your site to all of my pottery friends. Once again a big thank you.
• Thank you for the work you do to improve the work of potters trying to do new things.
Click here
to see all 191
What people have said about Insight-Live
• I just want to say THANK YOU for this incredible database of information. Thank you, thank you, thank you!
• I am learning so much from your website, even after 33 years in business as a ceramic producer.
• Your site, I think, is the best source of information on ceramics that I have found. I have always wanted to know how things work rather than just doing it because someone said so. Your site gives reasons why and how to apply what you have learned, and I have learned a lot from you and want to thank you! I love the Digitalfire site. Thanks so much for sharing your knowledge.
• Having explored and taken lots of advice from your site, I just wanted to say what a brilliant and informative site it is.
• Insight live is great...!
• Thanks! I look forward to seeing your posts. I have read and printed many things you have posted over many years. Have learned a lot from you.
• I am a production potter and I have been using your website for information, and I have made many improvements from articles posted on this site.
Click here
to see all 101