I am the creator of Digitalfire Insight, the Digitalfire Reference Database and Insight-live.com. ... moreMy posts are like no others, they help you understand your glazes and clay bodies, take control. A master timeline can be seen at Digitalfire.com or visit and like my pages to get a notification each time I post.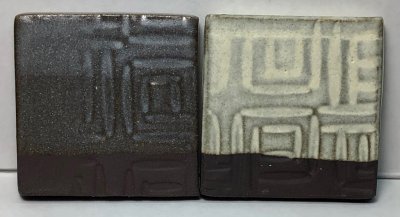 The difference propeller-mixing a glaze can make
The glaze has 5% added titanium dioxide. These were fired at cone 6. The titanium in the one on the left remained agglomerated, it did not disperse in the slurry during hand mixing (the agglomerates can be seen as white particles floating in the glass). On high-speed propller-mixing the effect on ... more
Context: Agglomeration, Propeller Mixer
Saturday 20th July 2019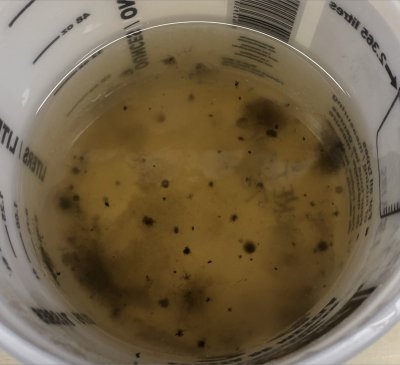 CMC gum solutions can go bad
That is why glazes containing CMC often need a biocide if they are going to be stored for extended periods. We made this one. The gallon jar of Laguna gum solution sitting next to this did not go bad, that means they have added some sort of anti-microbial agent.
Context: CMC Gum, BIO - Biocide
Saturday 20th July 2019
This flow tester proves the colorant is not fluxing or bubbling the glaze
These glazes are the same (G3806G), except the one on the right has 3.5% copper carbonate added. Copper is commonly thought to flux glazes, making them melt more. But in this case, the clear base is running just as much as the stained one. And I was suspicious that the micro-bubbles in the glass ... more
Context: Copper Carbonate, Melt Fluidity
Saturday 20th July 2019
This cone 6 black glaze looks glossy until placed beside the cone 04 one
The cone 6 one is on the left, it contains about 25% frit. Both are colored using a black stain. That low fire glaze on the right has a high percentage of frit, likely more than 80%, that is the main reason for the beautiful surface. Frits are really fantastic, and standard practice in industry. ... more
Context: Glossy Glaze, Frit
Saturday 20th July 2019
Lemon Leaching Test on a Copper-containing Glaze
This was left for 24 hours. Wrapped in stretch wrap. Then the surface of the glaze was inspected under a lamp to detect any differences between the lemoned and non-lemoned surfaces. Lemons are highly acidic. This glaze passed because the base recipe, G3806N, was methodically developed so that it has plenty of Al2O3 and SiO2 (in the fired
chemistry
) to build a stable glass.
Context: GLLE Glaze Leaching Test, 2019 Development of G3806 melt-fluid low-expansion clear base glaze
Saturday 20th July 2019
A glaze and underglaze are flaking off. Why?
At low temperatures glazes are not stuck on nearly as well as for stoneware and porcelain. One of the ways to compromise the bond is to put a layer of refractory material, for example certain underglazes, between the body and glaze. It is kind of like painting something that is dirty, the paint ... more
Context: Underglaze
Monday 8th July 2019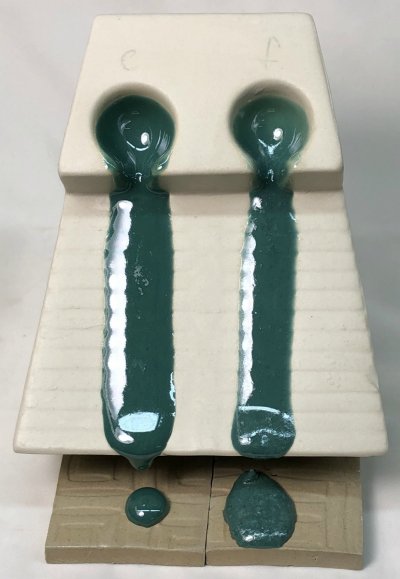 Flow tester tells me if I have overfluxed the glaze
This is important because I am searching for a balance between the degree of melt fluidity of my original crazing glaze but having a thermal expansion to fit my porcelain (this is G3806E and F). With each adjustment to the chemistry to drop the thermal expansion I do a firing to compare the melt ... more
Context: A Low Cost Tester of Glaze Melt Fluidity
Tuesday 2nd July 2019
An alumina kiln shelf that has cracked during firing
This is due to its inability to withstand thermal gradients across its width. Typical sintered alumina is refractory, but it is not thermal shock resistant like tabular alumina. The inner part of the shelf was being protected from the rising heat because of this heavy, slow-to-rise calcimine vessel ... more
Context: Calcined Alumina, Thermal shock
Tuesday 2nd July 2019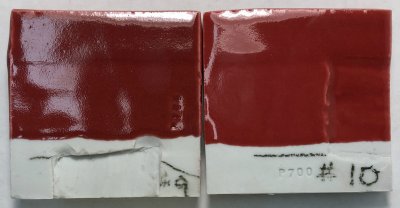 Dependable blood red at cone 10R without copper
This is
G1947U
clear glaze with 8% Mason 6021 red stain added. The one on the right has an additional 2% Zircopax added. The glaze is
P700
, a Grolleg kaolin porcelain.
Context: G1947U - Cone 10 Glossy Transparent Base Glaze, Copper Red
Friday 28th June 2019
Our base glazes plus opacifiers on a dark burning body at cone 6
The body is Plainsman M390. These are commonly used base glazes. The top one is an MgO matte, next down is a calcium matte. They behave very differently to these additions. Notice also the difference when titanium dioxide is applied thickly. Tin oxide fires whiter than zircon (e.g. Zircopax). Each ... more
Context: G1214Z - Cone 6 Silky Matte, Opacifier, Opacification
Tuesday 25th June 2019
Contact Us:
Use the contact pages within or outside your account at Insight-Live.com
---
Login to your online account
Chemistry plus physics. The on-line successor to desktop Insight. Get an account for as little as $15. It does so much more.
Still available for Mac, PC, Linux
Interactive glaze chemistry calculations (legacy, no longer supported)
---
What people have said about digitalfire
• I would also like to say thank you for providing the information about glaze's that you have on your websight. I have been formulating glaze for 20+ years, read practicaly every book on glaze & glass and your web page's had better information than any book.
• I normally do not comment on articles I find, but this is amazing. Thank you so much for providing this information! I am a ceramics student in my BFA year, and this is the most comprehensive and helpful information I have found on creating a porcelain casting slip.
• I'm all right brained..... I have the serial number. My computer is finally going. Thanks for the service. I love my Digital fire.
• Honestly I do not see how you have time to experiment, test, etc. and disseminate the massive amount of knowledge you have.
• You guys blow my mind with all your information. It is very much appreciated. I read it, sometimes 5 times, I don't always get it. Thanx!!
• First of all I'd like to congratulate you for the incredible source of information and Guidelines in your website. We are changing our fast-firing process (cold to cold in 4.5 hours) to a slow-firing process (cold to cold in 24.0 hours) and all our glaze formulas have lost their acid resistant characteristic, after dipping in 24 hrs at Ph1.3.
• I found your site while looking up cone 10 glazes on google. I must say, it has been of significant help to me as i recently set up a workshop and am preparing to produce some pottery after 30 yrs. in the construction industry as a superintendent. Thanks for what you've done here...!
Click here
to see all 191
What people have said about Insight-Live
• How amazing it is to have personal contact on such an amazing technical site and I can't express my gratitude for your generous spirit.
• Your site is a fantastic resource, I recommend it to everyone.
• Insight live is great...!
• I wanted you to know that, you have a fantastic program. Every serious potter should use it. And it would be a good starting curriculum for high school and college to learn from. Thanks for, I would imagine, many hours in developing time. Kudos sir. I hope, by God's good will that I will be able to enjoy it for any years to come.
• This is really cool. Thanks for sending this to my email.
• Thank you so much for the fantastic info and knowledge you provide for us potters on your page!
• Your site is great! It is so good to have your site as I venture into making my food-safe glazes. I live in São Paulo, Brazil, so the raw materials here naturally can be very different from the ones in most of the books and websites, as we don't have much of that available here. So your site is the only that I have found so far that is really helpful if you want to start from scratch, so thank you! Its like my dream as a potter to make beautiful, lasting and safe ware so your website and insight-live are invaluable sources of information for me. I am so glad to be able to work with this! I really admire your work and tell my students about your website. Here in Brazil, studio ceramics is not a very developed area. Many people don not even know/care about being precise and knowledgable about safety with glazes. So your website is like an oasis in the tropical desert.
Click here
to see all 117