Ball Clay
Ball clay is the most common type of secondary clay. They are much more plastic than kaolin because the particle size is much smaller. Ball clays are available with a wide range of plasticities (a product of varying particle sizes). They have higher iron content than kaolins so bodies made from them are not as white. Raw ball clays tend to be grey in color since they commonly contain some lignite. Ball clays are fairly refractory.
Related Information
Carbon burnout in a ball clay
A broken test bar of ball clay fired to cone 10 reduction. Notice the black carbon core. Ball clays commonly contain carbon, many have a noticeable grey color in the raw state because of this. Notice it has not burned out despite the fact that the clay itself is still fairly porous, the firing was slow and the temperature reached was high. Ball clay typically does not comprise more than 30% of a body recipe so its opportunity to burn away is sufficient. However some specialized bodies have a much higher percentage.
Particle size drastically affects drying performance
These DFAC testers compare the drying performance of Plainsman A2 ball clay at 10 mesh (left) and ball milled (right). This test dries a flat disk that has the center section covered to delay its progress in comparison to the outer section (thus setting up stresses). Finer particle sizes greatly increase shrinkage and this increases the number of cracks and the cracking pattern of this specimen. Notice it has also increased the amount of soluble salts that have concentrated between the two zones, more is dissolving because of the increased particle surface area.
Even heavy soluble salts may not have a significant affect on the glaze
This is a ball clay. They are known to produce this type of soluble salts when fired at high temperature reduction (the inner salt-free section is such because that part of the tile was covered during drying, so the soluble salts from there had to migrate to the outer exposed edge). If soluble salts fire to a glassy surface they can affect the overlying glaze. But in this case they are not and have a minimal effect.
Four North American ball clays fired at high temperature
The top bars went to cone 10R, the others are cone 11 and 10 oxidation (downward from top). They are Gleason, Spinks Blend, OM#4 and NP Blend. It is amazing now similar different ball clays fire in the kiln. Clearly, soluble salts are an issue with all of them (the brownish scum). These bars are much cleaner on the backsides (since the solubles were left on the surface on the fronts during drying). The drying shrinkages, plasticities and fired maturities are also all remarkably similar.
The white one feels smoother, but it is actually far coarser. Why?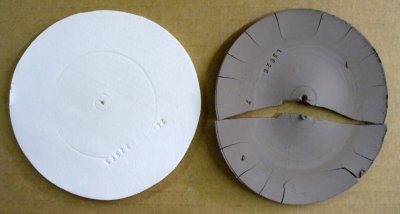 Large particle kaolin (left) and small-particle ball clay (right) DFAC tests (for drying performance) demonstrate the dramatic difference in drying shrinkage and performance between these two extremes (these disks are dried with the center portion covered to set up a water content differential to add stresses that cause cracking). These materials both feel super-smooth, in fact, the white one feels smoother. But the ultimate particles tell the opposite story. The ball clay particles (grey clay) are far smaller (ten times or more). The particles of the kaolin (white) are flatter and lay down as such, that is why it feels smoother.
High drying shrinkage of Plainsman A2 ball clay (DFAC disk)
This DFAC test disk shows the incredible drying shrinkage that a ball clay can have. Obviously if too much of this is employed in a body recipe one can expect it to put stress on the body during drying. Nevertheless, the dry strength of this material far exceeds that of a kaolin and when used judiciously it can really improve the working properties of a body giving the added benefit of extra dry strength.
Ball clay and kaolin test bars side-by-side fired from cone 9-11 oxidation and 10 reduction.
OM4 Ball clay fired from cone 10R (top), 10 down to 4 (downward)
Ball clays are normally refractory, none of these are vitrified to any extent. The cone 10R bar is yellow because it is stained by the soluble salts present in the material. These are very typical of what most ball clays look like.
Links
Minerals
Kaolinite
Glossary
Secondary Clay
Clays form by the weathering of rock deposits over long periods. Primary clays are found near the site of alteration. Secondary clays are transported by water and laid down in layers.
By Tony Hansen

---
---


https://digitalfire.com, All Rights Reserved
Privacy Policy