I am the creator of Digitalfire Insight, the Digitalfire Reference Database and Insight-live.com. ... moreMy posts are like no others, they help you understand your glazes and clay bodies, take control. A master timeline can be seen at Digitalfire.com or visit and like my pages to get a notification each time I post.
Screened to 80 mesh and feels absolutely smooth, but still speckles in reduction
The reduction was fairly heavy and this piece went to cone 11. The tiny iron stone concretion particles melted vigorously and flowed. This is why clean firing results requires 200 mesh materials!
Context: Particle Size Distribution, Specking
Wednesday 15th May 2019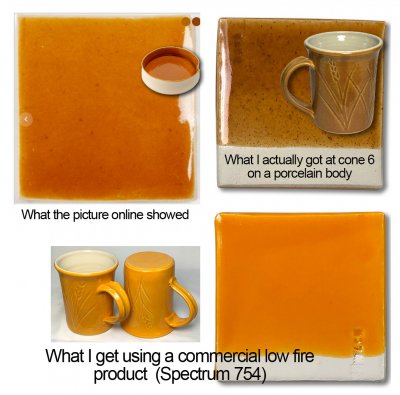 Want bright orange on your ware?
Orange is a very difficult color in ceramics. Inclusion stains are the only reliable method and universally used in industry. But you could ignore that and try a bunch of recipes online, buying exotic materials to complete each one. Maybe one will be orange enough, but will it craze or run or ... more
Context: Trafficking in Glaze Recipes, Encapsulated Stains
Friday 10th May 2019
When the cone does this I need to adjust the program
This is a cone 04. It is bent too much, the kiln has over-fired a little (cone 03 was also bent somewhat). The built-in firing schedule goes to 1945, that would be much more over-fired than this was (and the built-in ones do not soak, drop-and-soak or slow cool). It only takes a minute to edit the ... more
Context: Programming a Bartlett Genesis kiln controller, Manually programming a Bartlett V6-CF hobby kiln controller, Firing Schedule
Friday 10th May 2019
Fine tuning the amount of Darvan in a terra cotta slurry
This is slurry is made of 80% Redart and 20% KT1-4 ball clay. It has very good casting properties IF it is deflocculated well (smaller pieces can be cast in 10 minutes and extracted from the mold in another 10). However high-iron slurries are notorious for gelling, either right away during mixing or ... more
Context: Deflocculation, Terra cotta
Friday 10th May 2019
Soda fired porcelain vessel by Heather Lepp
This is a small cup-sized object made from Plainsman P600 (simply composed of Tile #6 kaolin, nepheline syenite and quartz). It is valued as a product-of-the-process piece, consigned to the "kiln God" as unglazed. It exhibits carbon-trap, soda glaze deposition and flashing. The soda-vapour ... more
Context: Flashing, Carbon trap glazes
Friday 10th May 2019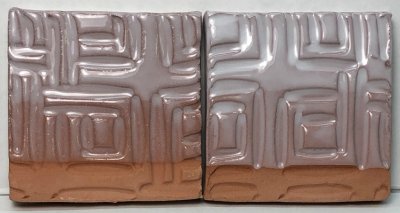 Tin Oxide is expensive, do not waste it
This is a cone 04 glaze on a terra cotta body. Two 300-gram test batches were made. Both have 5% tin oxide added. The one on the left was high-speed propeller-mixed for 10 seconds on a closed container. That was not enough, small agglomerates appear as white specks floating in the glass. The one on ... more
Context: Tin Oxide, Opacifier, Opacification
Friday 10th May 2019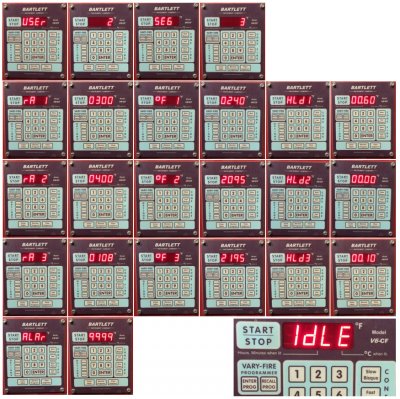 Manually programming a Bartlett V6-CF hobby kiln controller
I document programs in my account at insight-live.com, then print them out and enter them into the controller. This controller can hold six, it calls them Users. The one I last edited is the one that runs when I press "Start". When I press the "Enter Program" button it asks which User: I key in "2" ... more
Context: Electric Hobby Kilns: What You Need to Know, Why is the clay blistering on this figurine?, Programming a Bartlett Genesis kiln controller, When the cone does this I need to adjust the program, Low fire ware cracking during firing. Why?, Firing Schedule, Kiln Controller, Drop-and-Soak Firing, Manually program your kiln or suffer glaze defects!, Cone 6 Drop-and-Soak Firing Schedule
Friday 10th May 2019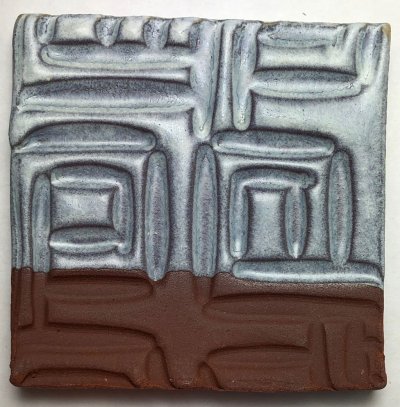 Incredible Titanium Dioxide in a calcium matte
The glaze is G1214Z cone 6 base calcium matte. 5% titanium dioxide has been added. This Plainsman M390 tile was fired at cone 6 using the PLC6DS firing schedule. Titanium can create reactive glazes, like rutile, even with matte surfaces (provided the glaze has good melt fluidity). Calcium mattes ... more
Context: Titanium Dioxide, G1214Z - Cone 6 Silky Matte, Reactive Glazes
Wednesday 8th May 2019
Partially and fully opacified matte glaze at cone 6
The glaze is
G1214Z
matte base and the clay is
M390
. 5% zircopax was added to the glaze on the left (normally 10% or more is needed to get full opacity, the partially opaque effect highlight contours well). 5% tin oxide was add to the one on the right (tin is a more effective, albeit expensive
opacifier
in oxidation, often only 4% is needed). The
PLC6DS
firing schedule was used.
Context: Zircopax, Tin Oxide, G1214Z - Cone 6 Silky Matte, Plainsman M390, Matte Glaze
Wednesday 8th May 2019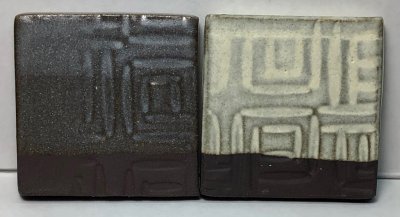 The difference propeller-mixing a glaze can make
The glaze has 5% added titanium dioxide. These were fired at cone 6. The titanium in the one on the left remained agglomerated, it did not disperse in the slurry during hand mixing (the agglomerates can be seen as white particles floating in the glass). On high-speed propller-mixing the effect on ... more
Context: Agglomeration, Propeller Mixer
Wednesday 8th May 2019
Contact Us:
Use the contact pages within or outside your account at Insight-Live.com
---
Login to your online account
Chemistry plus physics. The on-line successor to desktop Insight. Get an account for as little as $15. It does so much more.
Still available for Mac, PC, Linux
Interactive glaze chemistry calculations (legacy, no longer supported)
---
What people have said about digitalfire
• This article is just what I have been looking for, actually for years. I am going to experiment making my shiny clear glaze matte. I do not have an MFA and have not really ever studied glaze calculation and yet I understand this article and know where to start. Thank you!!!
• Most of the compositions came from the Digitalfire Ceramic Materials site, to which all who analyze glazes owe a debt of gratitude.
• Thank you for continuing to provide this exceptional service. Just yesterday, a comment was made about one of the glazes: I have never used a glaze as smooth as this before. I wish to thank you for all of the information you keep available for us.
• Great resource!!!
• I enjoy and appreciate your work very much.
• High marks for the web site!
• I must say that your article on geting pink colors from Chrome and Tin had an appealing writing style and was very informative.
Click here
to see all 191
What people have said about Insight-Live
• I have longed admired your website, and everything you've contributed to better understanding ceramic technology.
• My glazes activities are seasonal anyway. In the summer i make pots in winter I think about chemistry and sit at a PC. I looked at your pricing again and it is indeed reasonable.
• Had quite quite a few problems learning to enter recipes.
• I want to thank you for creating all that extensive and wonderful material in Digital Fire and Insight Live. I have started with the process of creating my own glazes a little bit more than a year ago, process that I found exciting and challenging and thanks to your websites it has been a lot easier!
• You are brilliant .. You have provided so much info that is great. I have been a full time potter for 44 years and am still learning. Thank you so much for your generosity in sending this very pertinent information to me. It certainly has me thinking I should sign on to Digital Fire. Thanks again.
• You are due many complements on your site and software. I usually have your A - Z materials dictionary open in my web browser.
• Tony, I looked at Insight Live today more carefully. It is quite an accomplishment! Congrats to you!
Click here
to see all 112