I am the creator of Digitalfire Insight, the Digitalfire Reference Database and Insight-live.com. ... more I have made hundreds of posts like these on my Insight-live Facebook and Plainsman Clays Facebook pages. My posts are like no others, they help you understand your glazes and clay bodies, take control. A master timeline can be seen at Digitalfire.com or visit and like my pages to get a notification each time I post.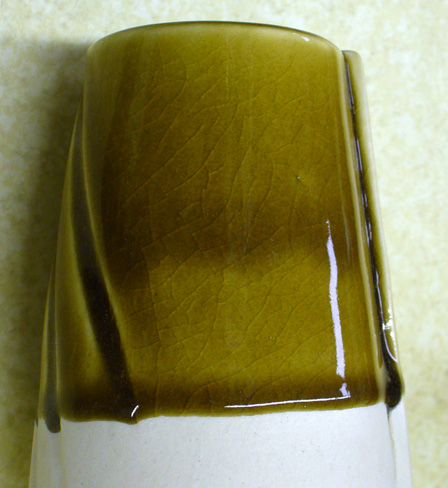 A down side of high feldspar glazes: Crazing!
This reduction celadon is crazing. Why? High feldspar. Feldspar supplies the oxides K2O and Na2O, they contribute to brilliant gloss and great color (at all temperatures) but the price is very high thermal expansion. Any glaze having 40% or more feldspar should turn on a red light! Thousands of
... more
Context: Na2O, Crazing, Celadon Glaze, Glaze Crazing
Thursday 22nd September 2016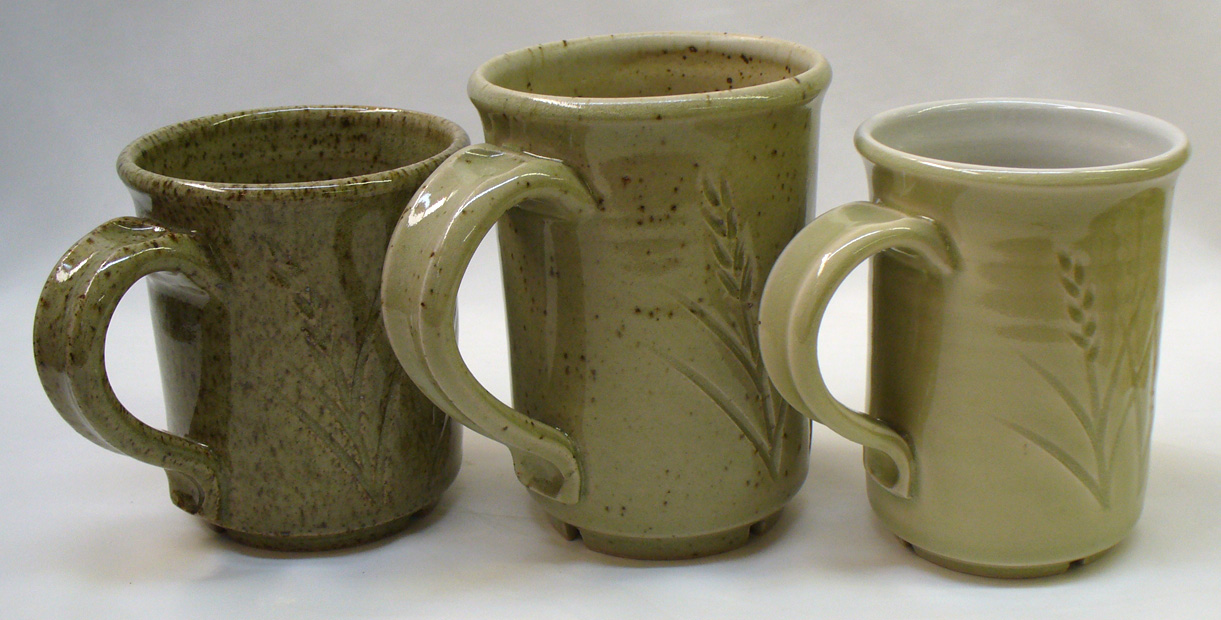 GR10-B Ravenscrag transparent glaze (with 10 talc)
Because this glaze employs 10% dolomite instead of 10% calcium carbonate it has a lower thermal expansion and is less likely to craze. While the dolomite is contributing MgO, which normally mattes glazes, there is not enough to do it here.
Context: Talc, Calcium Carbonate, MgO, GR10-B - Ravenscrag Cone 10R Gloss Base, The unexpected reason for this crazing can be seen in the chemistry, Add 5% caclium carbonate to a tenmoku. What happens?
Thursday 22nd September 2016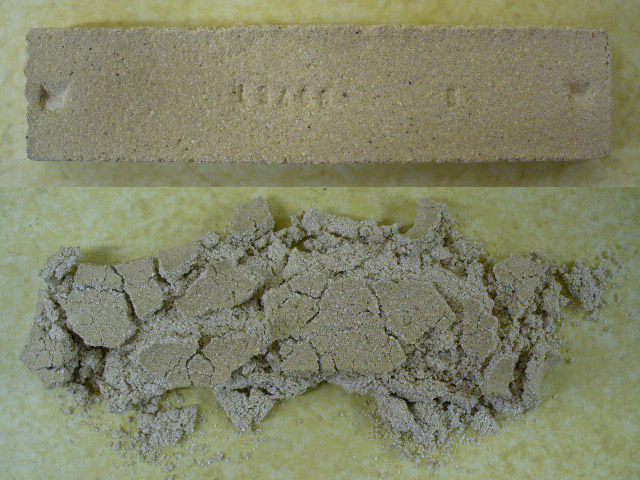 What happens when a limestone clay mix is fired to cone 6?
The top bar is a mix of calcium carbonate and a middle temperature stoneware clay (equal parts). On removal from the kiln it appears and behaves like a normal stoneware clay body, hard and strong. However, pour water on it and something incredible happens: in a couple of minutes it disintegrates. With lots of heat.
Context: Calcium Carbonate, Limestone, Calcine, Calcination
Tuesday 20th September 2016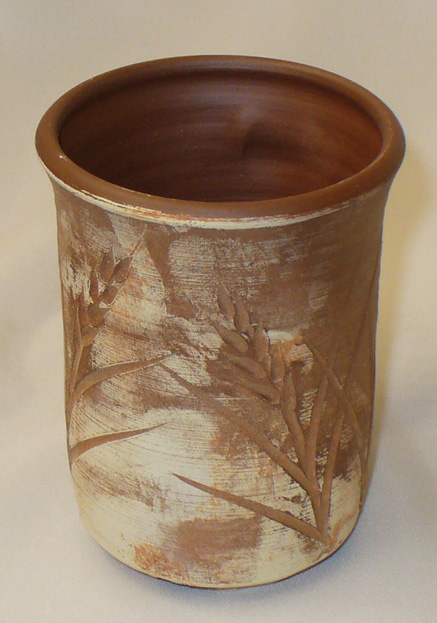 How bad can efflorescence of soluble salts be?
Like this! This terra cotta clay vitrifies here at 1957F (cone 03). This problem is common in many terra cotta materials but can also surface in others. Barium carbonate can be used to precipitate the salts inside the clay matrix so they do not come to the surface on drying.
Context: The Use of Barium in Clay Bodies, Terra cotta, Soluble Salts
Sunday 18th September 2016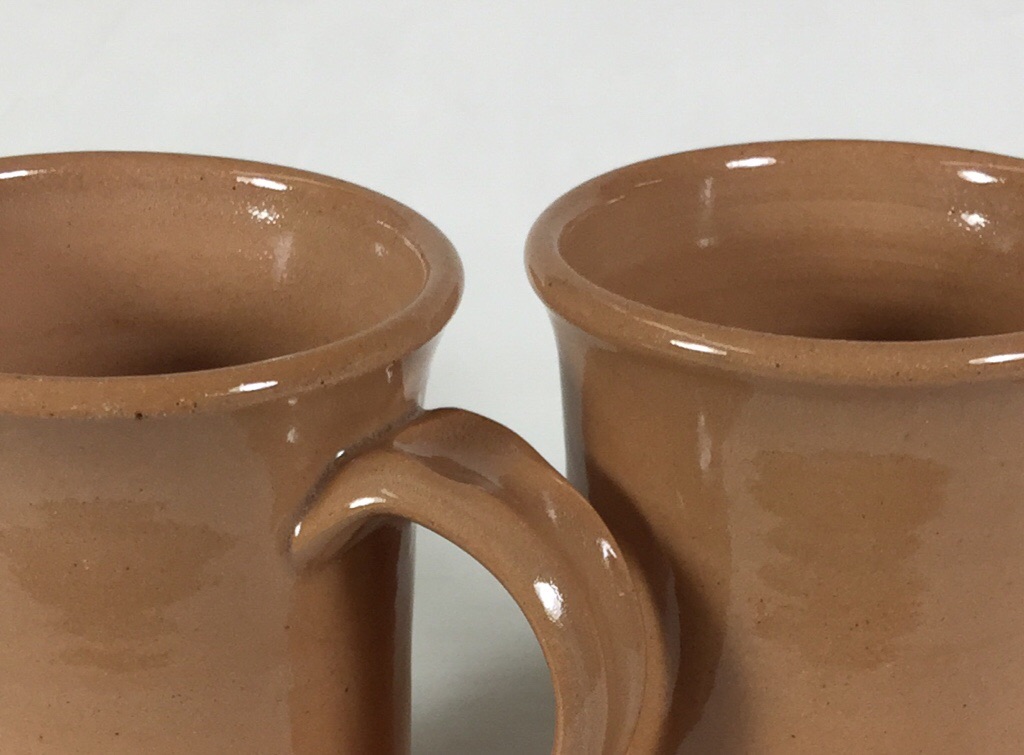 What is the secret of the higher gloss glaze on the right? Yikes, it is lead!
These cone 04 glazes have the same recipe (a version of Worthington Clear sourcing B2O3 from Ulexite instead of Gerstley borate). While the one on the left is OK, the one on the right is great! Why? It has 10% added lead bisilicate frit. Of course, I would not recommend this, I am just demonstrating
... more
Context: Lead Bisilicate Frit, Ulexite, Insight-Live.com share for Worthington Clear with Ulexite and its firing schedule, Transparent Glazes
Sunday 18th September 2016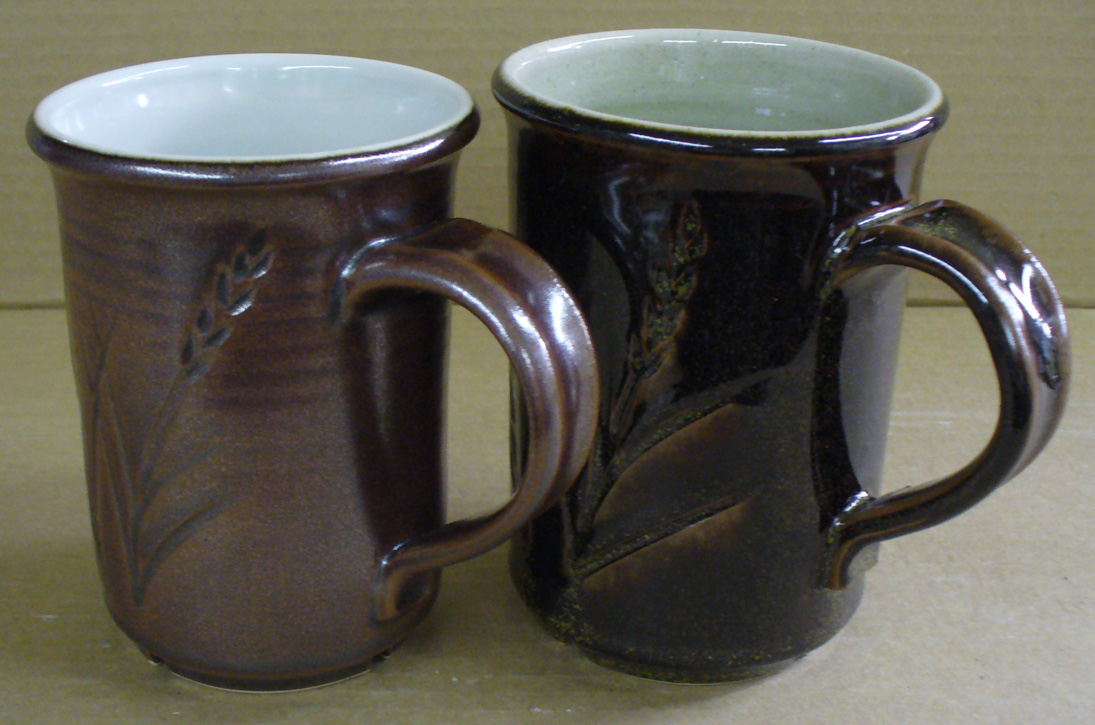 Add 5% caclium carbonate to a tenmoku. What happens?
In the glaze on the left (90% Ravenscrag Slip and 10% iron oxide) the iron is saturating the melt crystallizing out during cooling. GR10-K1, on the right, is the same glaze but with 5% added calcium carbonate. This addition is enough to keep most of the iron in solution through cooling, so it contributes to the super-gloss deep tenmoku effect instead of precipitating out.
Context: CaO, GR10-K1 - Ravenscrag Cone 10R Tenmoku, GR10-B Ravenscrag transparent glaze (with 10 talc), Flux, Tenmoku, Fluidity, Melt Fluidity, Precipitation
Friday 16th September 2016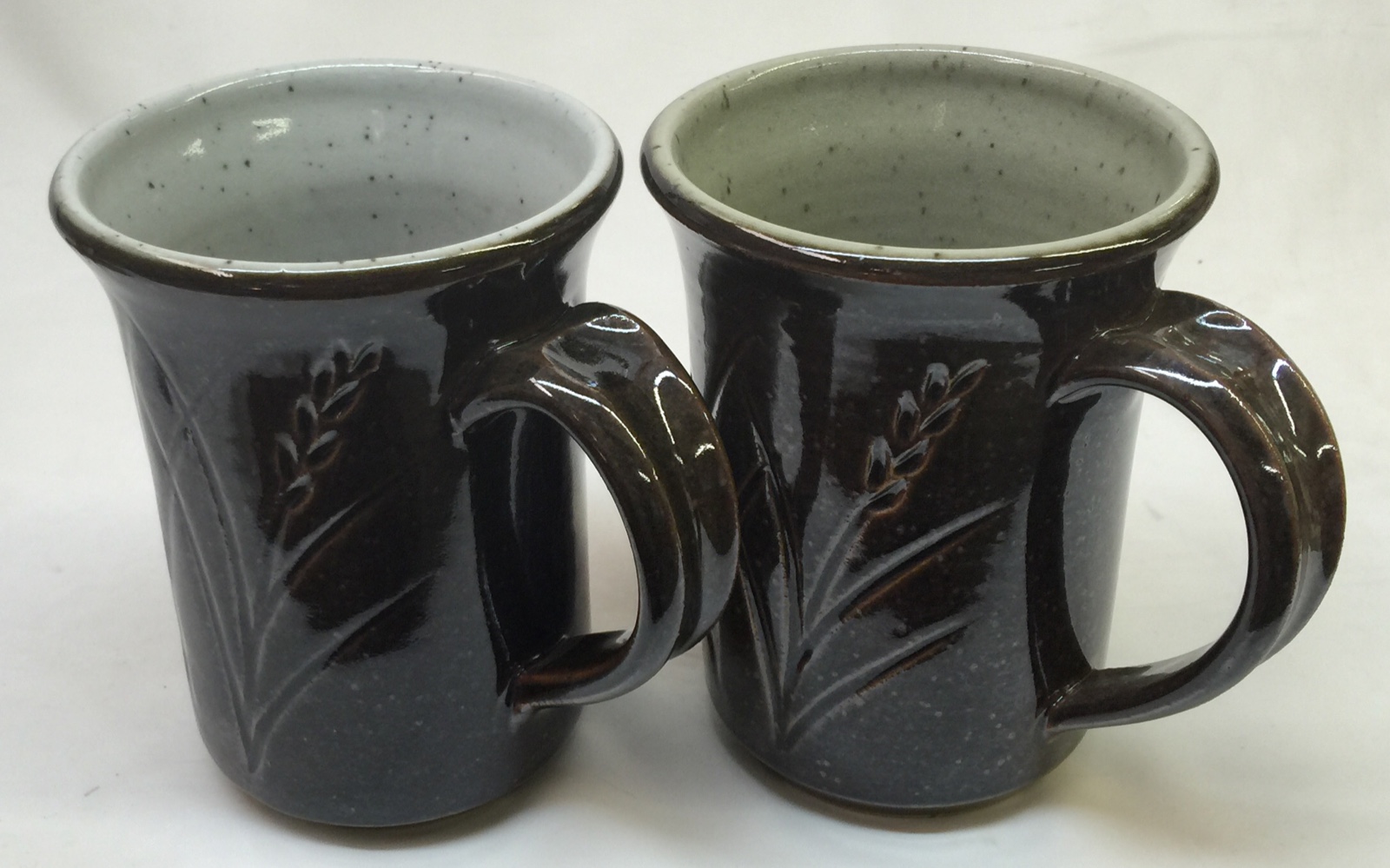 Sterile white vs. pure Ravenscrag Slip as a liner glaze at cone 10R
This picture does not fully convey how much better the Ravenscrag is as a liner (vs. G1947U). It has depth and looks much richer. It course, it could be opacified somewhat to be whiter and would still retain the surface quality (as long is it is not too opaque). The body is Plainsman H450. The outside glaze is pure Alberta Slip.
Context: G1947U - Cone 10 Glossy Transparent Base, GR10-A - Pure Ravenscrag Slip, Calcining Ravenscrag Slip
Monday 12th September 2016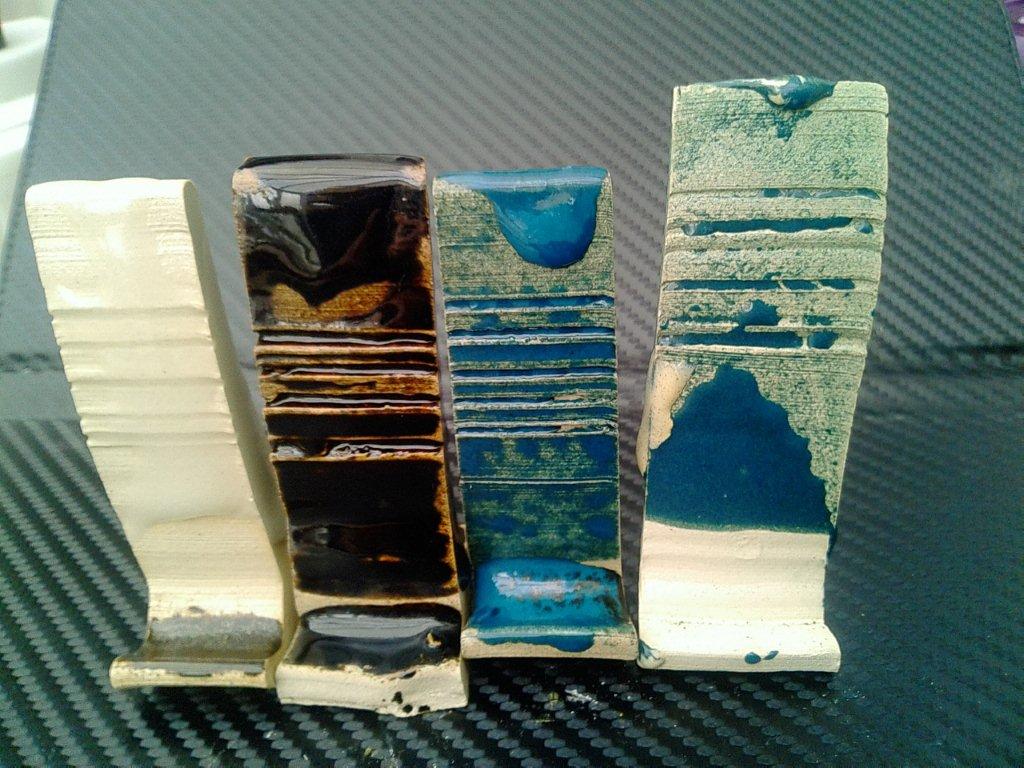 Colemanite and what its decrepitation does in glazes
Decrepitation refers to a decomposition accompanied by scaling, delayering, even disintegration of the glaze layer. Moving rightward these glazes have increasing percentages of colemanite. At its worst (far right) the glaze is spattering off the sample and onto the kiln shelf. The others are
... more
Context: Colemanite
Saturday 10th September 2016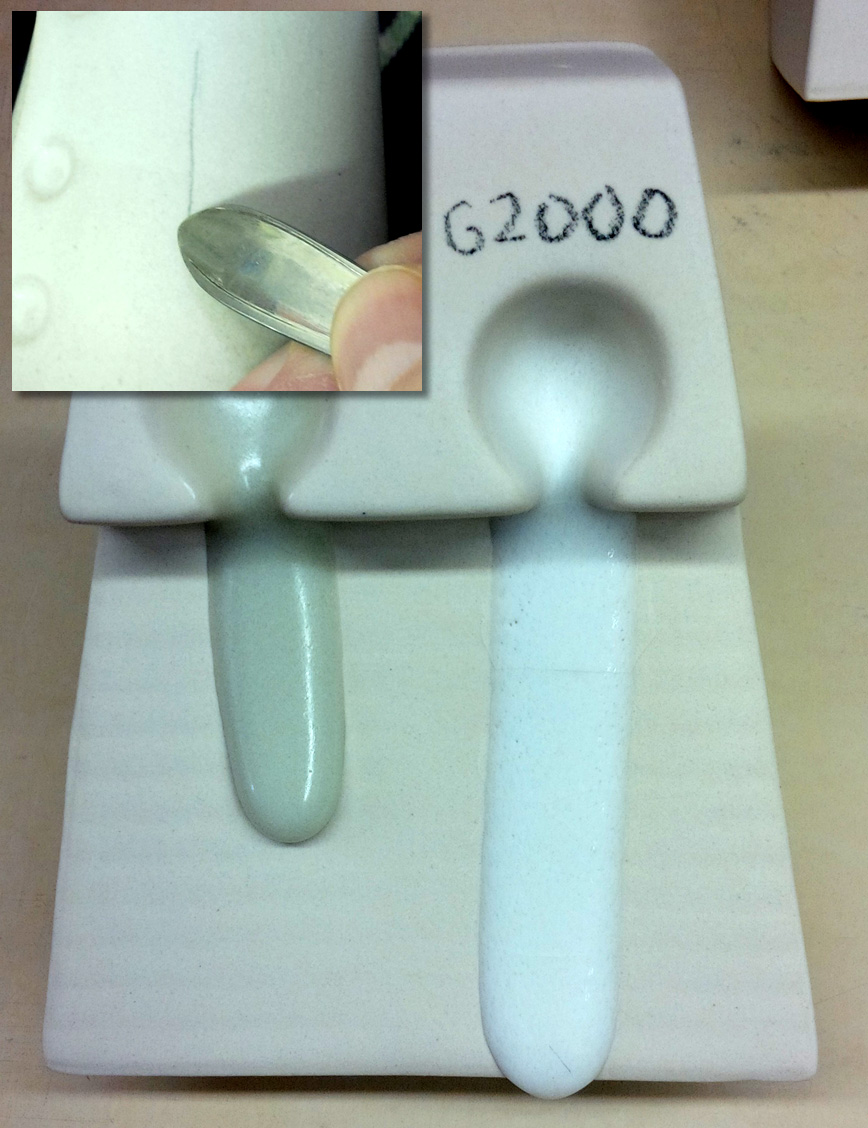 Yikes. Cutlery marking this bad on a popular glaze!
An example of how a spoon can cutlery mark a glaze. This is a popular middle temperature recipe used by potters. The mechanism of its matteness is a high percentage of zinc oxide that creates a well-melted glaze that fosters the growth of a mesh of surface micro-crystals. However these crystals
... more
Context: ZnO, G2934 - Plainsman Cone 6 Dolomite Matte Base, Cutlery Marking, Glaze Recipes
Friday 9th September 2016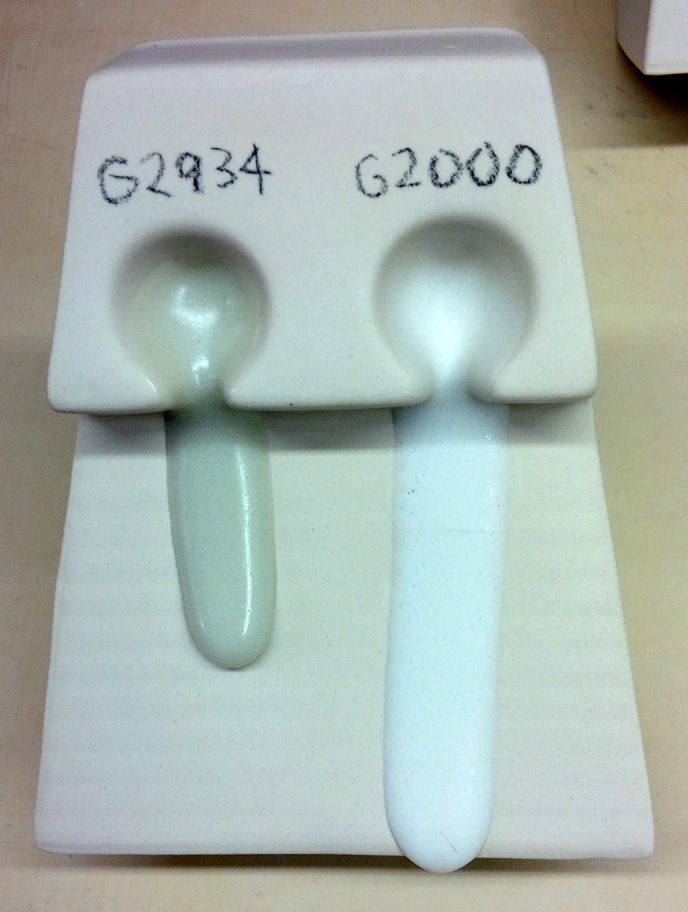 A good matte glaze. A bad matte glaze.
A melt fluidity comparison between two cone 6 matte glazes. G2934 is an MgO saturated boron fluxed glaze that melts to the right degree, forms a good glass, has a low thermal expansion, resists leaching and does not cutlery mark. G2000 is a much-trafficked cone 6 recipe, it is fluxed by zinc to
... more
Context: ZnO, G2934 - Plainsman Cone 6 Dolomite Matte Base, G1214Z - Cone 6 Silky Matte, Where Do I Start?, Tune your matte glaze to the degree of matteness you want, Opacifier, Opacification, Food Safe, Matte Glaze, Devitrification, Crystallization, Glaze Recipes, Cutlery Marking
Friday 9th September 2016
Login to your online account
Chemistry plus physics. The on-line successor to desktop Insight. Get an account for as little as $15. It does so much more.
Still available for Mac, PC, Linux
Interactive glaze chemistry calculations. Download it from the Files panel in your account at Insight-live.com (no extra charge).
---
How to reach us
From within your account at Insight-Live.com or
What people have said about digitalfire
• I Everyday visit your website http://digitalfire.com. Fantastic knowledge you have....thanks .
• Thanks a lot for this sea of knowledge.
• I'll be reading and studying for a while, but what is so great is that the information is now right at my finger tips anytime that I need it - its all so very interesting - I never thought that chemistry would ever be interesting, - and I know now very soon I too will be able to slay the glaze dragon!
• Again, thanks for being such a resource to potters over the years!
• However I do believe you have the most comprehensive information anywhere in the world, and I would not hesitate to contact you for any information I required for Ceramic Glaze. I will also refer my associates to you if ever they require assistance.
• We have been aware of your company and website for many years and see it as a model in its approach to educating makers about the processes involved in making/drying/firing. You teach them to take responsibility for their work process rather than blaming the product.
• I have been perusing through some of the level 2 areas of your site and am just in awe of what a great resource you have developed.
• I love the site. I use it all the time at the Clay Business, and I feel like I have not even touched the surface.
• Most of the compositions came from the Digitalfire Ceramic Materials site, to which all who analyze glazes owe a debt of gratitude.
• After perusing your site for some time, I am really getting the sense of what a valuable resource it is. Thank you for it.
To see more (at random) refresh this page