I am the creator of Digitalfire Insight, the Digitalfire Reference Database and Insight-live.com. ... moreMy posts are like no others, they help you understand your glazes and clay bodies, take control. A master timeline can be seen at Digitalfire.com or visit and like my pages to get a notification each time I post.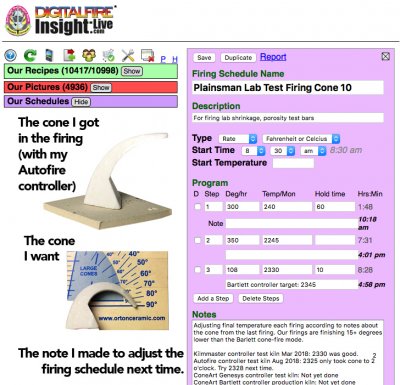 Program your firings manually, calibrate the final temperature
Here is an example of our lab firing schedule for cone 10 oxidation (which the cone-fire mode does not do correctly). We need it to actually go to cone 10, the only way to do that is verify with a cone (self supporting cones are the only accurate way). Then make a note in the record for that schedule in your account at
insight-live
.com.
Context: Controller, Cones, Firing Schedule
Thursday 30th August 2018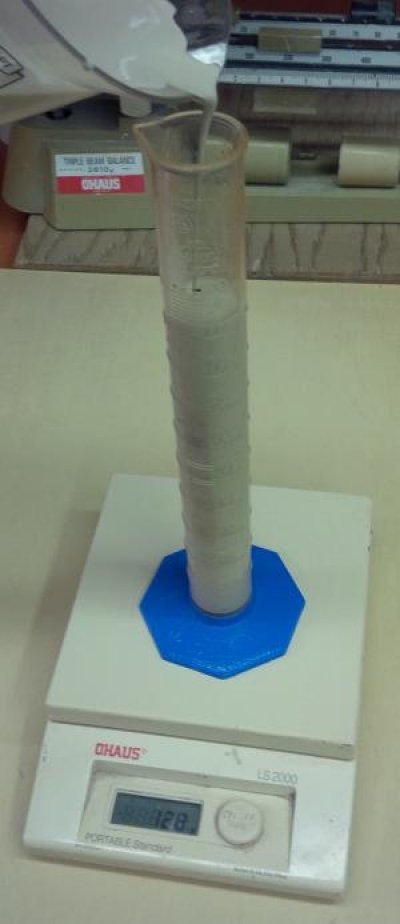 Measuring glaze slurry specific gravity
This is the easiest way to measure the specific gravity of a glaze if it is not in a container deep enough to float a hydrometer (or if it is too thick to float it properly). Just counterbalance the empty graduated cylinder to zero, fill it to the 100cc mark and the scale reads the specific gravity ... more
Context: Understanding the Deflocculation Process in Slip Casting, Specific gravity of a glaze using a scale and measuring cup, Deflocculation, Specific gravity, Rheology, Thixotropy
Wednesday 29th August 2018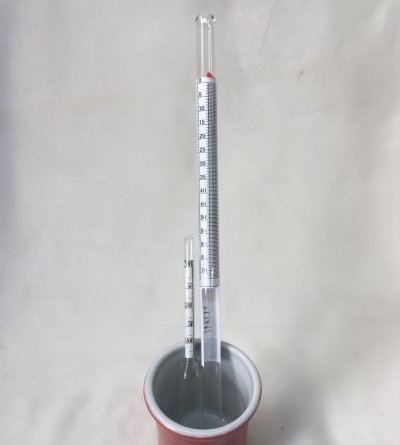 Measure glaze specific gravity with these? Forget it!
Glazes need to be gelled, have thixotropy. That means these things won't bob up and down to find the right place. The one on the right is completely useless, the scale is too wide. Most glazes need to be between 1.4 and 1.5 specific gravity (40-50 on this scale). That is like reading seconds on the ... more
Context: Specific gravity, Deflocculation
Wednesday 29th August 2018
Pour Glazing a Large Terra Cotta Vase
Much better than trying to paint to glaze on from little jars!
Context: Pour Glazing
Monday 27th August 2018
Video of mug breaking
A highly
vitreous
, thin walled mug is glazed inside-only. The glaze has a
thermal expansion
that is too low and it is under compression, pressing outward. A tap with a spoon is enough to trigger a sudden crack. It opens under the pressure. Had it been glazed on the outside also it would likely survive, but this test still indicates that it would be better to raise the expansion a little.
Context: Glaze Compression
Monday 27th August 2018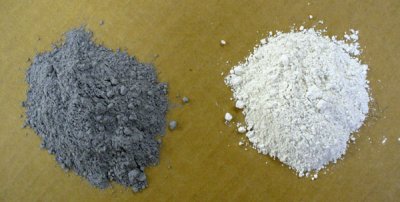 Texas talc (left) and Montana talc (right)
Texas talc contains some amorphous carbon. The carbon is not stand-alone, but as CO2 in the dolomitic part of the ore. It produces 7%
LOI
between 750-850C.
Context: Amtalc-C98, Pioneer 2661 Talc, Silverline 303 Talc, Talc
Tuesday 14th August 2018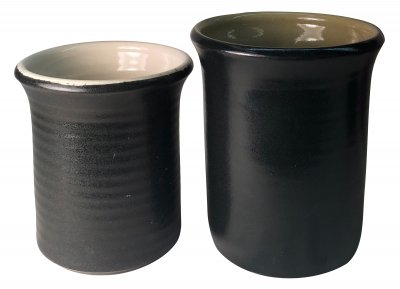 Stunning black silky matte glaze at cone 6
This contains 6% Mason 6666 gunmetal black stain. The base recipe, G2934, is an excellent balanced-chemistry host for a wide range of stains to produce equally stunning reds, yellows, oranges, etc. The fritted version of the recipe, G2934Y, provides an even better host. This glaze is affected by the ... more
Context: G2934Y - Cone 6 Magnesia Matte Low LOI Version, G2934 - Matte Glaze Base for Cone 6
Monday 13th August 2018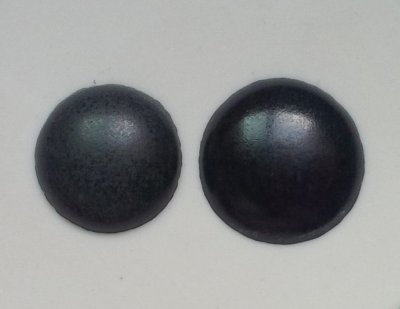 Tuning the degree of gloss on a matte black glaze
These 10 gram balls were fired and melted down onto a tile. The one the left is the original G2934 Plainsman Cone 6 MgO matte with 6% Mason 6666 black stain. On the right the adjustment has a 20% glossy glaze addition to make it a little less matte. Notice the increased flow (the ball has flattened ... more
Context: Matte Glaze, Cutlery Marking, Triaxial Glaze Blending
Sunday 12th August 2018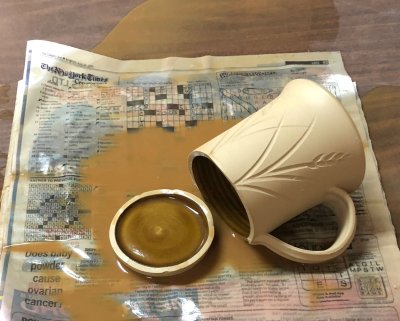 DO NOT leave outsides of functional ware unglazed
This mug is made from the strongest porcelain I have, it is so vitreous that the bare fired surface does not even coffee-stain. So I glazed it only on the inside. That created a time-bomb waiting for hot coffee! Three others did exactly the same. Four other mugs glazed on the outside were fine. Why? ... more
Context: Glaze Compression
Monday 6th August 2018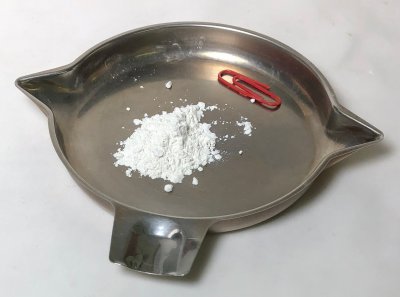 One gram of processed hectorite has a surface area of 750 square meters!
A combination of surface area, surface topography, surface
chemistry
and surface electrolytics determines how plastic a clay is. This material is super plastic.
Context: Surface Area
Monday 6th August 2018
Contact Us:
Use the contact pages within or outside your account at Insight-Live.com
---
Login to your online account
Chemistry plus physics. The on-line successor to desktop Insight. Get an account for as little as $15. It does so much more.
Still available for Mac, PC, Linux
Interactive glaze chemistry calculations (legacy, no longer supported)
---
What people have said about digitalfire
• Just wanted to tell you I just found your site and find it extremely useful. Got it bookmarked and will be referring to it frequently. Great job! Thank you!
• Your site is excellent and informative, you should conduct online conferences on various subjects, please let me know if you have one.
• Your attention to the people has been allways great, as its your software, thanks for the support.
• I find the educational section of your website informative and it is very generous of you to share your expertise with the the rest of us. Thank you so much for your kind assistance.
• Thanks for your website! I found it greatly informative and useful in my research work on high temperature ceramic materials.
• Ceramicmaterials.info is a fantastic resource!
• I am impressed with your site - it is very comprehensive.
Click here
to see all 191
What people have said about Insight-Live
• My glazes activities are seasonal anyway. In the summer i make pots in winter I think about chemistry and sit at a PC. I looked at your pricing again and it is indeed reasonable.
• I should mention beforehand that you, as well as Insight, have become the "go to" reference for all technical aspects of my work and those of other potters I know. It has become an invaluable resource. Congratulations on your academic approach to everything ceramic.
• Looking at your website, I have no doubts that there is no other person that would be so dedicated to the subject as you. It is a fact that you have a truly unique knowledge of how things are done, the materials and chemistry being used in such processes. Frankly, I do not complement people and their work easily but you are one of a kind person with some divine dedication to the technology. There are very few people like you and that is a fact. I just spoke with several so-called ceramics, frits and glazes experts and I have to say that they had somewhat limited knowledge while you cover incredibly wide spectrum of all affairs involved in to working with all those great materials.
• I'm accepting the challenge. First: find/develop a good base recipe. One for clear and one for celadon. Then add the colors. And play with "surface." Experiment. Keep impeccable notes. Change one variable at a time. Yada, yada.
• The knowledge and information you share on digital fire is a rare gem on the internet. I greatly appreciate your writing style. To the point and full of facts. I am wanting to be more active in my glaze creation and begin to make my own glazes. This, to me seems like a huge step away from the safe and what I know of the glazes I have been working with.
• How amazing it is to have personal contact on such an amazing technical site and I can't express my gratitude for your generous spirit.
• Thank you again for the amazing website and wealth of information!!! InsightLive is proving to be an incredible asset as well!!!
Click here
to see all 101