I am the creator of Digitalfire Insight, the Digitalfire Reference Database and Insight-live.com. ... moreMy posts are like no others, they help you understand your glazes and clay bodies, take control. A master timeline can be seen at Digitalfire.com or visit and like my pages to get a notification each time I post.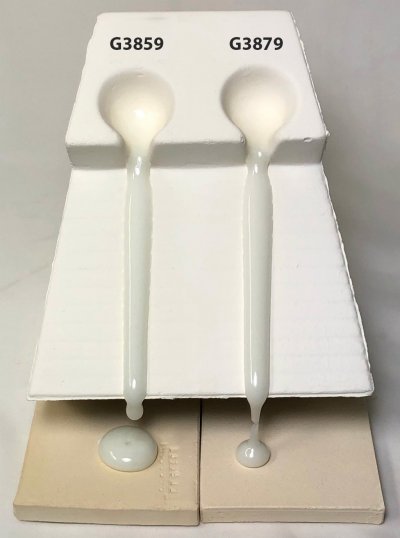 Reverse-engineer a commercial transparent glaze to get the recipe
The commercial cone 04 clear brushing glaze on the left works really well on our bodies so I sent it away to be analyzed (about $130). From that information and using my account at insight-live.com I was able to create a recipe, having the same chemistry, employing two Fusion frits (which amazingly ... more
Context: G3879 - Cone 04 Transparent Low-Expansion Base Glaze, A Low Cost Tester of Glaze Melt Fluidity, Getting a chemical analysis of your ceramic powder, How and where to have a glaze tested to learn its chemical analysis, This mug has waterlogged because it is not vitrified, Five low fire glazes: Which is the best?, Frit
Thursday 5th September 2019
How and where to have a glaze tested to learn its chemical analysis
Here are some of the papers I had to deal with to have a mystery colourless transparent glaze analyzed (so I can calculate a mix of my own materials to produce this chemistry). Since no one test will find all the 13 common oxides that may be present in low temperature colorless glazes I had to order ... more
Context: Reverse-engineer a commercial transparent glaze to get the recipe, Glaze Chemistry, Analysis
Thursday 5th September 2019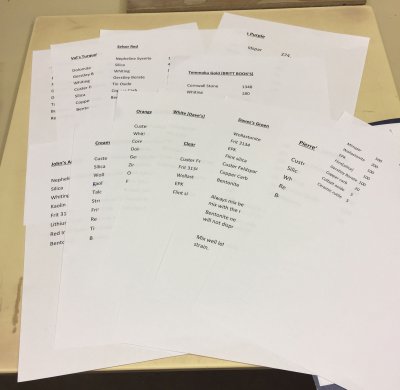 Trafficked online recipes waiting for a victim to try them!
You found some recipes. Their photos looked great, you bought $500 of materials to try them, but none worked! Why? Consider these recipes. Many have 50+% feldspar/Cornwall/nepheline (with little dolomite or talc to counteract their high thermal expansion, they will craze). Many are high in Gerstley ... more
Context: Trafficking in Glaze Recipes, Glaze Recipes, Mechanism, Base Glaze, Limit Recipe
Monday 2nd September 2019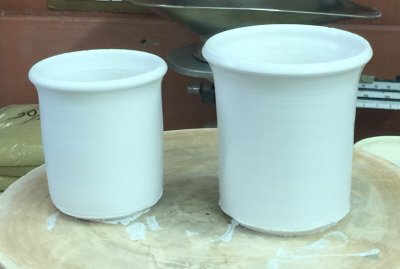 Can you throw zircopax on the potters wheel? Yes!
These crucibles are thrown from a mixture of 97% Zircopax (zirconium silicate) and 3% Veegum T. The consistency of the material is good for rolling and making tiles but is not quite plastic enough to throw very thin (so I would try 4% Veegum next time). It takes alot of time to dewater on a plaster ... more
Context: Zircopax, Thermal shock, Refractory, Plasticity
Friday 30th August 2019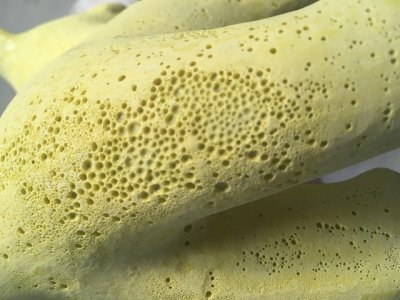 High LOI materials can turn your glaze into Aero chocolate!
The smooth surface of this blistering glaze has been ground off to reveal how serious the bubble problem really is. If the body or glaze itself is generating gases of decomposition at the wrong time, and the glaze has too little melt fluidity to pass the bubbles, this can happen. Opacifiers ... more
Context: LOI, Glaze Bubbles
Thursday 8th August 2019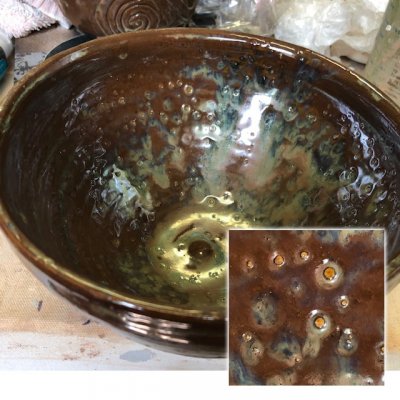 A runny glaze is blistering on the inside of a large bowl
The glaze is running down on the inside, so it has a high melt fluidity. "High melt fluidity" is another way of saying that it is being over fired to get the visual effect. It is percolating at top temperature (during the temperature-hold period), forming bubbles. There is enough surface tension to ... more
Context: Melt Fluidity, Fluid Melt Glazes, Blisters, Glaze Blisters
Thursday 8th August 2019
Two batches of EPK tested quite differently in 2018
The kaolin has been mixed 70:30 with nepheline syenite to create a body that matures below cone 6. This enables comparing the degree to which the two kaolins influence vitrification. The darker one is more plastic, has higher drying shrinkage more soluble salts. These dry test bars were fired at ... more
Context: EP Kaolin
Sunday 4th August 2019
White majolica bases have very, very low melt fluidity
This is Linda Arbuckle's base recipe (66% frit 3124, 23% feldspar, 13 kaolin/bentonite, 9 zircon, 4 tin oxide mixed to 1.62 specific gravity). It is fired at cone 05 creating a super gloss. This is applied very, very thickly (double the thickness of what a stoneware glaze would be). Yet notice how ... more
Context: For even coverage white majolica glazes must be applied by dipping, Melt Fluidity, Majolica
Wednesday 31st July 2019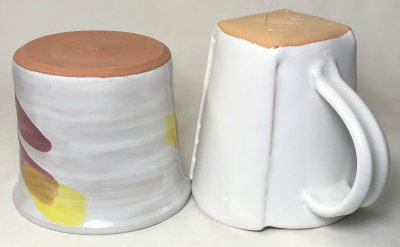 For even coverage white majolica glazes must be applied by dipping
The mug on the left has three coats of Spectrum majolica base, painted on by brush from a pint jar. Drying was required after doing the inside coats, so the total glazing time was several hours. The glaze layer is way too thin and it is not even at all! The one on the right was dipped in a 5 gallon ... more
Context: White majolica bases have very, very low melt fluidity, Majolica, Brushing Glazes, Base-Coat Dipping Glazes
Wednesday 31st July 2019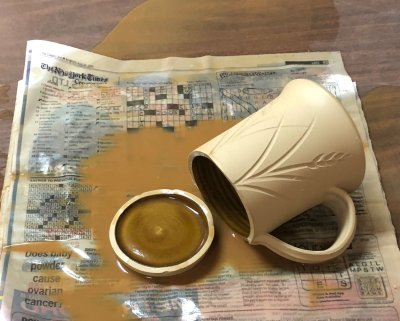 BEWARE of leaving outsides of functional ware unglazed
This mug is made from the strongest porcelain I have, it is so vitreous that the bare fired surface does not even coffee-stain. So I glazed it only on the inside. That created a time-bomb waiting for hot coffee! Three others did exactly the same. Four other mugs glazed on the outside were fine. Why? ... more
Context: Glaze Compression
Wednesday 24th July 2019
Contact Us:
Use the contact pages within or outside your account at Insight-Live.com
---
Login to your online account
Chemistry plus physics. The on-line successor to desktop Insight. Get an account for as little as $15. It does so much more.
Still available for Mac, PC, Linux
Interactive glaze chemistry calculations (legacy, no longer supported)
---
What people have said about digitalfire
• Thank you for the work you do to improve the work of potters trying to do new things.
• You have been more than helpful and I will recommend your site to all of my pottery friends. Once again a big thank you.
• Actually my brother asked to download the books. He is running a ceramic company in India. He has learned so many things in your free download, later he is impressed on your simple and clear explanation of ceramic technology.
• Wow. Thanks. That is so great. I also thank you for making so much material available on your web site. You obviously care deeply about the craft and teaching others.
• I'm trying to access a great article on deflocculation. I have formulated so many casting slips over the years with the help of what I learned in that article and on this site.
• I love your site and am so grateful for all you have done to help with glaze formulation/safety.
• DID I TELL YOU I LOVE YOU ... you made me feel so much better!!! I was stressing that I will never figure out how to resolve issues b/c it always seems like an new hurdle to get over ... thanks for that email again I feel empowered again.
Click here
to see all 191
What people have said about Insight-Live
• Hello Mr. Hansen. Your digitalfire.com site is AMAZING! I use it considerably. Thank you so much for all the information you offer! I tell all my students and friends in clay to come here to learn.
• You are brilliant .. You have provided so much info that is great. I have been a full time potter for 44 years and am still learning. Thank you so much for your generosity in sending this very pertinent information to me. It certainly has me thinking I should sign on to Digital Fire. Thanks again.
• Please continue this brilliant service!
• I think you have done a great job in developing the on-line version. It is very easy to use. We meet once a month to discuss any glaze problems, test glazes in teams, and I do a presentation on an aspect of glaze chemistry. One day, I said something technical and one of the member's jaw dropped and she said "Hey, I just realized I understood what you said". It was a proud moment.
• I just want to say THANK YOU for this incredible database of information. Thank you, thank you, thank you!
• BTW, thanks for creating such a great site.
• I'm accepting the challenge. First: find/develop a good base recipe. One for clear and one for celadon. Then add the colors. And play with "surface." Experiment. Keep impeccable notes. Change one variable at a time. Yada, yada.
Click here
to see all 119