I am the creator of Digitalfire Insight, the Digitalfire Reference Database and Insight-live.com. ... moreMy posts are like no others, they help you understand your glazes and clay bodies, take control. A master timeline can be seen at Digitalfire.com or visit and like my pages to get a notification each time I post.
Cone 6 Fluid-Melt Transparent Glaze - Jackpot!
In 2015 we did a project comparing common cone 6 fluid-melt base glazes, picked a favourite (Panama Blue) and fixed it's slurry issues and crazing. Fluid-melts almost run off ware when applied thick, but they host stains & opacifiers to produce super-gloss, super-brights. That recipe, G3806C, has ... more
Context: 2019 Development of G3806 melt-fluid low-expansion clear base glaze
Monday 22nd July 2019
Sourcing Li2O from spodumene instead of lithium carbonate
Lithium carbonate is now incredibly expensive. The glaze on the left employs it. But I was able to source the Li2O from spodumene instead. Spodumene has a complex chemistry, but the oxides that it contains (other than Li2O) are those common to glazes anyway. Using my account at insight-live.com, I ... more
Context: Spodumene, Lithium Carbonate
Monday 22nd July 2019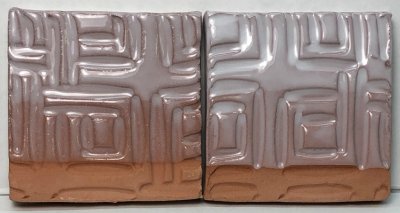 Tin Oxide is expensive, do not waste it by not mixing well
This is a cone 04 glaze on a terra cotta body. Two 300-gram test batches were made. Both have 5% tin oxide added. The one on the left was high-speed propeller-mixed for 10 seconds on a closed container. That was not enough, small agglomerates appear as white specks floating in the glass. The one on ... more
Context: Tin Oxide, Propeller Mixer, Opacifier, Opacification
Saturday 20th July 2019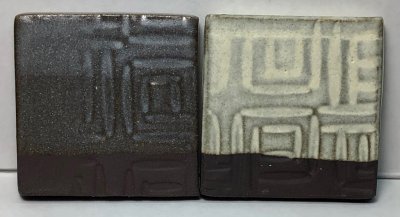 The difference propeller-mixing a glaze can make
The glaze has 5% added titanium dioxide. These were fired at cone 6. The titanium in the one on the left remained agglomerated, it did not disperse in the slurry during hand mixing (the agglomerates can be seen as white particles floating in the glass). On high-speed propller-mixing the effect on ... more
Context: Agglomeration, Propeller Mixer
Saturday 20th July 2019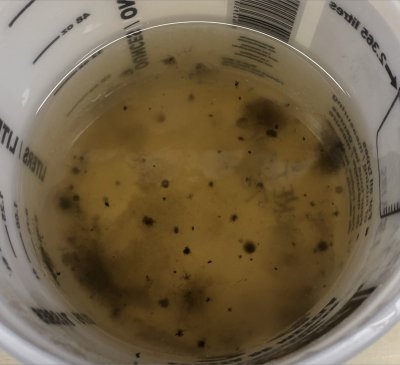 CMC gum solutions can go bad
That is why glazes containing CMC often need a biocide if they are going to be stored for extended periods. We made this one. The gallon jar of Laguna gum solution sitting next to this did not go bad, that means they have added some sort of anti-microbial agent.
Context: CMC Gum, BIO - Biocide
Saturday 20th July 2019
This flow tester proves the colorant is not fluxing or bubbling the glaze
These glazes are the same (G3806G), except the one on the right has 3.5% copper carbonate added. Copper is commonly thought to flux glazes, making them melt more. But in this case, the clear base is running just as much as the stained one. And I was suspicious that the micro-bubbles in the glass ... more
Context: Copper Carbonate, Melt Fluidity
Saturday 20th July 2019
This cone 6 black glaze looks glossy until placed beside the cone 04 one
The cone 6 one is on the left, it contains about 25% frit. Both are colored using a black stain. That low fire glaze on the right has a high percentage of frit, likely more than 80%, that is the main reason for the beautiful surface. Frits are really fantastic, and standard practice in industry. ... more
Context: Glossy Glaze, Frit
Saturday 20th July 2019
Lemon Leaching Test on a Copper-containing Glaze
This was left for 24 hours. Wrapped in stretch wrap. Then the surface of the glaze was inspected under a lamp to detect any differences between the lemoned and non-lemoned surfaces. Lemons are highly acidic. This glaze passed because the base recipe, G3806N, was methodically developed so that it has plenty of Al2O3 and SiO2 (in the fired
chemistry
) to build a stable glass.
Context: GLLE Glaze Leaching Test, 2019 Development of G3806 melt-fluid low-expansion clear base glaze
Saturday 20th July 2019
A glaze and underglaze are flaking off. Why?
At low temperatures glazes are not stuck on nearly as well as for stoneware and porcelain. One of the ways to compromise the bond is to put a layer of refractory material, for example certain underglazes, between the body and glaze. It is kind of like painting something that is dirty, the paint ... more
Context: Underglaze
Monday 8th July 2019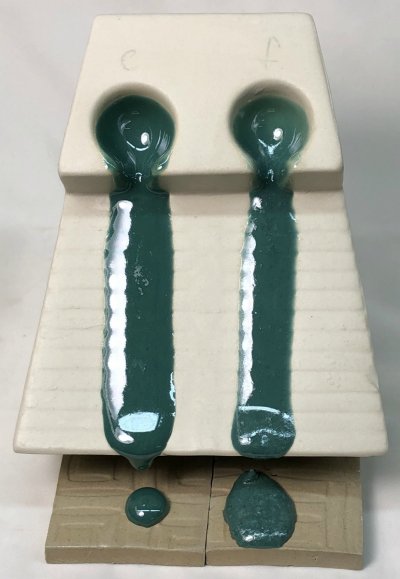 Flow tester tells me if I have overfluxed the glaze
This is important because I am searching for a balance between the degree of melt fluidity of my original crazing glaze but having a thermal expansion to fit my porcelain (this is G3806E and F). With each adjustment to the chemistry to drop the thermal expansion I do a firing to compare the melt ... more
Context: A Low Cost Tester of Glaze Melt Fluidity
Tuesday 2nd July 2019
Contact Us:
Use the contact pages within or outside your account at Insight-Live.com
---
Login to your online account
Chemistry plus physics. The on-line successor to desktop Insight. Get an account for as little as $15. It does so much more.
Still available for Mac, PC, Linux
Interactive glaze chemistry calculations (legacy, no longer supported)
---
What people have said about digitalfire
• This is the greatest site on the planet!
• When my group of potters are pressed to improve our glazes they say if the old way is not broken yet why don't you buy yourself some kind of a kit to play with new glazes and then we can make it for everyone. You got to be kidding I say to myself. Anyway, your website will help me help the group out of some old and boring glazes if I can see forward enough. Thanks for all this important info, I can't believe this website is here!
• I would love to take a trip inside of your brain. I am sure that it would be a fantastic light show.
• I'm all right brained..... I have the serial number. My computer is finally going. Thanks for the service. I love my Digital fire.
• I have been studying your web site and which I have found extremely helpful for someone like me who is not a chemist!
• Am finding your website a treasure trove of extremely thoughtful writings for the aspiring more-technical studio potter. Thanks for putting it out there.
• I have visited your site many times. We have the largest department in new england at the moment. I invited students to visit the school library to access your site directly for all its wisdom! You do far more good than you realize, fellow mud-diver.
Click here
to see all 191
What people have said about Insight-Live
• Thanks for sharing your extensive knowlege with the clay community.
• Hello, I'm a 16 year old ceramic artist in North Carolina. I absolutely love digital fire and use it almost daily. One thing I adore about your mugs is your handles. I've tried to make them similar but can't come anywhere near the perfection of yours. Can you help me?
• Anyway I thank you for your efforts in putting together this wealth of ceramic science in this accessible manner.
• I am a computer/tech guy and was drawn to your info because it is systematic, detailed and comprehensive. I started pottery and wheel throwing January 2018 on my 59th bday. I am ecstatic!
• Your website is like a encyclopedia for ceramics, whatever problem I have I first go to your website and refer to it and learn and understand about it. Thank you so much for your patience and time for helping.
• Digitalfire is just jaw-droppingly awesome. Thanks for all your hard work.
• Awesome site...you do great work!
Click here
to see all 117