I am the creator of Digitalfire Insight, the Digitalfire Reference Database and Insight-live.com. ... more I have made hundreds of posts like these on my Insight-live Facebook and Plainsman Clays Facebook pages. My posts are like no others, they help you understand your glazes and clay bodies, take control. A master timeline can be seen at Digitalfire.com or visit and like my pages to get a notification each time I post.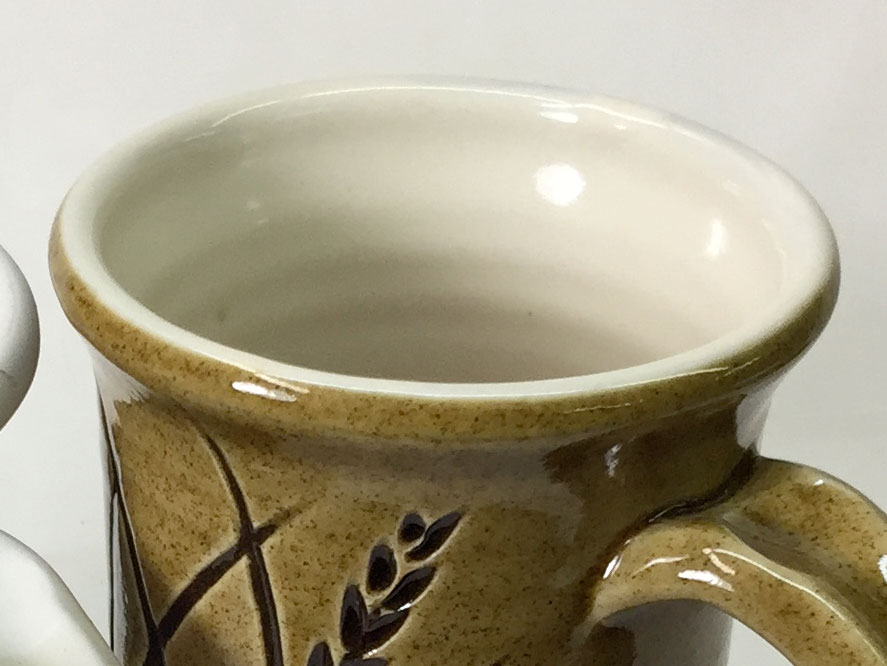 The covering power of an engobe is amazing. If they are not over-fluxed.
This cone 6 mug is made from a black clay (containing 10% burnt umber). The engobe on the inside is covered by a clear glaze. The color is the same as if the engobe were on a white or buff firing stoneware. Engobes get their covering power from the fact that they do not melt. If you see an engobe with lots of frit it will likely melt too much, be suspicious.
Context: Burnt Umber, Popular white engobe recipe that does not work at cone 6, Engobe
Thursday 20th July 2017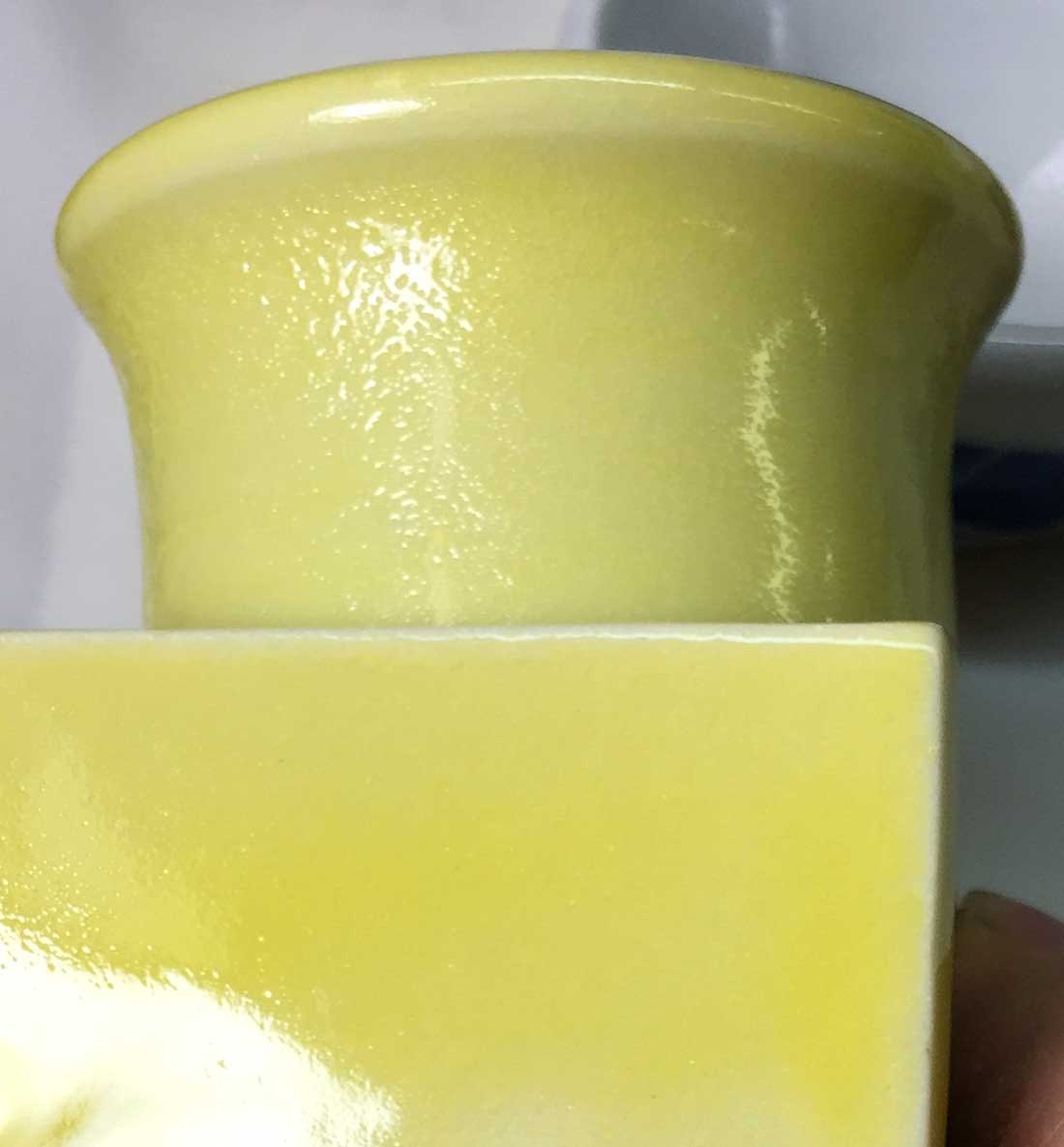 Encapsulated stains are firing with a mass of bubbles and pinholes
This is happening on five different stains at 8% concentrations. The body: A fritted porcelain. Temperature: Cone 03. The glaze: 85% frit. The solution? Documentation for inclusion frits notes that adding 2-3% zircon can brighten the color. Although this does not seem intuitive, we added 2% anyway
... more
Context: Stain
Wednesday 19th July 2017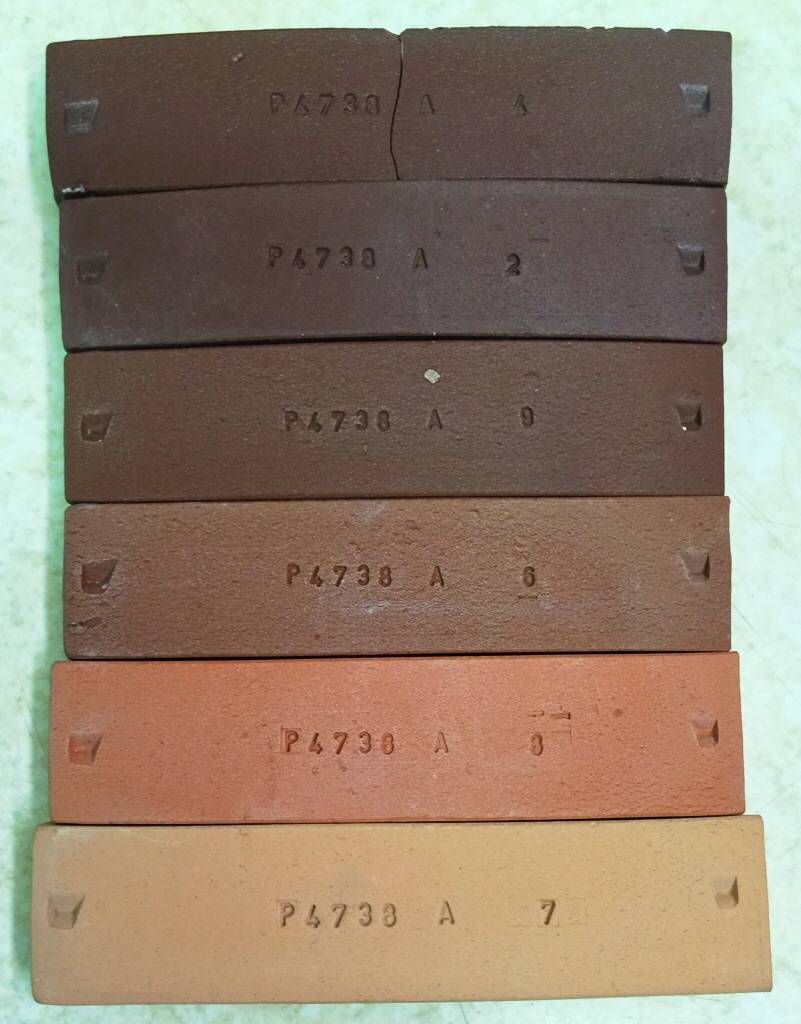 A terra cotta body fired from cone 06 (bottom) to 4
Terra cotta bodies are more volatile, maturing more rapidly over a narrower range than others. These bars are fired (bottom to top) at cone 06, 04, 03, 02, 2 and 4. This is Plainsman BGP.
Context: Maturity, Terra cotta
Wednesday 19th July 2017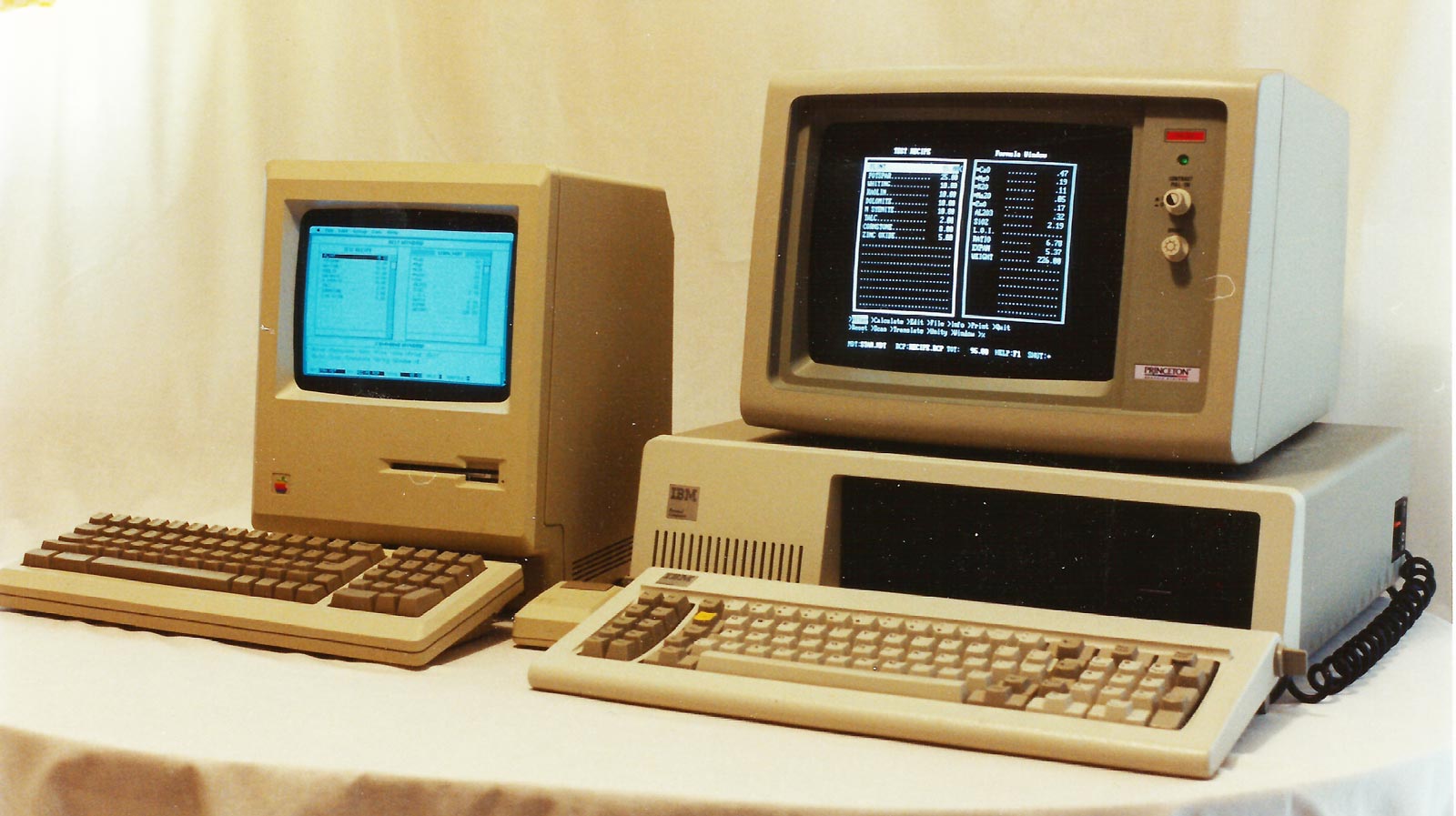 Digitalfire Insight in 1983. On a Macintosh 128K and original IBM PC.
These were the machines that began the computer revolution. Insight was there! It was 12 years before the internet.
Context: Digitalfire Insight Software
Tuesday 18th July 2017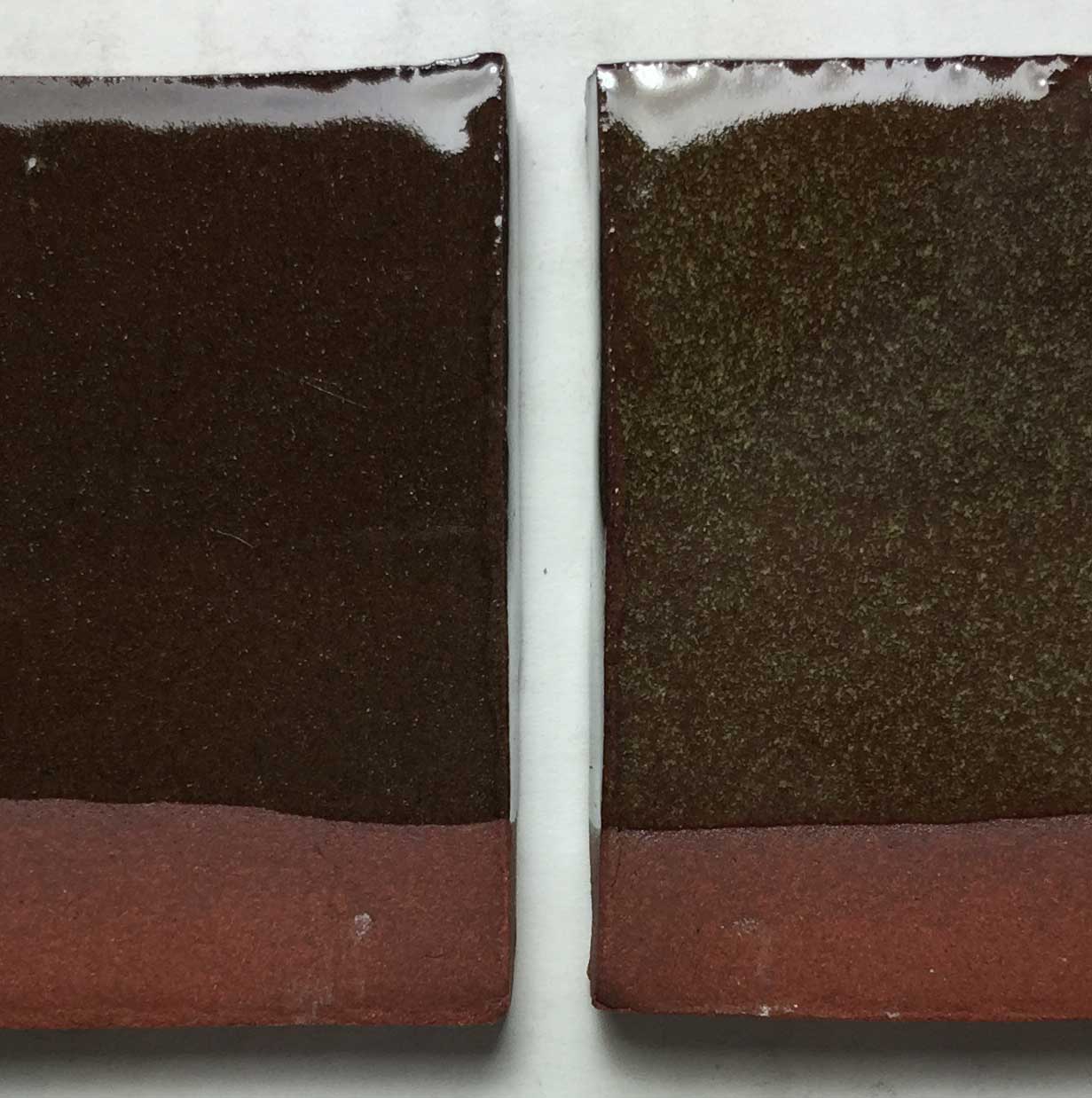 Same glaze, same kiln, same clay: The right one crystallized. Why?
Well, actually they are not exactly the same. This is 80% Alberta Slip and 20% frit. But the frit on the left is Ferro 3195 and on the right is 3134. By comparing the calculated chemistry for these two we can say that the likely reason for the difference is the Al2O3 content. Frit 3134 has almost
... more
Context: Ferro Frit 3195, Ferro Frit 3134, Al2O3, GA6-A - Alberta Slip Cone 6 Amber Base Glaze, Crystallization
Tuesday 18th July 2017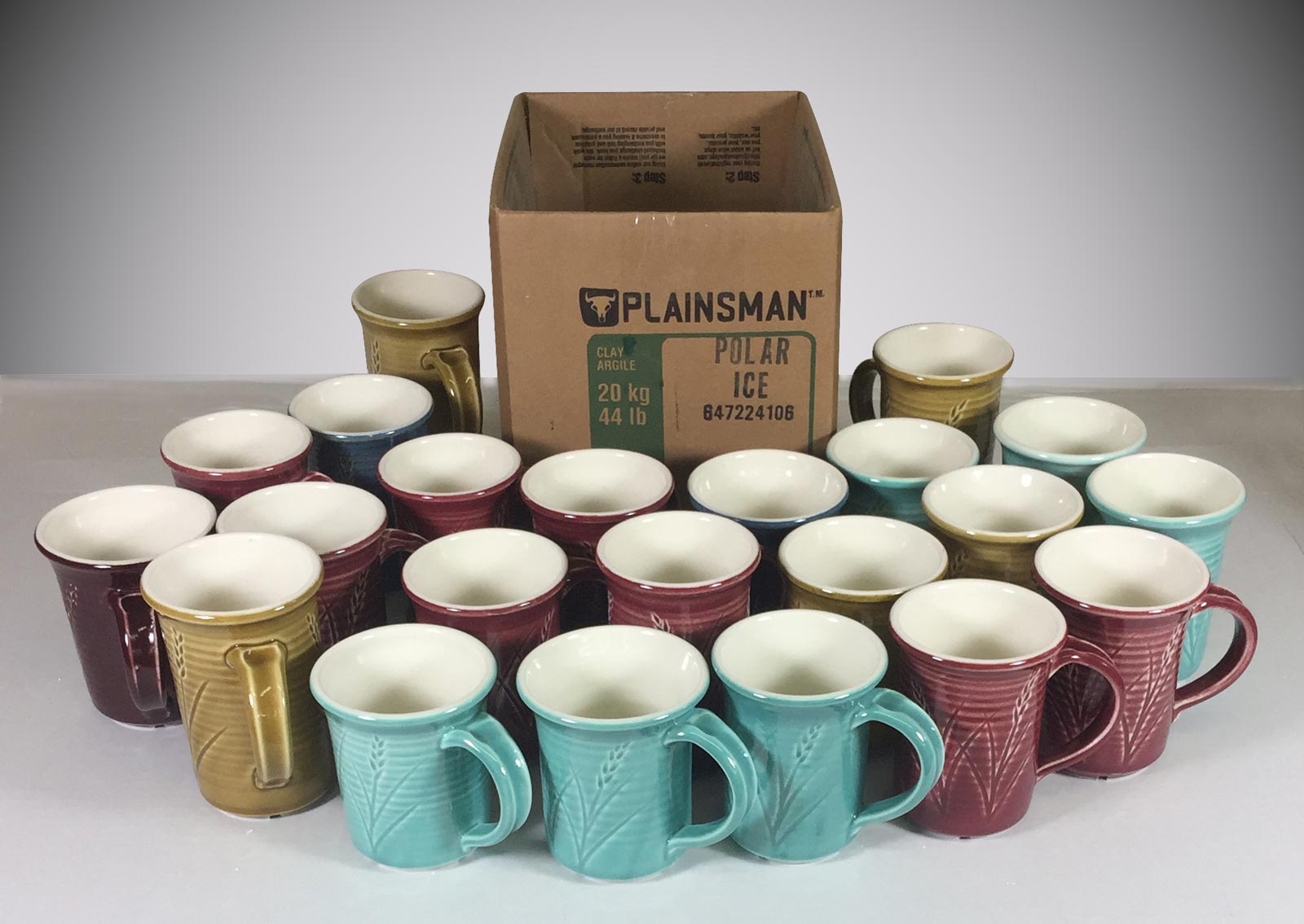 How many porcelain mugs from one box of clay?
This is from half a box! 21 mugs from 10 kg ( (all scrap was reclaimed). Polar Ice porcelain double the price of others. Why use it? Because it is so plastic that you can make more pieces, many more, enough to more than pay the extra clay cost. And you can charge more for each piece. These have a
... more
Context: Plasticity
Monday 17th July 2017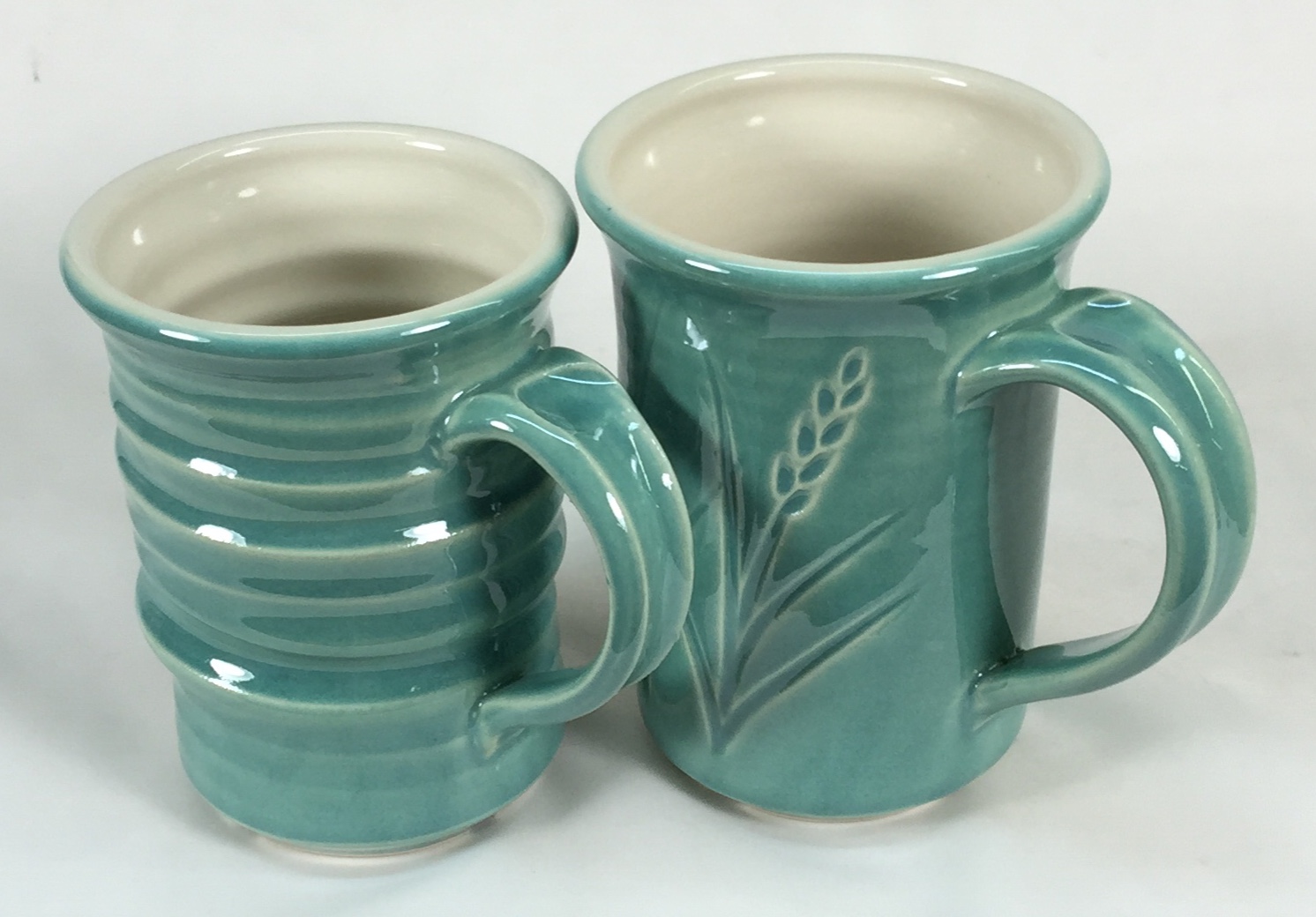 Cone 6 copper glazes like this require a special high-melt-fluid base
This is not just a typical transparent cone 6 glaze with copper added. Knowing what is different about this clear base, its trade-offs and how it was developed are important. The porcelains are Plainsman P300 and M370. The liner glossy glaze is G2926B, it has a much lower melt fluidity than the
... more
Context: G3806C - Cone 6 Clear Fluid-Melt Clear Base Glaze, G2926B - Cone 6 Whiteware/Porcelain Transparent Base Glaze
Sunday 16th July 2017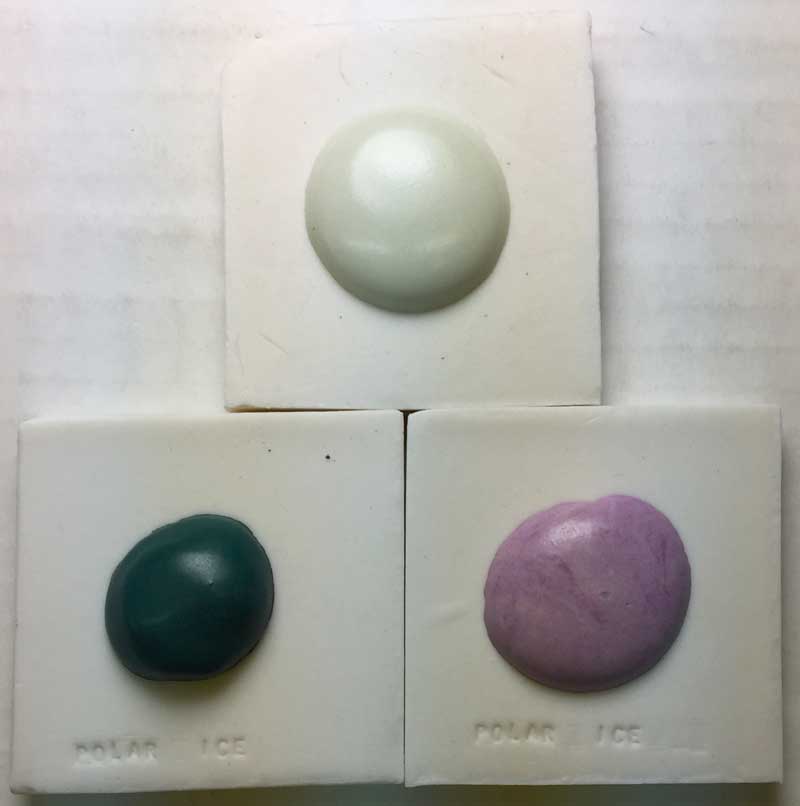 Stains added to a glaze can change its melt fluidity
At the top is a melt-flow ball of a cone 6 satin matte glaze, G2934. Left bottom: 8% 6213 Mason Hemlock Green stain has been added. The percentge appears to be sufficient, but it is not melting as much and the surface is more matte. A solution is too employ a 90:10 or 80:20 matte:glossy glaze blend
... more
Context: GBMF Glaze Melt Fluidity - Ball Test, Stain
Sunday 9th July 2017

If you think one slip fits any body, think again
This flake shivered off the rim of a low fire terra cotta mug. It is Fishsauce slip. It is about 2 inches long and has razor sharp edges. This is not the sort of thing you would want to be falling into your coffee or food and then eating! This flake did give evidence that it was loosening so there
... more
Context: Are Your Glazes Food Safe or are They Leachable?, Crazing, Glaze fit, Shivering, Engobe
Sunday 9th July 2017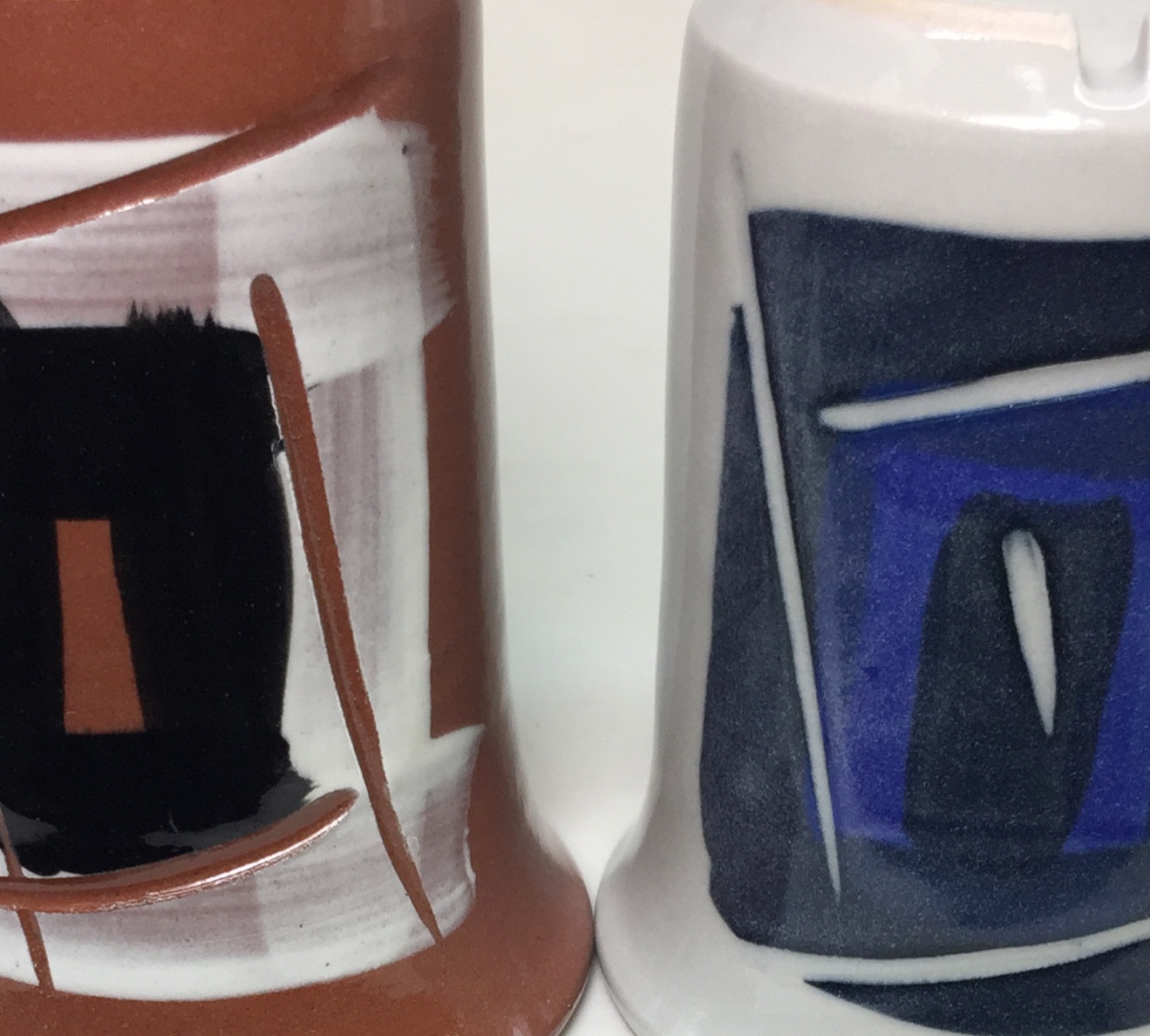 Underglazes at low fire are brighter than at medium temperature
Medium temperature transparents do not shed micro bubbles as well, clouds of these can dull the underlying colors. Cone 6 transparents must be applied thicker. The stains used to make the underglazes may be incompatible with the chemistry of the clear glaze (less likely at low fire, reactions are
... more
Context: Underglaze, Cone 6 Drop-and-Soak Firing Schedule
Sunday 9th July 2017
Login to your online account
Chemistry plus physics. The on-line successor to desktop Insight. Get an account for as little as $15. It does so much more.
Still available for Mac, PC, Linux
Interactive glaze chemistry calculations.
---
How to reach us
From within your account at Insight-Live.com or
What people have said about digitalfire
• I would also like to say thank you for providing the information about glaze's that you have on your websight. I have been formulating glaze for 20+ years, read practicaly every book on glaze & glass and your web page's had better information than any book.
• Honestly I do not see how you have time to experiment, test, etc. and disseminate the massive amount of knowledge you have.
• Thank you for all the great work you have done and the tremendous contributions you have made to the ceramics community.
• Also, as a side note, this website is an excellent resource and I appreciate the fact that all this info is available on the web! Not only that, but I have found the information to be accurate, dependable and thorough, which is difficult to find anywhere.
• ..I want to know more about the ceramics field and I see your outfit as being the most proactive in having vital information in the field.
• Where have I been. I could have used this site about a thousand times and would have saved myself about a thousand hours over the past years had I been aware of the remarkable information provided here.
• I want to comment. This is the most complete site about ceramics that I have ever seen.
• Thank u for your helping researchers .. Thank u for your efforts.
• Actually my brother asked to download the books. He is running a ceramic company in India. He has learned so many things in your free download, later he is impressed on your simple and clear explanation of ceramic technology.
• Your web site is amazing, the information I have learnt is so exciting. So thank you for your hard work to put it all together.
To see more (at random) refresh this page