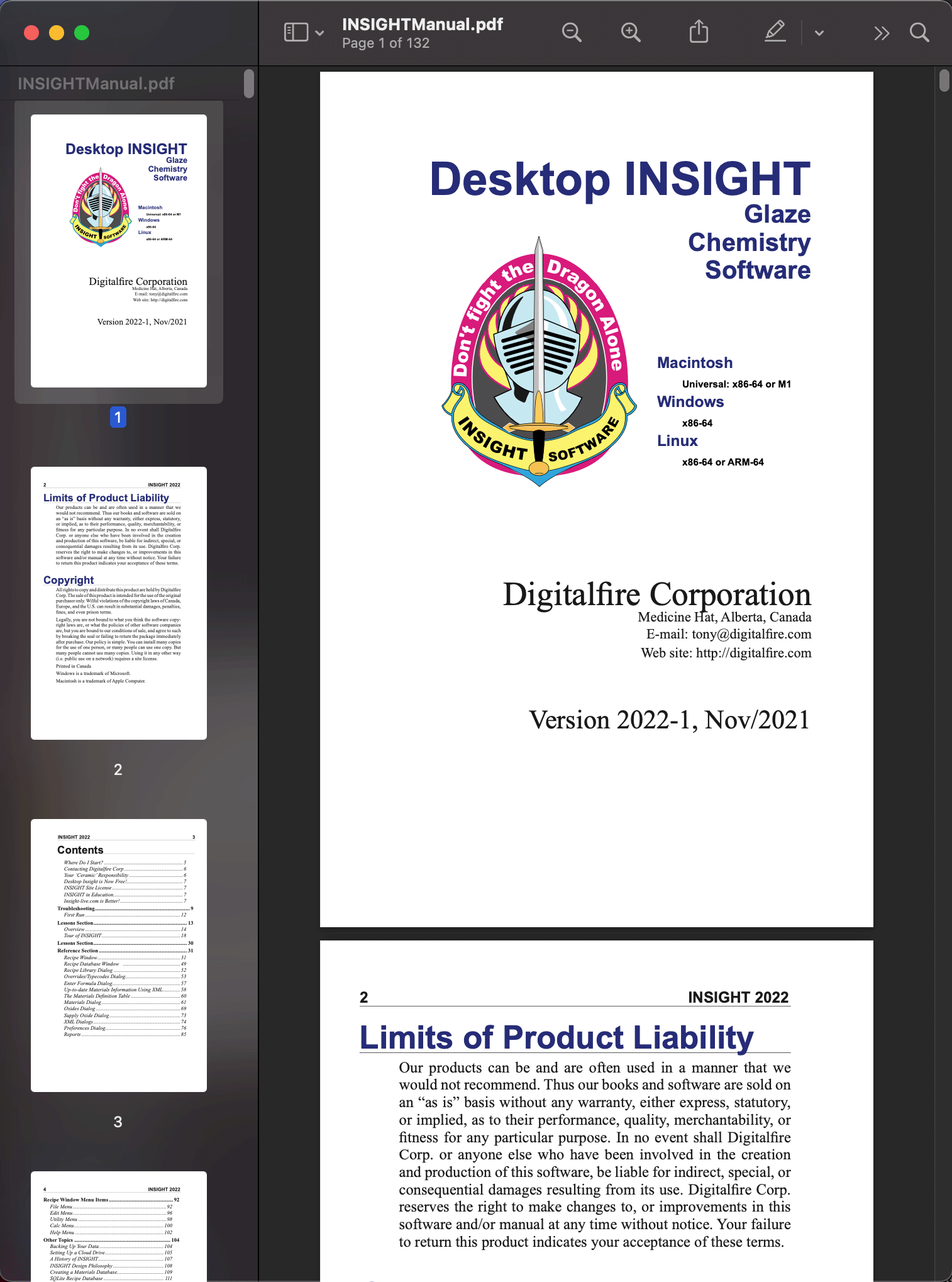 The PDF Manual.
Modified: November 19, 2016
Right-click here to download it.
Desktop Insight is now free!
Download it from the Files panel in your Insight-live.com account (it costs $15 for 6 months access). Current downloads only include the program file, starter recipe, materials, overrides data is built in. It functions as level 2, without need of a key. No features have been removed. It will never expire.
Do you really need Desktop Insight now that Insight-live is here?
No. Insight-live has a much broader scope and is far superior, it is the future (it still does the chemistry but is much more about data and access-from-anywhere). We still support desktop Insight for users who need to convert data for import to insight-live or who must work off-line.
Learning Desktop INSIGHT
Click the manual above. Or visit the Help Web App (phone and tablet friendly complete help system for all our products). Our Video Tutorials has a section on desktop Insight. There are videos on how to formulate, fix and adjust glazes at the same time.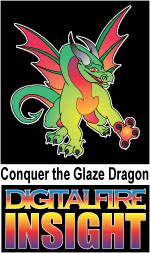 Desktop Insight is About Glaze Chemistry
Insight FAQ, Why choose Insight over other desktop products?
There is a direct relationship between the way ceramic glazes fire and their chemistry. Insight is a calculation tool anyone can use to learn and harness the power of glaze chemistry.
Fix problems like crazing, blistering, pinholing, settling, gelling, clouding, leaching, crawling, marking, scratching, powdering.
Substitute frits or incorporate better, cheaper materials, replace no-longer-available ones (all while maintaining the same chemistry).
Adjust melting temperature, gloss, surface character, color.
Identify weaknesses in glazes to avoid problems.
Create and optimize base glazes to work with difficult colors or stains and for special effects dependent on opacification, crystallization or variegation.
Create glazes from scratch and use your own native materials in the highest possible percentage.
Without glaze chemistry you'll never really have control and you could be a slave to your suppliers or the trafficing in recipes that never work.
A desktop application for Windows, Linux, Macintosh that you download and install.
Insight is a classic glaze chemistry calculator
It interactively converts recipes to formulas and back. The main Insight window shows side-by-side recipes and their formulas, you can make chemistry changes to one while comparing it with the other.
Insight is also a library and a teacher
It puts at your fingertips a huge amount of information to help you learn the principles of glaze chemistry and it teaches you how to adjust, fix and formulate glazes.
It is a database
You can store all your recipes, picture, material information where you can easily find it.
It is a problem solver
Using our videos, instructional and reference materials and our personal help you can solve problems like crazing, leaching, crawling, pinholing, blistering, etc.
Insight was first released in 1979 and has been used world wide since. It is an excellent teaching tool for demonstrating the principles of formula/analysis/unity, limit formulas, LOI, and material-oxide relationships.
Overwhelmed by glaze chemistry? Try starting here.
What People Have Said
"We really cannot function glazewise, without the use of your excelent software"
"Great company, great product, I enjoy doing business with you."
"I have had excellent results lowering the expansion in the existing glaze formulas enabling me to use a much stronger clay body and eliminating the fracturing after the glaze fire. We now get a 100% yield compared to the 75% to 80% yield from the beginning of the company almost 20 years ago."
"I have quit my job to do pottery full time, and am in need of your great materials and calculator."
"Have just spent a couple of weeks intensively exploring Insight and stacks to go yet. Congratulations! It keeps surprising me with the attention to possibilities, and forethought. In about 1993 I developed a system on paper to convert glaze formulae to and from analyses and Unity formulae, a completely circular system. It worked but very, very slow. My son is a long term sufferer of my rabbiting on about and therefore gaining understanding of ceramic technology. He is a BSc student and also programmer dealing in intricate database development interfacing with industry specific software. He is very impressed. Thank you for your contribution to this exciting ceramic world. "
"I am the last person i thought would ever get to understand glaze making .... I know there's more to learn than what I have leaned , but for my purposes I have come a long way."
To see more (at random) refresh this page
---

1 - 530 Allowance Ave, Medicine Hat, Alberta, Canada T1A 3E3
(403) 527-7508
Privacy Policy