FRFU - Frit Fusibility Test
This is done by preparing a small cylinder of powdered frit and firing it and comparing the fusibility and opacity with a similar cylinder prepared from the standard frit.
A frit softens over a wide temperature range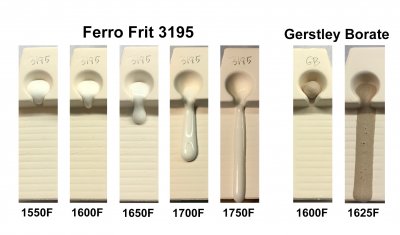 This is unlike some raw materials which often melt suddenly. These melt fluidity tests compare the flow of a boron frit across 200 degrees F. It first starts flowing at 1550F (although it began to turn to a glass at 1500F) and is running off the bottom of the runway by 1750F. The Gerstley Borate, on the other hand, goes from no melting at 1600F to flooding off the bottom by 1650F!
Related Information
Links