FRFU - Frit Fusibility Test
This is done by preparing a small cylinder of powdered frit and firing it and comparing the fusibility and opacity with a similar cylinder prepared from the standard frit.
A frit softens over a wide temperature range
Tap picture for full size and resolution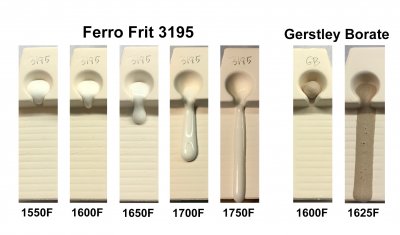 Raw materials often have a specific melting temperature (or they melt quickly over a narrow temperature range). We can use the GLFL test to demonstrate the development of melt fluidity between a frit and a raw material. On the left we see five flows of boron Ferro Frit 3195, across 200 degrees F. Its melting pattern is slow and continuous: It starts flowing at 1550F (although it began to turn to a glass at 1500F) and is falling off the bottom of the runway by 1750F. The Gerstley Borate (GB), on the other hand, goes from no melting at 1600F to flowing off the bottom by 1625F! But GB has a complex melting pattern, there is more to its story. Notice the flow at 1625F is not transparent, that is because the Ulexite mineral within GB has melted but its Colemanite has not. Later, at 1700F, the Colemanite melts and the glass becomes transparent. Technicians call this melting behaviour "phase transition", that does not happen with the frit.
Related Information
Links
By Tony Hansen
Follow me on

Got a Question?
Buy me a coffee and we can talk
---


https://digitalfire.com, All Rights Reserved
Privacy Policy