GSPT - Frit Softening Point Test
This almost always refers to frits which soften and melt over a fairly wide temperature range (most raw materials melt over a much narrower range). The softening point is the temperature at which the material begins to move, no longer exhibiting the properties of a solid. This property is normally quoted on frit data sheets (see ASTM C-24). Theoretically feldspars, for example, melt in a similar fashion, but manufacturers would never normally quote this property.

The softening point of a glass can be determined by examining the curve produced by a dilatometer. The line (representing increasing thermal expansion) climbs as temperature increases, going through the transition point (and accompanying steepening of the curve) to the softening point. This point is the peak of the curve, after that the line drops off vertically and melting proceeds.
Simple dilatometric curve produced by a dilatometer
Tap picture for full size and resolution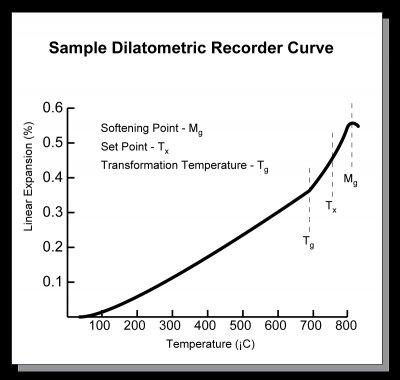 Dialometric chart produced by a dilatometer. The curve represents the increase in thermal expansion that occurs as a glass is heated. Changes in the direction of the curve are interpreted as the transformation (or transition) temperature, set point and softening point (often quoted on frit data sheets). When the thermal expansion of a material is quoted as one number (on a data sheet), it is derived from this chart. Since the chart is almost never a straight line one can appreciate that the number is only an approximation of the thermal expansion profile of the material.
Variables
VAL - Value (V)
Temperature (specify C or F)
Related Information
Links
By Tony Hansen
Follow me on

Got a Question?
Buy me a coffee and we can talk
---


https://digitalfire.com, All Rights Reserved
Privacy Policy