TGA - TGA Test
This test measures weight changes in a material as it is heated and provides a convenient method for characterizing the decomposition process in inorganics. The test results are plotted on an x-y graph as temperature vs. weight. For example, calcium oxalate monohydrate, a standard material often used to verify TGA performance, exhibits three weight losses with temperatures in an inert atmosphere that appear to represent the loss of water, carbon monoxide and carbon dioxide via the process:

CaC2O4 . H2O --> CaC2O4 --> CaCO3 --> CaO

Absolute confirmation of conclusions can be done by analyzing the gaseous by-products as there evolve. Also, if a mass spectrometry (MS) curve is overlaid onto a TGA plot a more complete understanding of the decomposition process can be had. In the case of the above material, for example, the MS curve shows that the decomposition process is more complex than shown by the TGA alone. The second weight loss produces both CO and CO2. This can be explained based on further reaction of some of the CO initially formed into CO2 and pure C (this is confirmed by the presence of grey residue in the material after heading).

Tap picture for full size and resolution
TGA Analysis graph with overlaid mass spectrometry curve
Example thermogravimetric analysis of calcium carbonate
Tap picture for full size and resolution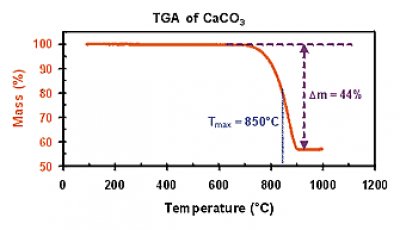 Variables
VAL - Value (V)
The result of the variables need to be compiled
Related Information
Links
Typecodes
Material Tests
Test conducted primarily on materials use to make bodies or glazes.
Articles
Organic Matter in Clays: Detailed Overview
A detailed look at what materials contain organics, what its effects are in firing (e.g. black core), what to do to deal with the problem and how to measure the amount of organics in a clay material.
By Tony Hansen
Follow me on

Got a Question?
Buy me a coffee and we can talk
---


https://digitalfire.com, All Rights Reserved
Privacy Policy