Minspar 200
Notes
Formerly called NC-4 Feldspar. Very similar chemistry to the no-longer-available F-4 feldspar.

A 200 mesh flotation-grade soda feldspar from Spruce Pine, NC. Used in the ceramic whiteware industry for sanitary ware, dinnerware, floor and wall tile, artware and glazes.

Physical Properties
===================
Refractive Index: 1.53
Mohs Hardness: 6.0-6.5
Mean Particle Size: 12 microns
Specific Surface Area (sq-m/g): 0.9-1.2
Dry Brightness: 94
Raw color: white
pH: 8.7
% Moisture Content: 0.1
Bulk Density (lb/cu. ft)
Loose: 44
Packed: 70
Bulk Density (kg/cu. meter)
Loose: 7.5
Packed: 1121

Particle Size: 100 140 170 200 325
% Retained tr tr 0.1 0.3 3.6
U.S. Sieve Series

*This is from a data sheet from Jan 2013
Related Information
Feldspar melts by itself to be a glaze, but crazes badly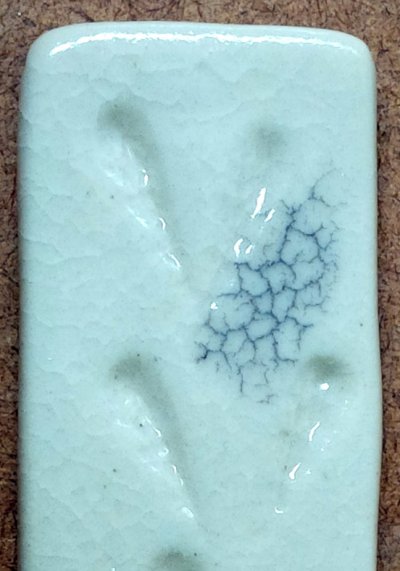 Pure MinSpar feldspar fired at cone 6 on Plainsman M370 porcelain. Although it is melting, the crazing is extreme! And expected. Feldspars contain a high percentage of K2O and Na2O (KNaO), these two oxides have the highest thermal expansion of any other oxide. Thus, glazes high in feldspar (e.g. 50%) are likely to craze. Using a little glaze chemistry, it is often possible to substitute some of the KNaO for another fluxing oxide having a lower thermal expansion.
Old Blend Feldspar. What is that?
Laguna Clay sells a substitute for the no-longer-available G200 feldspar. G200 HP is higher in K2O and lower in CaO than G200, Minspar is an ideal addition since it's K2O is much lower and CaO much higher. A 7:3 G200HP:Minspar mix produces a chemistry that is remarkably close (on paper) to G200. They label this blend "Old Blend". They also list a product called "New Potash" in their pricelist, that is G200 HP.
Links