Fusion Frit F-19
Alternate Names: Fusion Frit F19
Related Information
G2934 using Fusion Frit F-19 instead of Ferro 3124
G2934B is a popular recipe and there has been alarm recently because of the difficulty in getting the Ferro frit. This motivated us to get a supply of the Fusion equivalent, F-19. We have done much testing in glazes and with melt fluidity tests like this and so far it is looking good.
Ferro Frit 3124 vs Fusion F-19 at cone 04
On paper, Fusion F-19 has a very similar chemistry to 3124. However, as can be seen here, it is flowing a little more and appears to have a lower surface tension. The glass is also more transparent and the entrained bubbles are bigger. The differences could be partly to Fusion using a different set of raw materials to source the chemistry or differences in their smelting process.
Arbuckle Majolica using Fusion Frit F-19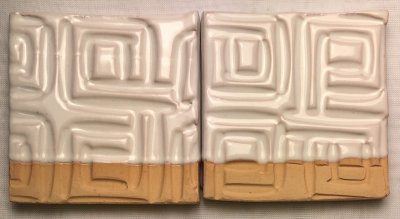 Fusion Frit F-19 is claimed to be a substitute for Ferro Frit 3124. The glaze was applied on Plainsman L210. Not as thick as would be customary on Majolica ware. Left is with frit 3124, right is with the Fusion product.
Links