Kingman Feldspar
Notes
No longer available. When looking for a substitute, note how high KNaO content in this. It is much higher than Minspar or Custer. G200 HP, although having a different ratio of K2O/Na2O shares the high KNaO content (and other oxides levels are very similar).
Related Information
Which common American/Canadian feldspars can substitute for each other?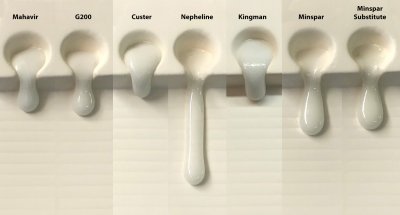 After comparing the chemistries of an original feldspar and a tentative substitute, these melt flow tests are an excellent way to confirm physical similarity also. These were done at cone 6 (2200F). Each feldspar is mixed with 15% Ferro Frit 3195. Some things to note: Nepheline Syenite is the champion melter. Mahavir is very similar to G200. Kingman and Custer are very similar. Our Minspar substitute is very similar to Minspar itself.
Links