SignUp for Monthly Tech-Tip from Tony Hansen
URL: Develop and maintain your own cone 6 porcelain recipe
Click the link below to go to this page
Related Information
Polar Ice Porcelain with Body Stains - by Robert Barritz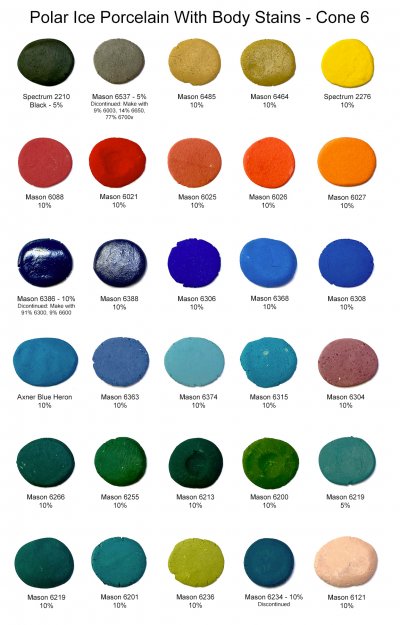 Robert has done really valuable work in this research, what an amazing range of color! I am so grateful he shared this with the rest of us. Surfaces are unpolished and unglazed. All are fired to cone 6. Browns are missing, they can be made using iron oxide. For blacks, Mason 6600 is also effective. The blues require lower percentages than shown here, as low as 2% can be effective. Likewise with others, there is an optimal amount for each stain, beyond that, with increases in percentage the color intensity increase will drop significantly. There is another reason to keep stain percentages to a minimum: To reduce the impact on body maturity (and firing shrinkage). Blues, for example, can significantly heighten the degree of vitrification, even melting the porcelain. If you plan to marble different colors, keeping stain percentage as low as possible is even more important, unless you can do fired shrinkage compatibility testing, for example, the EBCT test. Need to develop your own white porcelain? See the link below.
Translucency of Polar Ice compared to another porcelain at cone 6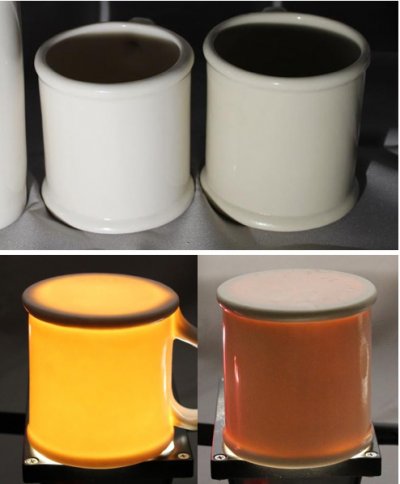 On the top you can see the color difference. The other porcelain is made from a low TiO2 mix of typical North American kaolins, feldspars and bentonites. Bottom with a light inside: Polar ice on the left is far more translucent. Yet it is not overly mature, it resists fired warping remarkably well. And it is also more plastic (which seems impossible). There is a secret to the translucency that goes beyond the fact that it employs New Zealand kaolin and the percentage of feldspar it has. But I cannot tell you. But if you read this site carefully you will discover it in the most unlikely place!
Reduction Polar Ice vs. Oxidation Polar Ice
Polar Ice (Plainsman Clays) has been fired to cone 10R (left). This is beyond the recommended cone 6 range, but it worked well in this instance. The result is even more translucency and a translucency of a different character: blue! This looks much more like real blue polar ice.
Links