Do your functional glazes do this? Fix them. Now.
Notes
These cone 6
porcelain
mugs have glossy liner glazes and matte outers: VC71 (left) crazes,
G2934
does not (it is highlighted using a felt marker and solvent).
Crazing
, while appropriate on non-functional ware, is unsanitary and severely weakens the ware (up to 300%). If your ware develops this your customers will bring it back for replacement. What will you do? The
thermal expansion
of VC71 is alot higher. It is a product of the chemistry (in this case, high sodium and low alumina). No change in firing will fix this, the body and glaze are not expansion compatible. Period. The fix: Change bodies and start all over. Use another glaze. Or, adjust this recipe to reduce its thermal expansion.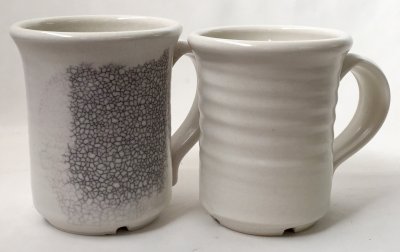 Links
Tests
300F:Ice Water Crazing Test
Recipes
G2934 - Matte Glaze Base for Cone 6
A base MgO matte glaze recipe fires to a hard utilitarian surface and has very good working properties. Blend in the glossy if it is too matte.
Glossary
Crazing
Crazed ceramic glazes have a network of cracks. Understanding the causes is the most practical way to solve it. 95% of the time the solution is to adjust the thermal expansion of the glaze.
Glossary
Feldspar Glazes
Feldspar is a natural mineral that, by itself, is the most similar to a high temperature stoneware glaze. Thus it is common to see alot of it in glaze recipes. Actually, too much.
Glossary
Functional
A term used in ceramic to express the degree to which an item is safe and stands up to everyday use. Functionality embodies strength, hardness, resistance to acid attack and thermal shock, etc.
Glossary
Calculated Thermal Expansion
The thermal expansion of a glaze can be predicted (relatively) and adjusted using simple glaze chemistry. Body expansion cannot be calculated.
Media
How I Improved a Popular Cone 6 Clear Glaze Using Insight-Live
Articles
Where Do I Start?
Break your addiction to online recipes that don't work. Get control. Learn why glazes fire as they do. Why each material is used. Some chemistry. How to create perfect dipping and drying properties. Be empowered. Adjust recipes with issues rather than sta
---


Copyright 2008, 2015, 2017 https://digitalfire.com, All Rights Reserved