Frits do not dissolve in water, right? Wrong.
Notes
This is an example of two types of crystals that have formed on the surface of a fritted glaze after a long period of storage (Ferro
Frit
3249 in this case). Frits are formulated to give chemistries that natural materials cannot supply. To do that they have to push the boundaries of stability (solubility). Any frit that has an inordinately high amount (compared to natural sources) of a specific oxide (in this case MgO) or lacks Al
2
O
3
(like Frit 3134) are suspect.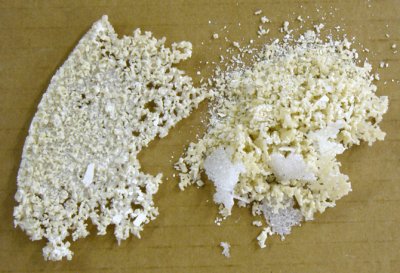 Links
Glossary
Water Solubility
The water solubility of ceramic materials is an important consideration to their usability in the process. Glazes are suspensions of insert powders, solubles present problems to this system.
Glossary
Frit
Frits are used in ceramic glazes for a wide range of reasons. They are man-made materials of controlled chemistry with many advantages or raw materials.
Materials
Ferro Frit 3249
---


Copyright 2008, 2015, 2017 https://digitalfire.com, All Rights Reserved