Cone 6 iron stoneware cross section close-up with glaze
The glaze is well melted, but the interfacial zone with the body is wider than terra cotta but much narrower than for porcelain. The body is developing glassy phases as does porcelain and stoneware and its color has changed from red to brown. However it is possible to add a frit and glass-bond the particles at cone 02 (at much higher cost of course). Not surprisingly, glazes must be more closely tuned to match the thermal expansion of the body for lower temperatures (since they are not stuck on as well).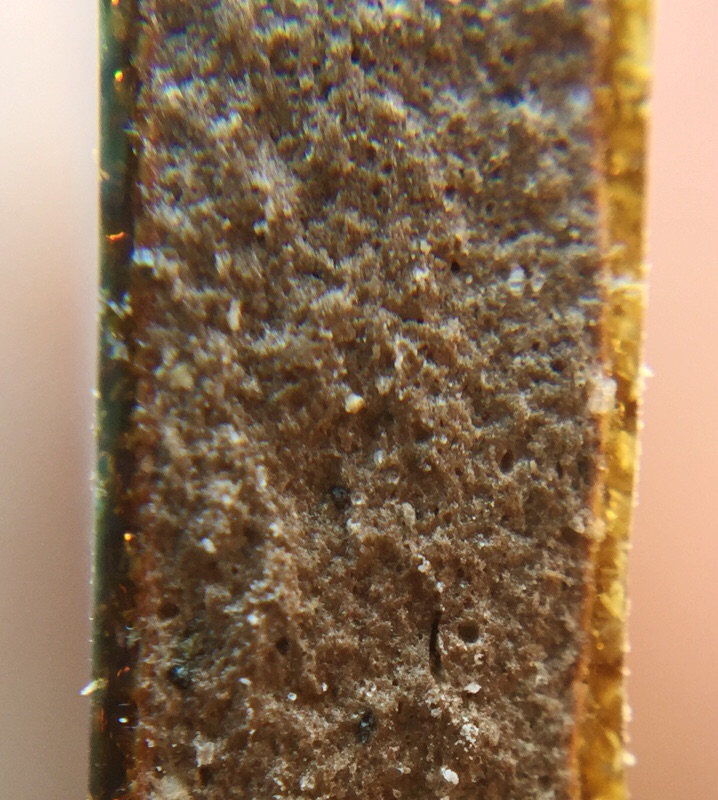 Links
Glossary
Stoneware
To potters, stonewares are simply high temperature, non-white bodies fired to sufficient density to make functional ware that is strong and durable.
Glossary
Vitrification
The term vitrified refers to the fired state of a piece of porcelain or stoneware. Vitrified ware has been fired high enough to make it very strong, hard and dense.
Glossary
Clay Body Porosity
In ceramics, porosity is considered an indication of density, and therefore strength and durability. Porosity is measured by the weight increase when boiled in water.
---
---


https://digitalfire.com, All Rights Reserved
Privacy Policy