Medium Temperature Glaze
These are stoneware glazes that fire in the range of 1200C (2200F). They often contain boron to assist with melting.
Details
In functional ceramics this term generally refers to glazes that mature from cone 4 to 7. At these temperatures it is difficult to compound glazes that will melt well without the need for powerful melters like zinc and boron. Thus a medium temperature glaze contains mostly the same kinds of ingredients as a high temperature one, but additionally it needs a source of zinc or boron (boron is by far more popular and less troublesome for potters, whereas industry uses zinc/boron for fast firing). Typically frits are employed to supply the B2O3 or ZnO (historically Gerstley Borate and Colemanite were common sources of B2O3, but frits are much better). Boron has a low thermal expansion and thus is an ideal additive since it reduces the tendency of glazes to craze. Since there are no practical insoluble sources of pure boron, glaze chemistry is normally needed to determine how to best incorporate boron-sourcing materials.
Related Information
Mason stains in the G2926B base glaze at cone 6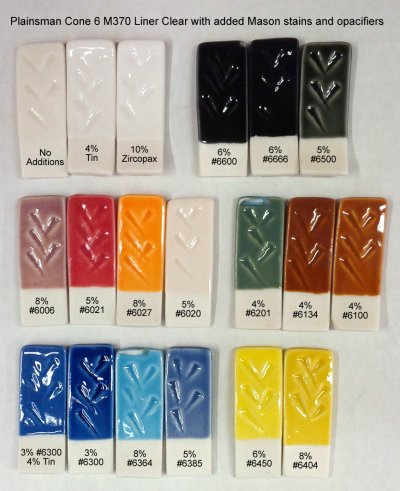 This glaze, G2926B, is our main glossy base recipe. Stains are a much better choice for coloring it than raw metal oxides. Other than the great colors they produce here, there are a number of things worth noticing. Stains are potent colorants, the percentages needed are normally much less than metal oxides. Staining a transparent glaze produces a transparent color, it is more intense where the glaze layer is thicker, this is often desirable in highlighting contours and designs. If you add an opacifier, like zircopax, the color will be less intense, producing a pastel shade the more you add. The chrome-tin maroon 6006 does not develop well in this base (alternatives are G2916F or G1214M). The 6020 manganese alumina pink is also not developing here (it is a body stain). Caution is required with inclusion stains (like #6021), the bubbling here is not likely because it is over fired (it is rated to cone 8), adding 1-2% zircopax normally fixes this issue.
Mason stains in the G2934 matte base glaze at cone 6
Stains can work surprisingly well in matte base glazes like G2934. But they perform differently in a matte host glaze. The glass is less transparent and so varying thicknesses do not produce as much variation in tint. Notice how low many of the stain percentages are here, yet most of the colors are still bright. A good reason to minimize stain concentration is to avoid leaching. We tested 6600, 6350, 6300, 6021 and 6404 overnight in lemon juice, they passed without any visible changes. It is known that MgO mattes, like this one, are less prone to acid attack that CaO mattes. A down-side to the MgO-matte-mechanism is that chrome-tin stains do not work (e.g. 6006), high CaO content is needed in the host glaze to develop the color. The inclusion stains 6021 and 6027 work very well in this base. As do the 6450 yellow and 6364 blue. And the 6600 produces an incredible gunmetal black. The 6385 is an error, it should be purple (that being said, do not use it, it is ugly in this base). The degree-of-matteness can be tuned by blending in some G2926B glossy base.
5% titanium dioxide in G2934Y matte, G1214Z matte, G2926B glossy
The body is Plainsman M390. The firing schedule is Plainsman PLC6DS.
G1214Z at cone 6 with 10% zircon and 5% tin oxide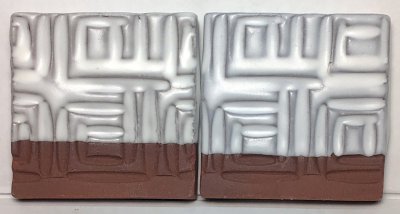 The body is Plainsman M390. The firing schedule is Plainsman PLC6DS. The tin is on the right.
Two cone 6 matte glazes opacified with 10% Zircopax
The clay is a buff stoneware. The upper two samples are G2934, an MgO matte. The one on the right has 10% zircon added to opacify.
The bottom two are G1214Z (transparent version and opacified-with-zircon version).
A cone 6 fluid iron glaze has a completely different surface when cooled slowly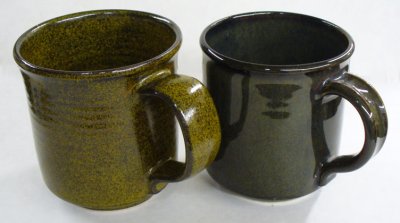 The mug on the left has been cooled slowly (and crystallizes). On the right it was cooled quickly (and is glossy).
Transform the yellow-white of cone 6 to blue-white of cone 10R
Adding a little blue stain to a medium temperature transparent glaze can give it a more pleasant tone. Some iron is present in all stoneware bodies (and even porcelains), so transparent glazes never fire pure white. At cone 10 reduction they generally exhibit a bluish color (left), whereas at cone 6 they tend toward straw yellow (right). Notice the glaze on the inside of the center mug, it has a 0.1% Mason 6336 blue stain addition; this transforms the appearance to look like a cone 10 glaze (actually, you might consider using a little less, perhaps 0.05%). Blue stain is a better choice than cobalt oxide, the latter will produce fired speckle.
Links
Oxides
B2O3 - Boric Oxide
Glossary
Cone 6
Also called "middle temperature" by potters, cone 6 (~2200F/1200C) refers to the temperature at which most hobby and pottery stonewares and porcelains are fired.
Glossary
Ceramic Glaze
Ceramic glazes are glasses that have been adjusted to work on and with the clay body they are applied to.
Glossary
Borosilicate

Glossary
Glaze Chemistry
Glaze chemistry is the study of how the oxide chemistry of glazes relates to the way they fire. It accounts for color, surface, hardness, texturem, melting temperature, thermal expansion, etc.
Glossary
Boron Frit
Most ceramic glazes contain B2O3 as the main melter. This oxide is supplied by great variety of frits, thousands of which are available around the world.
Articles
Reducing the Firing Temperature of a Glaze From Cone 10 to 6
Moving a cone 10 high temperature glaze down to cone 5-6 can require major surgery on the recipe or the transplantation of the color and surface mechanisms into a similar cone 6 base glaze.
Articles
G1214M Cone 5-7 20x5 Glossy Base Glaze
This is a base transparent glaze recipe developed for cone 6. It is known as the 20x5 or 20 by 5 recipe. It is a simple 5 material at 20% each mix and it makes a good home base from which to rationalize adjustments.
Media
Convert a Cone 10 Glaze to Cone 6 Using Desktop Insight
Learn the chemistry differences between cone 10 and 6 glazes and how to make a glaze melt at a lower temperature without introducing other problems like crazing.
Typecodes
Medium Temperature Glaze Recipes
Normally fired at cone 5-7 in electric kilns.
By Tony Hansen

---
---


https://digitalfire.com, All Rights Reserved
Privacy Policy