Handles
In ceramics, handles need to be applied to many types of ware. There are things to know not just to make them look good, but to be strong, durable, practical.
Details
Making functional handles for ware is a functional challenge (not just a design one). In future I will deal with these issues here.

More coming soon.
Related Information
Why were these handles pulled an hour after the mugs were thrown?
Because they dry and stiffen much faster. When the handles are glued on with slip about an hour later they are about the same stiffness as the mugs. The handled mugs, which are sitting on plaster batts, will then be covered with cloth and plastic over night. The next morning, the bases will have stiffened and all sections of the mugs will be about the same stiffness, ready for trimming. After that they will be decorated, then placed on smooth wooden batts and wrapped with a cloth for drying.
Place mugs with handles at the center and cover them during drying
Handles expose all sides to the air and dry (and therefore shrink) much more quickly than the walls. Anything you can do to slow them down will produce a more even drying process.
Tony Hansen applying a handle to a porcelain mug
They have been made ahead of time and put on a board to stiffen. How I just need to glue them on with slip. Notice I do not need to score the surfaces, I just use pressure. This works because the handles are applied to the mugs at the same stiffness and I am careful to dry the pieces evenly.
It is not the speed of drying, but how even it is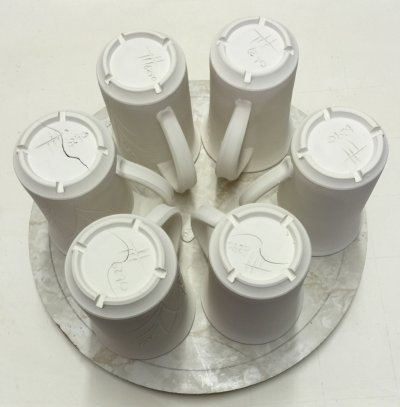 Half of these Plainsman Polar Ice mugs cracked. But I know exactly why it happened! After throwing them I put them on a slowly rotating wheelhead in front of a fan to stiffen them enough so I could attach the handles quickly. Of course, I forgot them and they got quite stiff on the lip (while the bottom was still wet). I quickly attached the handles and then covered them with cloth and plastic and let them sit for two days to let them even out. Notwithstanding that, that early gradient sealed their destiny. The lesson: At no time in the drying process should any part of a piece be significantly ahead of another part.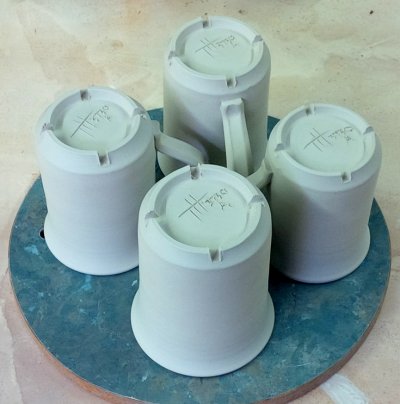 These mugs are in the leather-hard stage. They have just been trimmed. The clay has dried firm enough to handle them without pushing them out of shape too much, but not so much that it is difficult to tool and flute the foot ring.
Why did this mug handle crack?
It is too thin. Handles are exposed so they dry first, heat first, cool first. There are shrinkages associated with drying and firing and expansion/contraction associated with thermal changes. Handles experience these ahead of the mug bodies. The heavier the mug and the thinner the handle the more likely cracking or shattering will occur. And handles need to resist the compressive and contractive forces of glazes that may not be fitted well. While specific stresses may not fracture a handle, they can be residual, seeking relief. That relief can come at a later stage in production (e.g. the glaze firing) or during use. It seems at times a miracle that handles actually stay on pieces and service for many years without breaking. What saves them is being thick enough to withstand the forces they are exposed to and thoughtful minimization of those forces during production.
Sixteen kinds of clay. No mugs have cracked in drying. Why?
The key is avoidance of methods that result in one part of the piece being stiffer at any stage of drying (not vinegar in the water, compressing the bottoms, etc.). Throw mugs with walls of even thickness. Put them on a plaster bat (it dewaters the base). Make the handles a while after you have made the mugs (they stiffen quicker). Apply them as soon as the rims are stiff enough to maintain shape (in my climate, two hours). Use a join method that enables application of lots of pressure (better than scoring). Use only enough slip (of thick cream consistency) to make the join (no excessive squirting out at the perimeter). Pack all the mugs closely on bats, rims up, cover with flowing cloth (e.g. arnel). Put them inside big bags or wrap plastic around and tuck it under. Trim the bases the next day (to the same thickness as the walls). Place rims down (with handles at the center) on smooth batts (not plaster) and cover them with large fabrics that can wrap under leaving no holes exposed to the outside air (in our dry climate two days dries them).
Can you dry a mug with handle in two hours? Yes.
The lid of my firing kiln seems to be just the right environment for even drying, even of freshly thrown pieces. By the time this mug really got under way here the kiln was at 1000F and the lid was getting pretty hot. The bottom was the warmest and the top coolest, the exact opposite of how drying normally becomes uneven (the top drying first). This principle could be employed to make a heated drying chamber. The interior space could be kept at high humidity and a draft of air through it could remove humid air and the needed rate.
A porcelain mug warps under the weight of its own handle
An example of a cone 10 porcelain that is over mature. It contains too much feldspar and is vitrifying so much that it is beginning to melt. The weight of the handle is pulling the lip into a oval shape, even though the hourglass shape of the piece should offer stability.
How to dry these mugs evenly to avoid cracks
It is important that during all stages of drying gradients (sections of different stiffnesses) do not develop in pieces. Thus I like to attach handles as soon after throwing as possible. An unavoidable gradient develops anyway because the rims need to be stiff enough to attach the handles without going out of shape too much. Now how can I stiffen these mugs for trimming and even them out at the same time? The first key is to put them on a plaster bat (as I have done here). Then I cover them with a fabric (arnel fabric works well because it flows). Then I put the whole thing into a large garbage plastic bag folded underneath to seal it. The plaster stiffens the bases and absorbs moisture in the air to stiffen the walls also. The next day every part of the piece is an even leather hard.
By Tony Hansen

---
---

https://digitalfire.com
, All Rights Reserved
Privacy Policy