How to Liner-Glaze a Mug
Description
A step-by-step process to put a liner glaze in a mug that meets in a perfect line with the outside glaze at the rim.
Article
There are many good reasons to use a liner glaze for your mugs. It may appear to take extra effort at first, but once the technique becomes a part of your standard practice you will find it has many advantages. Why?
It is visually appealing, fewer other design elements are needed.
Liner glazes have no metal oxide colorants so are much less likely to be leachable (or be harmful if they are leachable).
It is a public declaration that you recognize your accountability for the safety of your ware.
A liner glaze that wraps up over the rim is more likely to provide a smooth, pleasant-to-use lip than a reactive glaze.
Glazing mugs in two operations enables you to dry them after the inner coat so the outer one will apply better and go on thick enough (when dip-glazing an entire mug it can be difficult to get the glaze on thick enough since the thin wall cannot absorb enough water to build up a good inside and outside layer).
The outside faster-drying glaze enables you to handle the mug almost immediately to sponge off the foot.
You can focus efforts on creating an easy-to-use, leach-resistant, non-crazing liner glaze that works on all your ware.
Colored glazes employ expensive metal oxides, using a liner glaze will cut your costs.
Of course, the biggest challenge of using a liner glaze is getting the interior and exterior glazes to meet in a clean line. But it is actually quite easy.
Use glazes that are not too fluid (run too much during firing) or they may bleed into each other across the join.
Make the join at the highest point on the lip, this will encourage both glaze melts to flow toward their own side rather than across the boundary. Or, given that the colored glaze is more likely to flow across the boundary, make the join a little toward the outside (forcing the colored glaze to flow uphill to cross).
Use a sharp knife to get a clean line (e.g. small Olfa cutter).
Make sure your glaze slurry is well stirred and gels properly, since you need to make shallow dips a layer of water on the top of the glaze slurry will not be good.
Step-by-Step
Use a pitcher to fill the bisque mug with liner glaze. Pour it out in a circular motion into the glaze bucket and then dip the lip into the glaze so it goes just barely covers the rim (perfecting this step will save you time in the next step). Hold it there long enough to get the thickness you want. This technique of pouring requires practice, here are some key points:
If the handle is high on the mug, avoid dipping deep enough to touch it.
The outpouring glaze should not contact the mug handle. One way to avoid this is by beginning the pour on one side of the handle -- by the time it is rotated completely around the stream of glaze is diminished and flowing outward well enough that it should not touch it.
Pour deliberately in one smooth rotating motion such that the glaze does not drip down the sides of the mug. It can be difficult to do this without getting a splash in the face when the pour hits the surface of the glaze in the bucket (start the pour against the far side of the bucket to avoid this).
When dipping the lip, push the mug into the glaze exactly level and only deep enough to cover it.
Form the mug (on the wheel) such that the lip flares out a little, this will improve your ability to pour the glaze out without dripping down the sides. Also round the lip so the glaze join line occurs on a rounded contour.
After the glaze has dried sufficiently, use a banding or potters wheel to wax up the inside (starting about an inch down) and just up around the top of the lip. Be careful not to get any wax on the bare unglazed bisque.
Using a sharp knife in one hand and rotating the mug with the other, cut away the glaze (down to the bisque) up to almost the highest point on the lip. This can be done with one smooth one-around rotation using the sharp knife. Clean up any remaining glaze down around the outside of the rim using a fettling knife. You could attach mugs to the wheel using a Giffin grip and cut the glaze off precisely, but that is too time-consuming, learn to do it by hand instead. When done you should have the inside glazed and terminating at a perfect wax-covered edge at the lip. For some glazes it may be necessary to clean any remaining glaze off the outside up to the wax line using a sponge (e.g. where the inside glaze is dark and the outside one is light). To minimize the amount of dust generated, do this operation before the glaze is too dry.
Let the mug dry a while and glaze the outside. Keep your hands damp so they will not stick to the wax (and pull off sections as you touch it). Push the lip of the mug into the glaze just enough to get the join-line and the rim covered and down around it a few millimeters (be careful to hold the mug level as you do this). Immediately turn it over, put your hand inside, clamp against the interior surface, and push it into the glaze right down to the rim (to overlap the lip dip just made). When you push it into the glaze start at an angle, to make sure no air bubbles get trapped under the foot, and then straighten it as you push it down further. Hold it down for the time necessary to get the thickness you want, then pull it out quickly. Do a couple of downward jerks after you pull it down, then hold it at an angle to allow it any remaining drips to fall away. It may be tricky at first to push the mug down far enough and avoid glaze spilling into the inside, but once you get the knack it is easy.
Set the mug on the table and sponge away any drips of glaze left over the wax-covered liner on the inside top of the lip. Clean the foot and set it out to dry.
As mentioned, for all this work (and be worth it) you need to have a good functional and easy-to-use liner glaze. There is no reason to put up with problems of excessive dripping, settling in the bucket, crazing, slow drying, running or other things. If you are having a few problems with the glaze you have do not just throw it out and search for another, fix it. How?
Related Information
A fluid melt glaze bleeds much more into adjoining ones
The outer green glaze on these cone 6 porcelain mugs has a high melt fluidity. The liner glaze on the lower one, G2926B, is high gloss but not highly melt fluid. Notice that it forms a fairly crisp boundary with the outer glaze at the lip of the mug. The upper liner is G3806C, a fluid melt high gloss clear. The outer and inner glazes bleed together completely forming a very fuzzy boundary.
A matte and a glossy liner glaze
Left: Ravenscrag G2928C matte liner glaze on inside of mug. Right: A clear glossy. The matte needs to be soaked in the kiln long enough to make sure it develops a functional surface, especially on the bottom. Mattes are not always the best choice for food surfaces, but you can do it if you blend in enough glossy glaze to make it smooth enough not to cutlery mark.
Laguna B-Mix Cone 10R mugs with Alberta and Ravenscrag glazes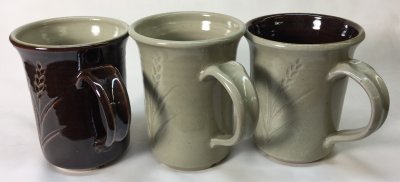 B-Mix is a popular high-ball clay very plastic grey cone 10R stoneware in North America. The two mugs on the left have pure Ravenscrag Slip on the inside (the middle on the outside also), it fires almost transparent with a slightly silky surface. Pure Alberta Slip is employed on the outside of the left one and the inside of the right one. The outside of the right one is RavenTalc silky matte. In all cases the Ravenscrag and Alberta Slip are mixed half-and-half calcined and raw. B-Mix fires dark enough and with enough specks that a normal transparent glaze is not very interesting. But these Ravenscrag ones look much better (for use as a liner glaze).
G3840 Shino on Grolleg/New Zealand kaolin porcelain at cone 10R
The color is developing despite the fact that very little iron is available from the body. I have glazed the inside of this mug with a durable liner glaze to make it functional. The porcelain contains more than 30% silica but the Shino is still crazing on it.
This leaching mug needs a liner glaze. Seriously!
Three cone 6 commercial bottled glazes have been layered. The mug was filled with lemon juice over night. The white areas on the blue and rust areas on the brown have leached! Why? Glazes need high melt fluidity to produce reactive surfaces like this. While such are normally subject to leaching, the manufacturers were able to tune the chemistry of each to make them resistant. But the overlaps mingle well (because of the fluidity), they are new chemistries, less stable ones. What is leaching? Cobalt! Not good. What else? We do not know, these recipes are secret. It is much better to make your own transparent or white liner glaze. Not only can you pour-apply it and get very even coverage, but you know the recipe, have control, can adjust to fit your body.
A Cone 6 white engobe works miracles on these dark and buff burning bodies
Left is Plainsman M340. Right is M390. Each mug has been white-engobed inside, using L3954B, and half-way down the outside. The insides have been glazed using G2926B clear. The inside surface has more depth and has a richer appearance than could be achieved using a white glaze (especially over the dark burning body). The outside of the left one is Alberta Slip base GA6-B. The outside glaze on the right is the clear plus 4% iron oxide. This technique of using the engobe enables porcelain-like functional surfaces on the insides and striking visual contrast and character on the outside of the dark body mug.
Mug made from a cone 6 black-burning stoneware body
Black burning bodies are popular with many potters. They are normally manufactured by adding around 10% burnt or raw umber to an existing buff-burning cone 6 stoneware. Umbers are powerful colorants, they have high iron and also contain manganese (the latter being the primary source of the color). But these clays can be troublesome. First, good kiln venting is needed to avoid breathing the dangerous manganese metal vapors. Micro-bubble clouding/gloss-loss in the glazes and blistering/bloating of the bodies are common. But this mug fired perfectly. Why? The umber was added to a cone 10 stoneware instead (and it has fluxed the body to mature at cone 6). The mug has been white engobed using L3954B on the inside and partway down the outside during leather hard stage. After bisque it was clear glazed on the inside giving a flawless surface (using G2926B) and dipped in GA6-A Alberta Slip base amber-clear. The GA6-A over the black clay produces a very deep, rich, almost black ultra-gloss surface.
Is it possible to spot a leaching glaze just by looking at it?
Often the answer is yes. This glaze looks too matte, too metallic, too crystalline. This picture was sent to me by a worried person who had bought it and noticed it discolouring on the inside. The potter may very well have considered this safe just because it was fired to cone 10. It is common among potters to overload glazes with raw metal oxide blends, often 15% or more (e.g. manganese, copper, iron, nickel, cobalt). These percentages cannot be held in solution in the melt as it cools and solidifies, so they precipitate out and crystallize, especially if the glaze is not melting well or has insufficient SiO2. The crystalline forms of these metals might look nice to some people, but the glaze is likely to leach them. It is better to use a ceramic stain to create a black like this, adding it to a stable matte base glaze (one that melts well and has sufficient SiO2 and Al2O3 to create a durable glass). The concept of a limit recipe is helpful in eyeballing recipes for their likelihood of leaching.
Glaze cracking during drying? Wash it off or it will crawl on firing.
If your drying glaze is doing what you see on the left, do not smooth it with your finger and hope for the best. It is going to crawl during firing. Wash it off, dry the ware and change your glaze or process. This is Ravenscrag Slip being used pure as a glaze, it is shrinking too much so I simply add some calcined material to the bucket. That reduces the shrinkage and therefore the cracking (trade some of the kaolin in your glaze for calcined kaolin to do the same thing). Glazes need clay to suspend and harden them, but if your glaze has 20%+ kaolin and also bentonite, drop the bentonite (not needed). Other causes: Double-layering. Putting it on too thick. May be flocculating (high water content). Slow drying (try bisquing lower, heating before dipping; or glaze inside, dry it, then glaze outside).
Outside tenmoku glaze meets inside transparent in a straight line at the rim
An example of how a liner glaze can meet another at the rim of a piece. This it quite simple to do. The technique is especially practical where mug walls are thin and cannot absorb enough water to dry the glaze after immerse-dipping. It is essential where the outer glaze is potentially leachable, or it might craze (which tenmokus often do). Thus, that straight line at the rim is not only a decorative element, it is the spot where leaching, crazing, staining and cutlery marking stop.
Three cone 10R mugs that have the same liner glaze.
The liner is G2571A dolomite matte.
This cone 10R dolomite matte white inside is also the base for the brown and blue outside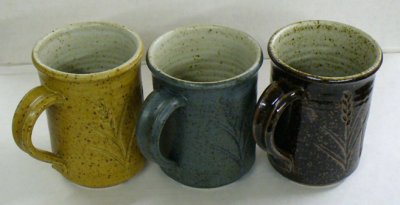 This is the G2571A glaze recipe. It has proven reliable and functional over many years on a wide range of clay bodies in the Plainsman Clays studio. By itself, it is a great liner glaze. It does not cutlery mark or stain or craze and it great to use. And it accepts colorants very well.
Bisque-glazing vs. green-glazing in medium temperature porcelain
The mug on the left was bisque fired and then glazed, the one on the right was glazed in the green (dry) state. The glazes are the same inside and out but the porcelain one the right is based on New Zealand kaolin (vs. American kaolin on the left). Three secrets for success for the one on the right were: It was glazed inside and out in two operations with a drying phase between, it was heated to about 150F before each application and it was fired with a soaking period (at about 1900F) on the way up to top temperature (cone 6).
A once-fire mug vs. a bisque-fired mug
The mug on the right was bisque fired and then glazed, the one on the left was glazed in the green (dry) state using our standard meet-two-colors-at-the-rim glazing method. This method lends itself well to single fire glazing. Notice the glaze did not go on as thick on the once-fired piece (extra attention is needed to make sure it gets on thick enough without cracking the piece). In addition, there are a few pinholes whereas the bisqued piece is flawless. Single firing ware requires extra attention to firing, climbing to a point just before the glaze begins to melt and soaking there to enable hydrates and carbon to escape.
Which liner glazing looks better to you?
With the proper technique of applying a liner glaze you can make the outside and inside ones meet in a straight line at the rim rather than just have one spill over the other.
Cone 04 ware that you absolutely know for sure is food safe
This is a Plainsman test body, L4410K, a talc-free low fire white (L213 candidate). The glazes: Spectrum 705 Black outside and G1916QL inside (cone 04). I was able to spin the mug on a turn table to apply the black up to, and over the rim to meet the transparent liner. The process takes a few minutes but gives me the best of both worlds: The color of commercial glazes for the outside and the assurance of inside-food-safety that only a glaze I make can give. Other advantages: Glazing the inside is a quick fill-and-pour-out. I can apply the glaze across the bottom and fire on stilts, that means there is no bare clay, not even a foot ring! The range of color and brilliance is stunning at cone 04 and firing is quick and inexpensive. And, this mug is utilitarian, I use it every day for my coffee.
Links
Articles
Are Your Glazes Food Safe or are They Leachable?
Many potters do not think about leaching, but times are changing. What is the chemistry of stability? There are simple ways to check for leaching, and fix crazing.
Articles
Is Your Fired Ware Safe?
Glazed ware can be a safety hazard to end users because it may leach metals into food and drink, it could harbor bacteria and it could flake of in knife-edged pieces.
Articles
Attack on Glass: Corrosion Attack Mechanisms
Max Richens outlines the various mechanisms by which acids and bases can dissolve glass and glazes. He provides some information on stabilizing glazes against attack.
Articles
Leaching Cone 6 Glaze Case Study
An example of how we can use INSIGHT software to determine of a glaze is likely to leach
Articles
Concentrate on One Good Glaze
It is better to understand and have control of one good base glaze than be at the mercy of dozens of imported recipes that do not work. There is a lot more to being a good glaze than fired appearance.
Articles
Having Your Glaze Tested for Toxic Metal Release
Having Your Glaze Tested for Metal Release
Articles
An Overview of Ceramic Stains
Understanding the advantages of disadvantages of stains vs. oxide colors is the key to choosing the best approach
Glossary
Thixotropy
Thixotropy is a property of ceramic slurries. Thixotropic suspensions flow when you want them to and then gel after sitting for a few moments. This phenomenon is helpful in getting even, drip free coverage.
Glossary
Toxicity
Common sense can be applied to the safe use of ceramic materials. The obvious dangers are breathing the dust and inhaling the fumes they produce during firing. Here is a round-up of various materials and their obvious hazards.
Glossary
Liner Glaze
Liner-glazing ceramic ware is a very good way to assure that your ware has a durable and leach resistant surface. It also signals customers that you care about this.
Recipes
G2916F - Cone 6 Stoneware/Whiteware Glossy Base Glaze
Crystal clear industrial dinnerware glaze
Recipes
G2926B - Cone 6 Whiteware/Porcelain Transparent Base Glaze
A base transparent glaze recipe created by Tony Hansen for Plainsman Clays, it fires high gloss and ultra clear with low melt mobility.
Recipes
G3806C - Cone 6 Clear Fluid-Melt Clear Base Glaze
A base fluid-melt glaze recipe developed by Tony Hansen. With colorant additions it forms reactive melts that variegate and run. It is more resistant to crazing than others.
Recipes
G1947U - Cone 10 Glossy Transparent Base Glaze
Reliable widely used base glaze for cone 10 porcelains and whitewares. The original recipe was developed from a glaze used for porcelain insulators.
Recipes
G2931K - Low Fire Fritted Zero3 Transparent Glaze
A cone 03-02 clear medium-expansio glaze developed from Worthington Clear.
Recipes
G2571A - Cone 10 Silky Dolomite Matte Base Glaze
A cone 10R dolomite matte having a pleasant silky surface, it does not cutlery mark, stain or craze on common bodies
Troubles
Glaze Crawling
Ask yourself the right questions to figure out the real cause of a glaze crawling issue. Deal with the problem, not the symptoms.
Media
Liner Glazing a Stoneware Mug
I will show you how to glaze a mug with a liner glaze inside and a colored one outside so that they meet in a perfect line at the rim.
Tests
Glaze Leaching Test
Typecodes
Transparent Glaze Recipe
Transparent recipes can be difficult to develop because entrained bubbles, crystals and crazing are not hidden by color and opacity. In addition, they must be well melted to give good results. Generally transparent recipes are sought after as liner glazes or bases to which to add opacifiers and colors. Typically work is required to match a transparent glaze to a specific clay body.
By Tony Hansen

---
---


https://digitalfire.com, All Rights Reserved
Privacy Policy