No tracking! No ads!
That's why this page loads quickly!
SignUp for Monthly Tech-Tip from Tony Hansen
Medalta Potteries
A large scale manufacturer of stoneware (1915-24) and whiteware (1924-1954) in Medicine Hat, Alberta, Canada. The most prominent of many companies in the area, they exploited the high quality clays and cheap natural gas in the area to compete with the UK and potteries in Ohio. They were the first company to ship manufactured goods from the developing west to the long-industrialized east. The factory complex has been rebuilt as a historic site under the name "Medalta In the Historic Clay District". Their installations are popular with tourists, they host numerous community education programs about the history of ceramic manufacture here, manage a vast collection of products made by a dozen manufacturers here, they manufacture a wide range of replica products, they host an artist-in-residence program (of international repute) and have a comprehensive website to celebrate and publicize all of it.

Plainsman Clays still makes several clay bodies that are very similar to what Medalta used to make heavy stoneware. These are quarried very close to where Medalta mined their clay. H550 fires at cone 10 and using a transparent glaze like G1947U and firing in oxidation one can make ware that looks very similar (although with less fired speckle and glaze defects). M340, with a transparent glaze like G2926B, can likewise be used (from cone 5-8). Buffstone also will work, firing from cone 7-10 (using either of the above glazes). We still have the original glaze recipe that Medalta used, if you would like the recipe please contact us.
Related Information
Plainsman Clays: The longest lived manufacturer here since 1885
A lot of ceramic manufacturing companies have come and gone in this city since 1889. An amazing company of the time was Alberta Clay Products. They made vitrified clay pipe and had around 20 huge beehive kilns. But in 1962 something terrible happened: Their factory burned to the ground! But a year later something good happened: Luke Lindoe used one of their buildings to start Plainsman Clays. For fifty six years, operating longer than any of its predecessors, Plainsman Clays has manufactured clay bodies using the same clay resources that ACP and others in the area used. While it may appear that Plainsman is the only manufacturer left, that is not exactly true. Lots of potters produce stoneware and porcelain in this area, and across Canada, using products we manufacture and supplies we distribute.
Clay in "dinosaur country" of southern Saskatchewan
This is a "badlands" slope in the Frenchman river valley. The valley exposes the "Whitemud Formation" in many places (clearly visible here half way down on the left). Two surface mines of Plainsman Clays are nearby (over the top and down the other side), in a place where lower-lying rolling hills leave much less over-burden to remove. To the left of this is a former mine of I-XL brick. This is also the site of a mine for the former Medalta Potteries. These materials were laid down as marine sediments during the Cretaceous period. Below the Whitemuds are formations from the Jurassic period. The skeleton of the world's largest T-Rex, dubbed "Scotty", was found 50km east of here (in the layers just above the Whitemuds).
A Sunburst Ceramics beanpot
This 1960s product was a copy of a design made earlier by Medalta. However the Sunburst ware was true stoneware, thus stronger and more durable. And having a more finely refined finish.
Landmark book on the clay resources of Saskatchewan - 1950
Written by W. C. Worcester. He had a lab equipped with clay processing and testing equipment that many would admire today! He outlines clay geology in general, then the geological history of the province of Saskatchewan in that context. He describes the technology of ceramic materials, the major clays used in industry and the equivalent materials in the province. He submits hundreds of samples with physical test data clearly describing them and their locations (using extensive maps and diagrams). His work inspired Luke Lindoe, who continued it during the 1950s to 1970s. That inspired us to develop the testing methods used at Plainsman Clays to this day.
A crock being jiggered by Jim Etzkorn in 2013 at the historic Medalta Potteries
Medalta still manufactures ware, albeit on a much smaller scale, in a dedicated facility. Visitors to the exhibits see this operation when they do the standard tour. Most ware is transparent glazed and fired at cone 6 oxidation in electric kilns.
A Weeks stoneware crock rolling machine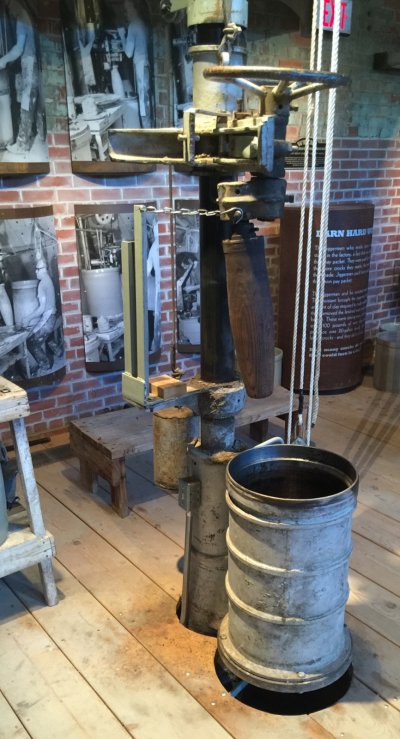 These were used in the early 1900s to make crocks up to 60 gallon size in the Medalta Potteries factory in Medicine Hat, Alberta, Canada. The metal barrel was fitted with a wooden base, then lined with paper. Then the clay was rolled up the side and surface finished. The barrel was then dropped and the crock removed.
The Medalta Potteries historic site today
Main offices (left), classrooms, displays, exhibits building behind. Beehive kilns on the left. This plant started operation in 1915, today it has been restored as a celebration of the ceramic manufacturing heritage of the city.
Links