•The secret to cool bodies and glazes is a lot of testing.
•The secret to know what to test is material and chemistry knowledge.
•The secret to learning from testing is documentation.
•The place to test, do the chemistry and document is an account at https://insight-live.com
•The place to get the knowledge is https://digitalfire.com
Uneven Glaze Coverage
---
In industry alot of effort is put forth to create glaze slurries that cover ware evenly and dry quickly. Glaze recipes contain adequate clay to suspend the slurry; their thixotropy, viscosity and specific gravity are tuned to produce an easy-to-use product. Manufacturers also use a variety of binders, hardeners, de-foamers, suspenders to find tune the slurry. Engineers in these companies have equipment to measure these properties and they can tell you absolute values in units like centipoises and thixotropic index. Potters tend to think more about the fired appearance of the glaze and they are much more willing to endure less-than-ideal slurry properties in their glazes. While industry uses frits and kaolin, potters use a host of raw materials that, while contributing to the fired character they want, are hostile to the application properties of the slurry. There is considerable ignorance of the products and techniques used to control slurry properties. I used to tell people to measure glaze slurry properties (e.g. viscosity, specific gravity, thixotropy) when a glaze is working well and use these as a benchmark to diagnose the cause when there is trouble. But many have never actually seen a glaze that really suspends well, applies evenly, does not drip, dries quickly, hardens well and does not dust. So matter how well you think your glaze is working, read on. Of course, none of us have lab test equipment to measure these properties, but for our application we do not need it. By thinking in comparative rather than absolute terms we can accomplish a lot.
Some aspects to getting even application:
Dry bisque after glazing the inside, then glaze the outside
An example of the importance of allowing a bisque piece to dry before glazing the outside face. This hand-built caserole lid is thin and was glazed on the inside first. That wetted the bisque enough that when the outside was poured there was not enough absorbency remaining to build a sufficient thickness on some of the areas of thinner cross section. The problem is exacerbated by the fact that the underlying red body is darkening the color of the thinner glazed sections.
The same engobe. Same water content. What is the difference?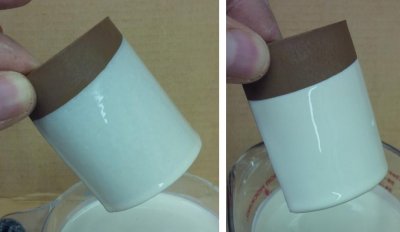 The engobe on the left, even though it has a fairly low water content, is running off the leather hard clay, dripping and drying slowly. The one on the right has been flocculated with epsom salts (powdered), giving it thixotropy (ability to gel when not in motion but flow when in motion). Now there are no drips, there are no thin or thick sections. It gels after a few seconds and can be uprighted and set on the shelf for drying.
Adding water actually made this white engobe run less? How?
The white slip (applied to a leather hard cup) on the left is dripping downward from the rim (even though it was held upside down for a couple of minutes!). Yet that slurry was very viscous with a 1.48 specific gravity. Why? Because it was not thixotropic. The fix? I watered it down to 1.46 (making it runny) and added pinches of powdered epsom salts (while mixing vigorously) until it thickened enough to stop motion in about 1-2 seconds on mixer shut-off. But that stop-motion is followed by a bounce-back. That is the thixotropy. It is easy overdo the epsom salts (gelling it too much), I add a drop or two of Darvan to rethin it if needed. When the engobe is right it gels after about 10 seconds of sitting, so I can stir it, dip and extract the mug, shake to drain it and then it gels and holds in place. Keep in mind, this is a pottery project. In industry they deflocculate engobes to reduce water content. But a deflocculated slurry can still be gelled (if it is runny).
Out Bound Links

(Glossary) Specific gravity

A comparison of the weights of equal volumes of a given liquid and water. Water has a specific gravity of 1.0. A ceramic slurry with a specific gravity of 1.8 is thus 1.8 times heavier than water. The best way to measure specific gravity is to weigh a container and record its weight, then weigh the ...

(Glossary) Viscosity

The term viscosity is used in ceramics most often to refer to the degree of fluidity of a slurry or suspension (the term 'shear' is often used when discussing viscosity, theoretically engineers understand viscosity in terms of layers particles or molecules that exhibit a friction that resists latera...

(Glossary) Thixotropy

Knowing about thixotropy enables you to mix non-gummed glazes that stay in suspension much better. But it is not only about staying suspended. While some glazes do not settle out they that have a slurry that behaves like a bucket of motor oil, silky smooth but they just drip and drip and drip. Thixo...